Samsung OLED review 2023: is it any good?

I got eyes-on with Samsung's first new OLED (or QD-OLED) TVs. It might already be the best TV of the 2023.
Luke Hopewell is a gadget veteran of over 10 years. He's reviewed over 100 TVs in his time, and been to the magic factory where they're all made. He's lost more remotes than he's found, and if you ask him nicely, he'll tell you how tech companies get tech writers to review TVs… Got a question for the author? Send me an email!
What is Samsung OLED?
Samsung has done the opposite of most TV manufacturers in 2023. It has opted not to create more confusing jargon for its TVs.
Samsung OLED is the brand name for its new top-flight range of TVs. The big secret of Samsung OLED is that it's actually based on new QD-OLED technology. It's seriously impressive stuff.
The pixels are self-lit for better contrast. And there's a quantum-dot layer over the panel to achieve more vibrant colours.
As a result, Samsung now has one of the most advanced OLED TVs on the market. And for much less than you might otherwise pay for QD-OLED from another brand like Sony.
Check out our related article on what is QD-OLED to learn more about what makes it great.
Samsung's new range of OLED TVs are absolutely incredible to look at. I got the chance to sit down with them in Sydney overnight to see if they cut the mustard.
Impressions
Design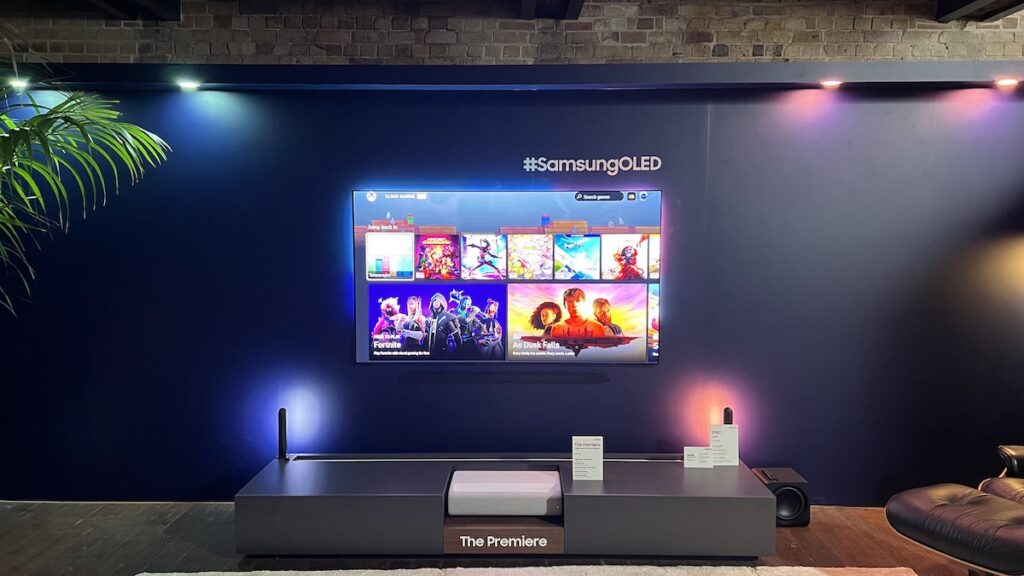 The two models are named the S95C and S90C.
Both have new processors, AI upscaling and 144Hz 4K support for gamers. What's different is the new design on the top-of-the-range S95C.
It's 11.2mm thin. There's a gorgeous metal trim. And it basically has no bezel to be seen. If you purchase the near-flush wall mount separately, it turns into something very compelling.
And Samsung is selling a version of its incredible One Connect box. It's called the Attachable Slim One Connect box this time around. It's designed to make sure the only cable that needs to be seen is clear and minimal.
The new S95C looks to combine the best of both the new QD-OLED technology, as well as the design I fell in love with on the Samsung Frame.
It makes for an incredible combination, with a TV that both looks good in a modern home and performs incredibly.
Picture
The colours on the panel are absolutely incredible. Samsung has had the boffins from Pantone come in to validate the colour of its OLEDs. Just to make sure.
The result is the first OLED that can produce every single Pantone colour with ease for great colour accuracy. On top of that, it can also reproduce almost 150 different skin tones. That one's also verified by Pantone.
Samsung says it's able to boost not only the colour vibrancy and detail, but also the brightness. Samsung's QD-OLED panel can push itself 30% brighter when it needs to. And it's not like it was a slouch on brightness before.
In fact, Samsung has said previously that its QD-OLED can do a brightness of 2000 nits. Translation: more nits = a brighter panel. This is great for watching something in a room where natural light is abundant, as it doesn't wash out the scene.
And for reference, a typical LED TV can do around 450 nits on average.
It's a seriously impressive panel, and one that gets better when you connect it up to your smart home.
Smart Home
Samsung execs told me tonight that it wants the latest range of TVs to be more than just TVs. They want them to blend into your life.
It's a trod cliche, but one that I think can finally be delivered. That's thanks to smart home integration that's easier than ever to install. Instead of five clicks to install a new device, it's just one.
With its SmartThings smart home gear finally getting support for Matter, everything just clicks. Matter is the latest smart home standard that's designed to make everything faster and easier to use.
Your fridge can tell you if the door was left open. Your vacuum can tell you if it has seen your pets recently. And all of these notifications can be delivered quietly and conveniently to your TV.
Even better, the TVs now run Microsoft Office 365 natively so you can work from the couch. Or you could just connect an Xbox controller and play cloud games through an app on the TV. It's meant to do it all.
How much is Samsung OLED?
Here are the prices for Samsung's new OLED models.
Samsung OLED 4K S95C (55-inches, 65-inches, 77-inches) 
77-inches RRP: $9,299

65-inches RRP: $5,799

55-inches RRP: $4,649

Samsung OLED 4K S90C (55-inches, 65-inches, 77-inches)
77-inches RRP: $7,899

65-inches RRP: $4,999

55-inches RRP: $3,829
Which is better: Samsung OLED or LG OLED Evo?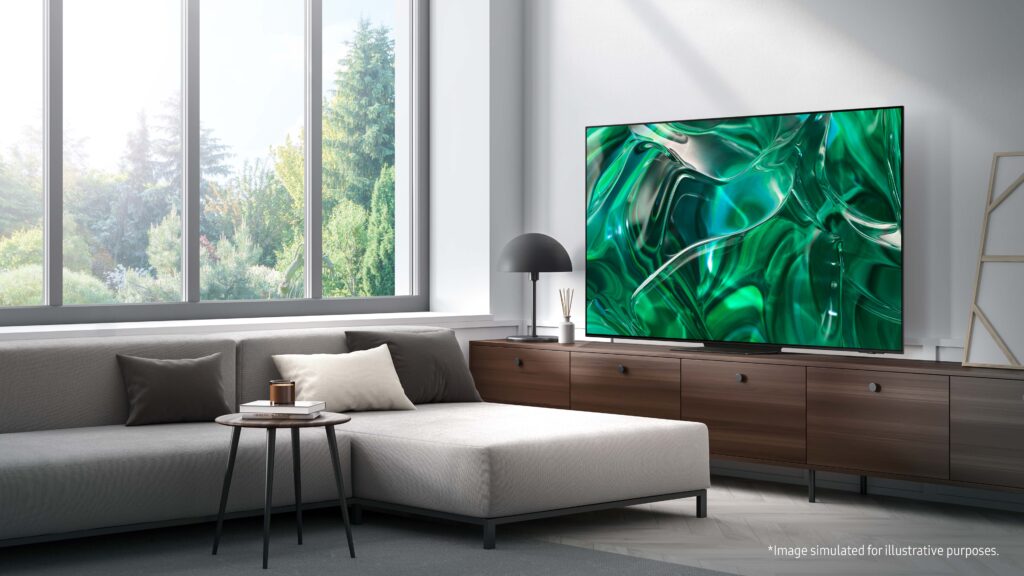 LG has been the leader in global OLED for over a decade. Now it has a serious competitor in the form of Samsung OLED.
LG has been on a quest to make its market-leading OLEDs brighter overall. OLED is typically great in dark rooms. A boost to a panel's brightness can combat this issue.
LG made a range of OLED Evo-branded products in 2022. These offered a boost of 30% more brightness compared to 2021 OLEDs.
But now with a QD-OLED panel that's capable of 2000 nits, LG might finally have met its match.
And given that it looks like a grown-up version of the Samsung Frame, it's seriously compelling.
I will bring you a look at the new LG OLED models on April 19, 2023. But for now, my money is on Samsung for 2023. Game on.
Read more
Find out more about what makes QD-OLED special. Check out our guide on what is QD-OLED.
Luke Hopewell
Luke Hopewell is the editor and co-founder of Redaktör. He's previously been the Editor of Gizmodo, Founding Editor of Business Insider Australia, Editorial Lead for Twitter Australia and more.