Dyson Airwrap review: is it worth the money?

When you buy a Dyson product, you're paying for more than a fancy brand name. I'd argue that Dyson products are consistently some of the best performing and most innovative devices on the market. 
However, all of Dyson's extra tech comes a rather hefty price tag. So are they actually worth the eye-watering sums that you often have to shell out to get your hands on something with the Dyson name? As always, it depends.
In this particular instance, we're looking at the Dyson Airwrap. It's a device that, in my humble opinion, is worth every little bit of hype. But is it worth the price at $799 AUD / $549.99 USD?
In short, if you use styling tools on a daily basis and you often use a few different ones, then yes, it is worth the money. If not, then the answer depends on what you need out of your device.
What does the Dyson Airwrap do?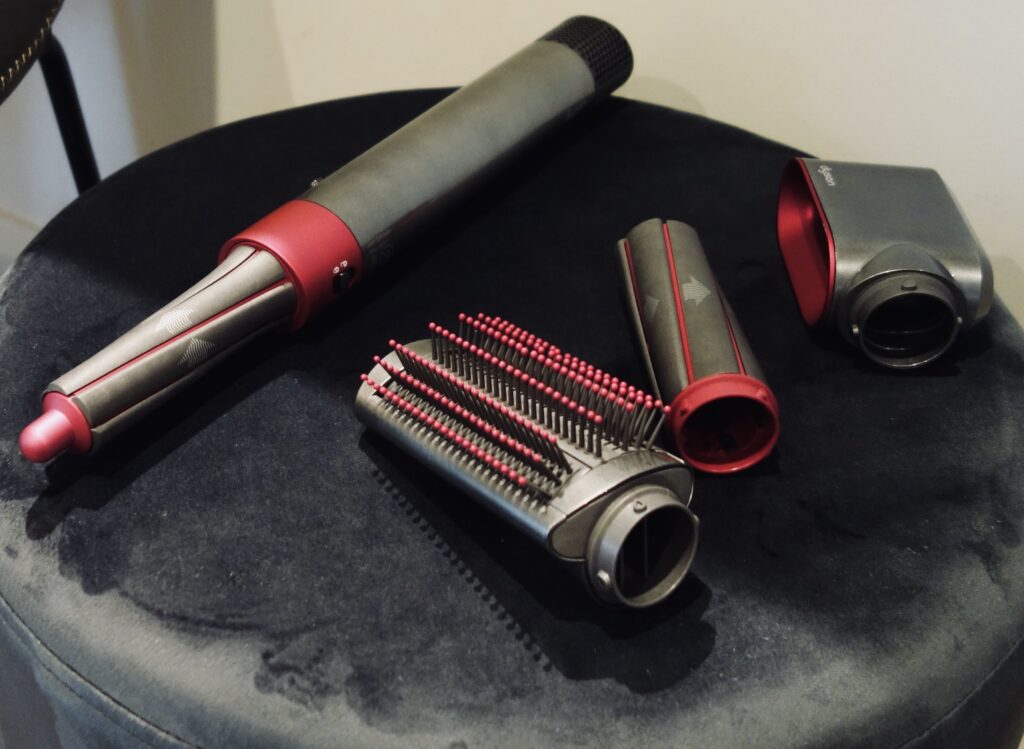 This is one of the two major selling points of the Airwrap: it does just about everything. 
That's because it's is a hair-styling tool that comes with multiple attachments that each have a different function and effect on hair.
Of course, the stand-out feature of the Airwrap is its curling attachments. There are four in the kit, two smaller ones (30mm) for tight curls and then two larger ones (40mm) for bigger barrel curls. This means you can use the Airwrap for classic curls or to create-brushed out waves.
In each size group, there is an attachment that curls to the right and one that curls to the left. This allows you to frame your face symmetrically. If all your curls pointed one way, it would look slightly odd.
Then there's the brush heads, of which there are three. 
All three of these brush heads will dry, partly straighten and smooth your hair using Dyson's air flow tech and minimal heat. But each offers a slightly different look. 
The round brush to help add volume and smooth as you would in your traditional salon blowout. Then there are the smoothing brushes, a firm and a soft. There are two in order to cater to different hair types. The firm bristled brush is better suited to thicker and more coarse hair, whereas the soft brush is designed for finer hair. 
But, it's also about personal preference.
Lastly, we have a hairdryer attachment. It's not the same a full-scale, precision-drying and styling hairdryer, but it will do the job of just drying the moisture from your hair. 
So, the Airwrap can dry, curl, wave, smooth, volumise and flatten out your hair.
What doesn't it do?
The only thing this tool really can't do is straighten hair to the same level as a flat iron or straightener. The smoothing brushes will make the hair straighter, but it won't leave it dead straight and flat in the same way as a straighter will.
What makes it different than other hot tools?
Looking first at the curling attachments – the ones that make the Airwrap the Airwrap – these offer a much better way to curl hair. The Coanda Effect airflow technology isn't simply a fancy way to curl hair. It causes significantly less damage to hair. 
Traditional curlers will require manual wrapping and then will hold hair in place with a clip. This can tangle, catch and break your hair. 
Then there's the heat factor. We know that hot temperatures over time cause damage to our hair that is nearly impossible to repair. And damaged hair is dry, frizzy, dull, unruly and generally far more difficult to manage. 
The Dyson Airwrap curls your hair through its strategic air jets rather than with heat. This means you can curl your hair frequently with little to no heat damage to hair – and healthy hair is manageable and beautiful hair.
As for the other attachments, the brush and hair dryer attachments, these all also use the Coanda Effect to style. 
The round volumising brush holds hair around the barrel to lift and dry. And the smoothing brushes also have a slight curve and the airflow adjusts to the brushing direction to ensure a smooth finish.
They also operate on the same lower heat setting as the curling attachments, using the air flow more than heat to set your style. 
Likewise, the have the added benefit of being designed to use on damp hair. Having to dry your hair before you can style it is a step that takes time – unnecessarily so in my opinion. So being able to style wet to dry is a huge time saver.
What is the Coanda Effect?
This is Dyson's own discovery.
Its engineers found that when you blast air at high speeds out of a curved surface – instead of travelling straight, as was assumed – the air bends and follows the curve.
This is what powers the Airwrap curling attachments. The cylindrical shapes have vertical air vents evenly placed across the surface. 
When turned on, air flows at high speeds out of each vent and bends and follows the cylindrical surface of the curling attachment. These air jets are what hold your hair around the barrel.
Is it worth the money?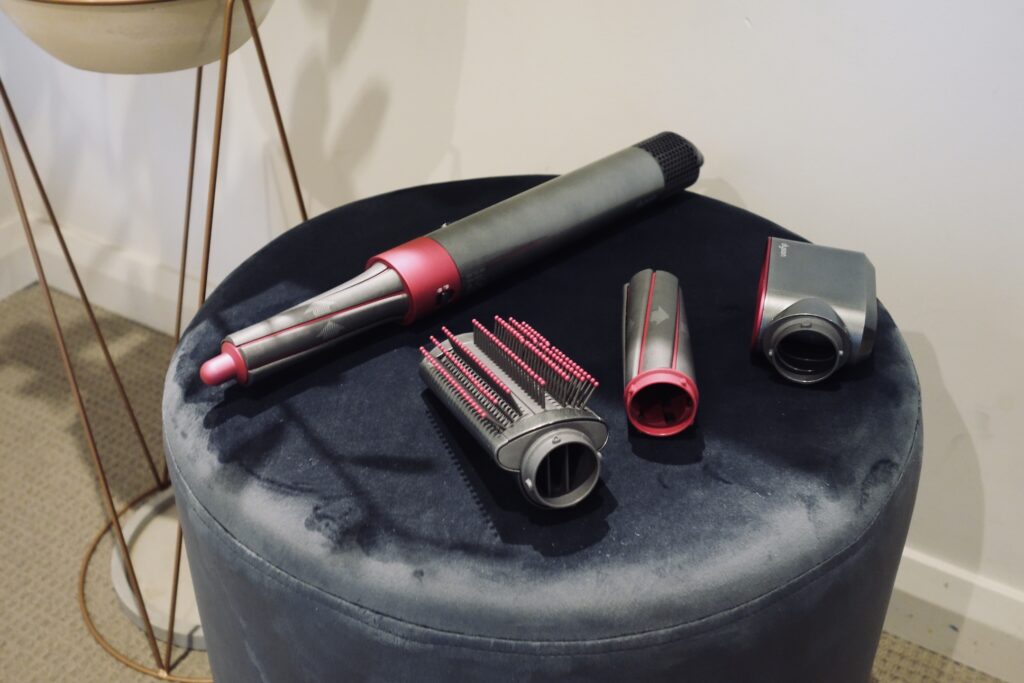 It is definitely worth the hype. This is an innovative creation that works more efficiently and is far less damaging to hair.
As for the money, well that depends.
If you're someone that uses two or more hair tools, then yes it is. In this one device you get five styling options that are all considered, effective and designed to preserve hair health. If you were to replace each Dyson Airwrap function with a separate tool, you'd be spending well over $1000. So, in this instance it is certainly worth the money.
But if you are simply looking for a curler or a hairdryer, perhaps this one is not for you. The Airwrap is the tool for those who want more from one device.
Read more
Dyson makes more than just hair products. There's also the Dyson personal air conditioner, known as the Cool Me. Here's our review of the Dyson Cool Me!
Mia Steiber
Mia Steiber is an editor, journalist, strategist and SEO whizz. She's been a beauty writer, fashion journalist and finance writer for over a decade. In the past, she has written for brands like POPSUGAR, Cosmopolitan Australia, Gizmodo, Mamamia, The Daily Telegraph and Finder. You may recognise her face from her appearances on Sunrise and Channel 7 News where she's talked about all things fashion and beauty. She has a Bachelor's degree in journalism and certification in travel writing. A slashie through and through, Mia is currently the Digital Strategy Director at RUSSH Magazine and the Editor-in-Chief at finance site RateCity. She started Redaktör with her partner Luke so she could have her own space to share her years of expertise in beauty, fashion, travel and money - reviewing the best in luxury products and experiences. In her spare time, Mia is a collector of cats, a lover of skincare, a world traveller and a passionate gardener.