Aesop's new Exalted Eye Serum is here to save your dry eyes

Looking for a skincare brand that really understands your delicate, tired eyes? Look no further than Aesop. Its new Exalted Eye Serum is perfect for anyone with dry eyes.
What is it?
It's called the Exalted Eye Serum. Part of the turbo-charged Skin Care+ range, Aesop says it's lightweight, and doesn't leave a greasy finish on the eyes.
This serum replenishes and fortifies the skin with generous doses of vitamins, making it ideal for hydration most skin types, including sensitive—and perfect for mature skin.
What does the Exalted Eye Serum do?
The eye area is unlike any other skin when it comes to moisturising.
Eye skin is unusually thin and delicate, requiring specialised, sensitive treatment. Because to its remarkable lack of natural oil production, the skin around the eyes is frequently dehydrated.
This generally appears as dull, patchy skin—the severity of which is determined by tiredness, age, seasonal allergies, and time spent in dehydrating environments like offices or planes.
If you're anything like me, you sit in front of a fan on your desk all day. Unfortunately, I don't take nearly enough care of my eyes after the fact.
To counter this moisture depletion, Exalted Eye Serum replenishes and fortifies the skin with generous doses of vitamins.
What is in Exalted Eye Serum?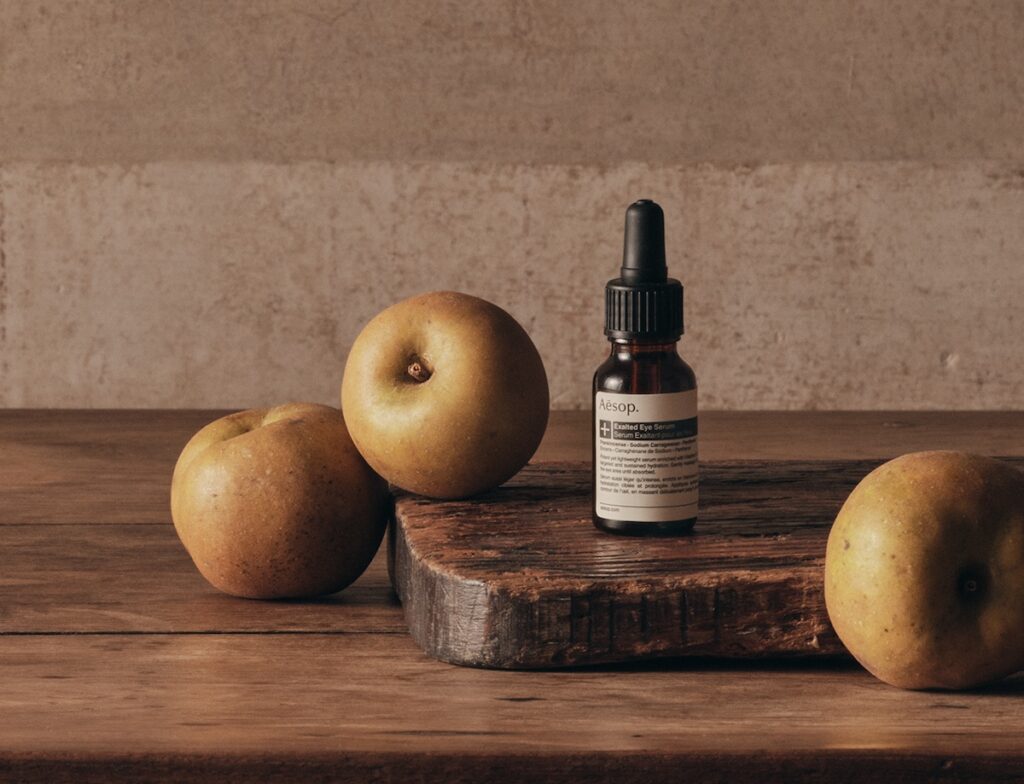 According to Aesop, you're in for a rich cocktail of nourishing natural ingredients:
"This concentrated blend of Vitamins B3, B5, C and E nourishes, bolsters and balances the skin surrounding the eyes," Aesop says.
"High-performing humectants including Panthenol and Sodium Carrageenan promote moisture retention within the skin to serve Exalted Eye Serum's primary purpose: targeted and sustained hydration. Further elevating the formulation's efficacy, Pelvetia Canaliculata Extract helps improve skin suppleness and resilience."
"With its high concentration of functional ingredients, Exalted Eye Serum is carefully constructed to offer comforting hydration without perturbing the delicate eye area.
"Essential oils of Cedar Atlas and Frankincense have been selected for their renowned soothing properties; together with Juniper Berry Oil they deliver the product's characteristic warm, woody and resinous aroma," it adds.
How do you use it?
To use, dispense a few drops into hands. Transfer to the skin surrounding the eyes with the tip of a finger, massaging gently until absorbed. Apply to freshly cleansed and toned skin, and attend to the rest of the face and neck with your preferred Aesop hydrating product.
So if you're in need of some TLC for your tired eyes, head to Aesop and pick up the Exalted Eye Serum.
Aesop's Exalted Eye Serum is packaged in a 15mL amber glass bottle with pipette dispenser.
You can pick it up from any Aesop boutique for $125.
Luke Hopewell
Luke Hopewell is the editor and co-founder of Redaktör. He's previously been the Editor of Gizmodo, Founding Editor of Business Insider Australia, Editorial Lead for Twitter Australia and more.