Inside the Never Never gin distillery cellar door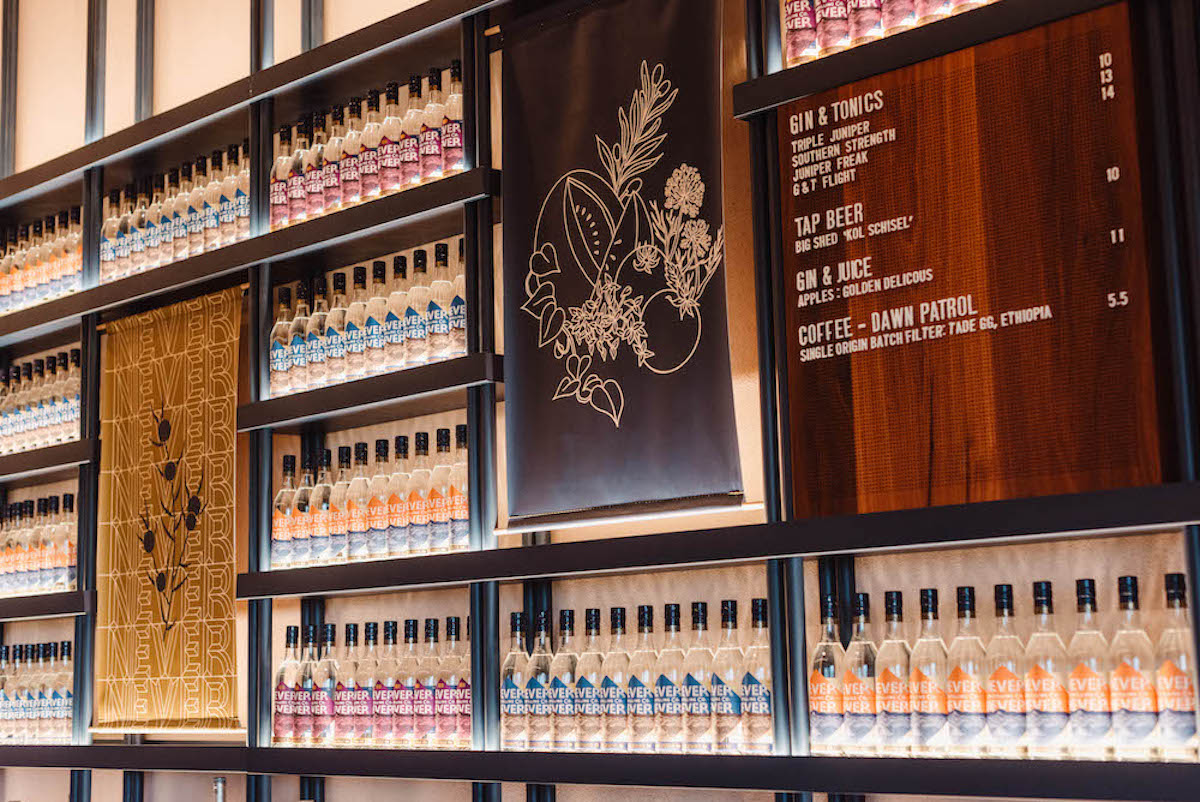 Australia has no shortage of incredible gins. But by far the most awarded is Never Never. If you're a gin lover, you can't miss the awesome experiences on offer at its cellar door. Here's what's inside.
Luke Hopewell is a renowned drinker. If it mixes, pours or pairs, Luke has tried it and has his thoughts. If you've got a question for Redaktor's mixologist-in-chief, send him an email: [email protected].
Where is Never Never Gin?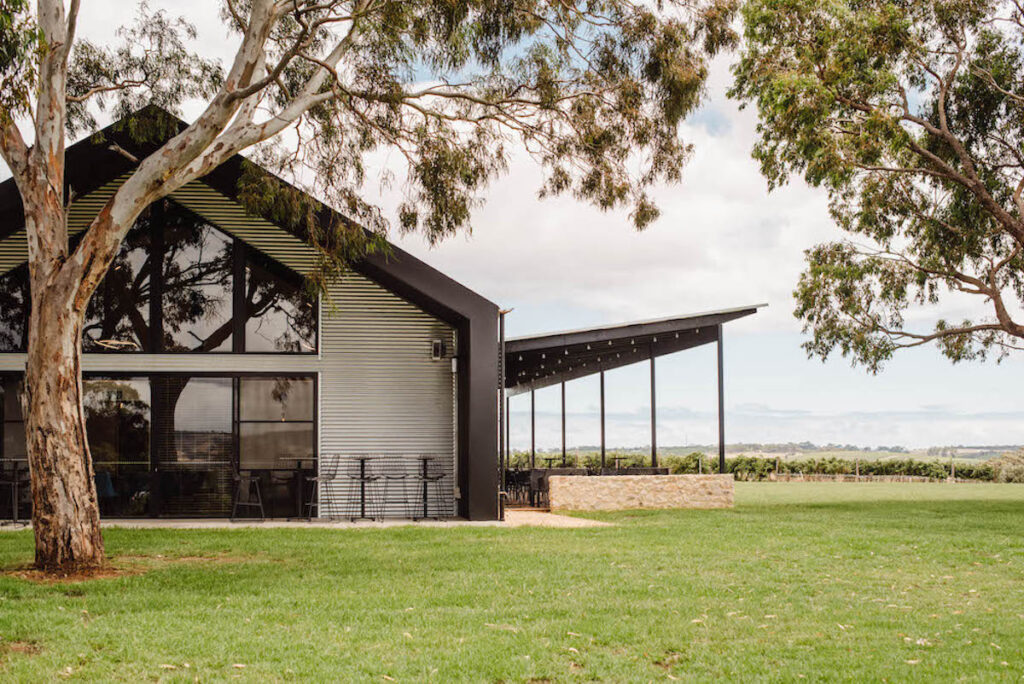 Never Never Distilling has set up its own cellar door in the McLaren Vale wine region of South Australia.
It cohabitates the Chalk Hill Collective. It's a sprawling estate that plays host to the good folks at Chalk Hill Wines, and the legendary Italian kitchen, Cucina di Strada. 
It's a 45-minute drive out of Adelaide in South Australia and it's a gorgeous estate. There are panoramic views of Chalk Hill's small-batch, sustainable vines from atop the hill. And as you look beyond the vineyard, you see the legendary McLaren Vale wine region sprawl out beneath you. 
The Never Never Distillery cellar door is a beautiful venue that pays homage to what makes the McLaren Vale region special. It's like nothing I've seen before. It's architecturally-designed and dominated by an expansive covered deck where you can take in the jaw-dropping views of the surrounding area. That's worth the drive alone.
The building itself pays tribute to the farming sheds that dot the wine region's landscape. With horizontal corrugated iron and internal steel supports, it blends seamlessly into the rustic surroundings. And yet, step inside and you'll be transported to a sophisticated, inner-city bar experience. 
It's the perfect fusion of rustic charm and modern style, and I guarantee you'll love it as much as I did.
You'll find it here:
The experiences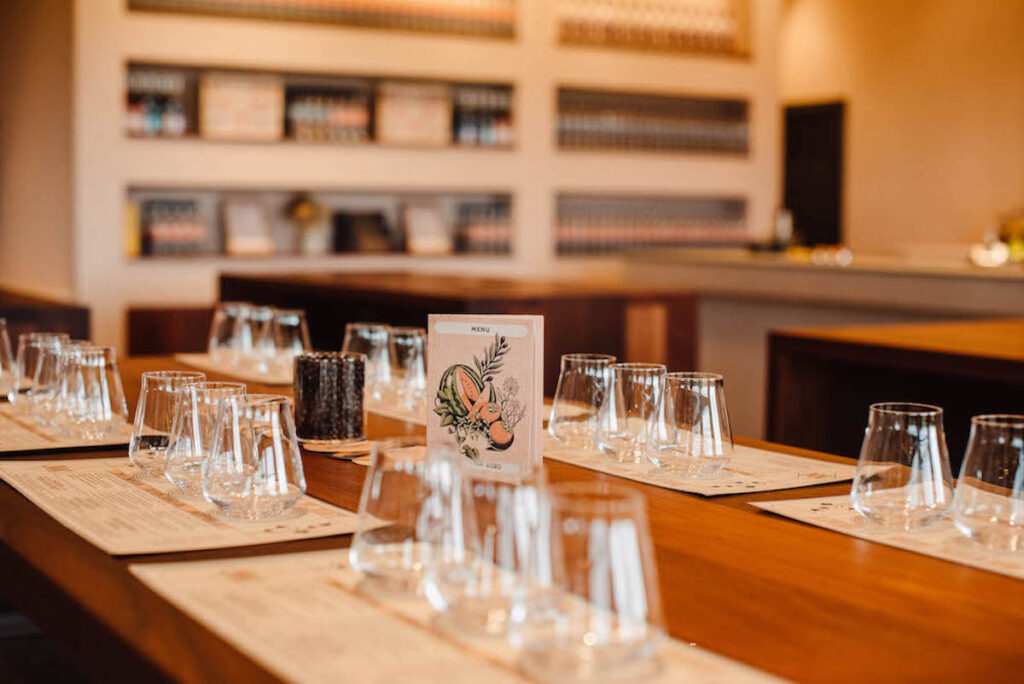 While you've always been able to pop into the cellar door for a drink and a chat, I found that there are a range of new experiences on offer in 2023.
First, there are the gin masterclasses.
These classes are the perfect way to indulge in your passion for gin while also enjoying a fun and immersive experience.
During the masterclass, you'll get a fully guided tour of the distillery from one of their resident gin experts. You'll also get to taste a flight of their signature gin range and enjoy a cocktail of your choice from their seasonal drinks menu. And as a bonus, you'll even get a take-home gift bag.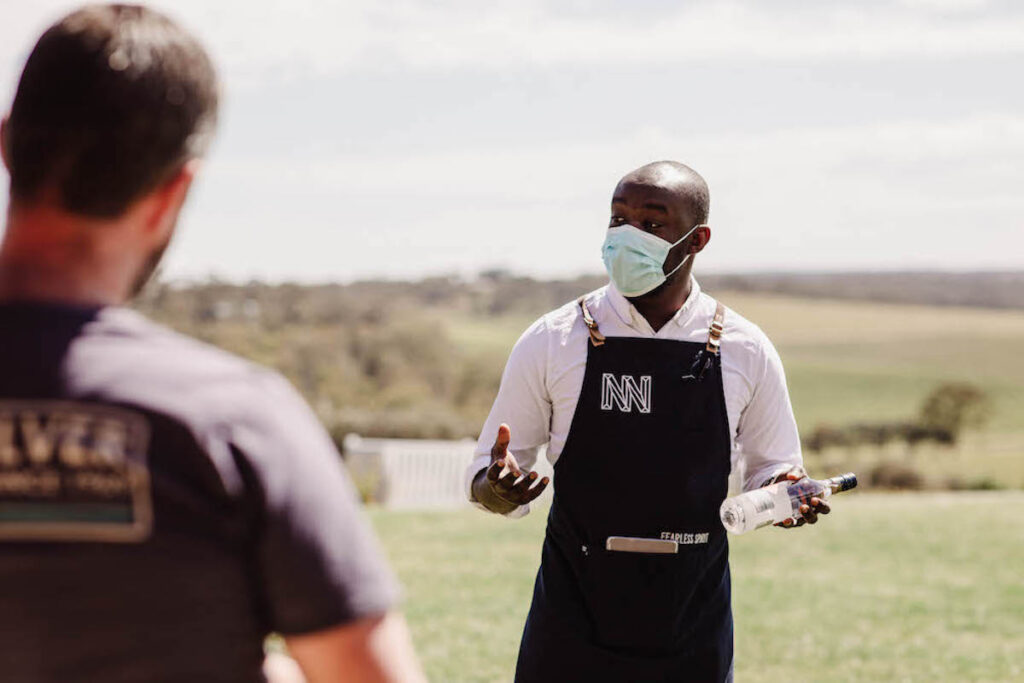 If you're feeling extra fancy, you can also opt for a privately-hosted gin masterclass with the founder and Brand Director of Never Never Distilling Co, Sean Baxter. Baxter founded Never Never Distillery and is happy to take you around for a tour.
You'll get a personalised gin and tonic and some snacks on the lawn. Then you'll begin a private tour of their production facility. You'll also get to taste their core range of products and maybe even a seasonal release or two. 
Sean will even make you a personalised classic cocktail, and you'll enjoy a delicious pinsa lunch from Cucina di Strada. Plus, everyone in your group will take home an exclusive Never Never Distilling Co. goody bag worth $150.
There are also private and corporate events available. The three crafters – Never Never, Chalk Hill and Cucina di Strada – will curate something to your needs if you ask.
The drinks menu
No good gin distillery would be complete without an incredible bar. And at Never Never, you had better come thirsty.
The gin cocktail menu is second to none. Here's what's on offer: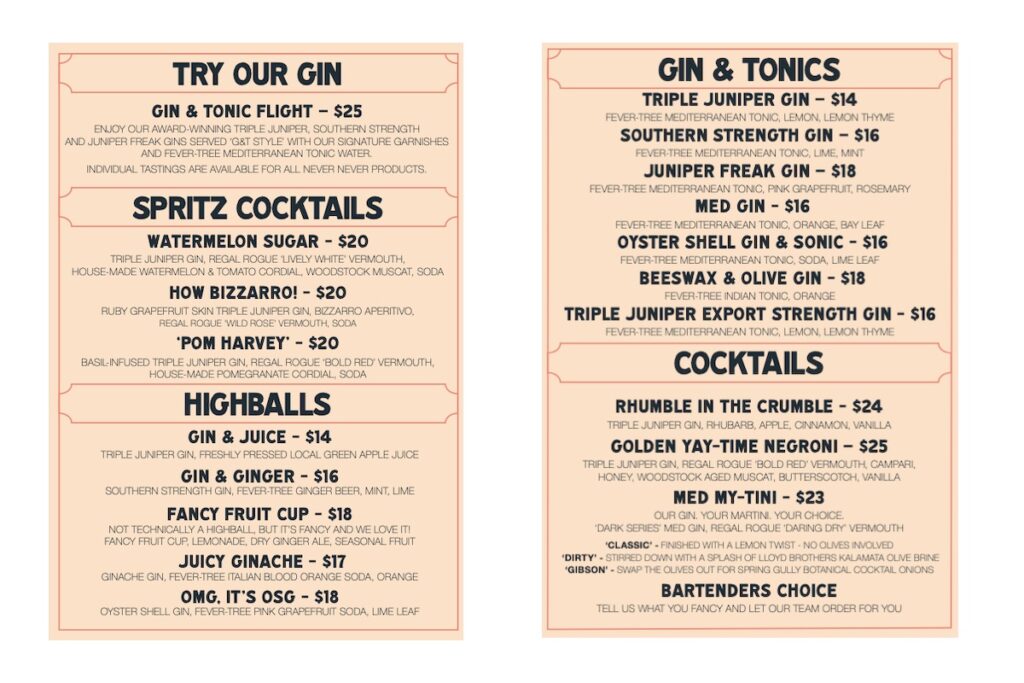 After tasting a bunch of Never Never gins, I can highly recommend a few selections. I enjoyed tasting the sleek and smooth Oyster Shell Gin, and the weirdly bewitching Beeswax and Olive Gin. Both are perfect in a martini or your choice of cocktail.
The food menu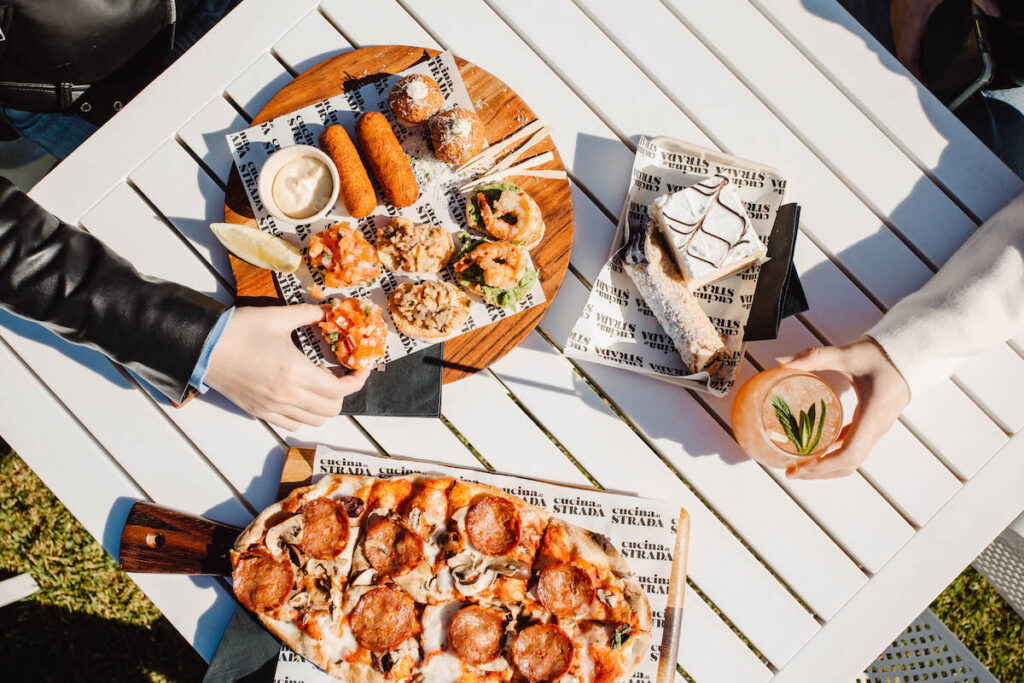 Their range of freshly wood-fired pinsas is sure to leave your taste buds dancing, with toppings like rosemary & garlic, eggplant & mushrooms, or salami & cheese. Start off with a shared platter full of regional delights like cured meats, cheese, and olives. Or indulge in traditional meatballs, fried mozzarella sticks, or arancini. 
These make the perfect accompaniment to a glass of wine, cold beer, or refreshing gin cocktail from Never Never.
No meal is complete without something sweet, so make sure to try one of their locally-made, Mediterranean-inspired desserts like cannoli, sfoglitelli, or rum baba. 
And while you're there, take advantage of the huge lawn and spectacular views – grab a picnic rug and relax, or pull up a table and savor your meal at your own pace.
When is the Never Never cellar door open?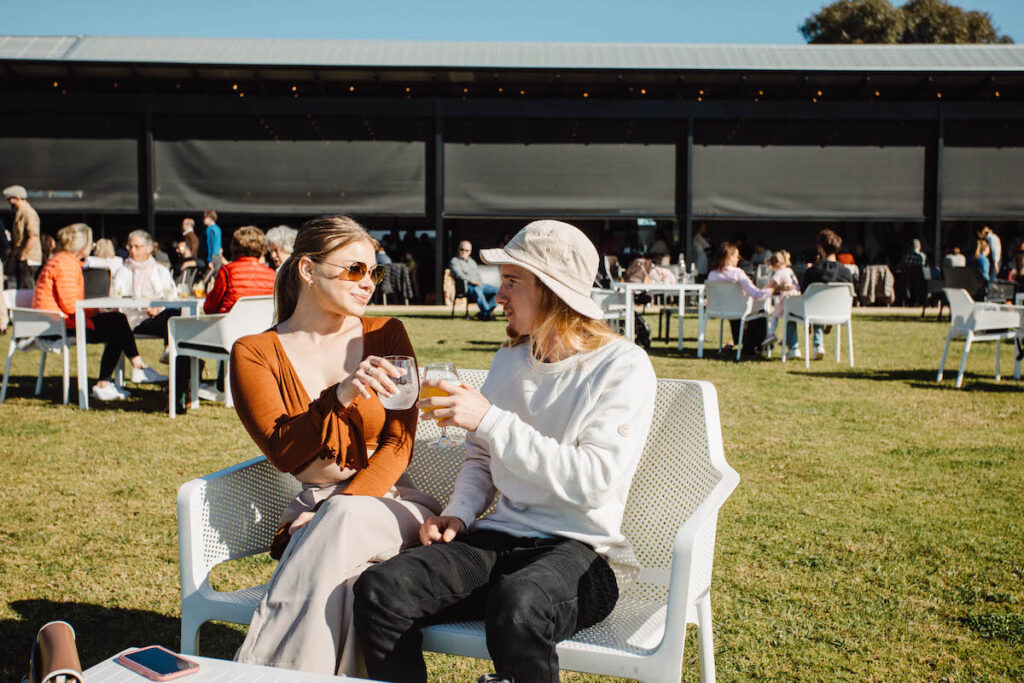 The opening hours are:
Sunday – Thursday: 11am – 5pm
Friday: 11am – 10pm
Saturday: 11am – 6pm
Read more
I recently went to try out the awesome new gin range from Never Never and Maybe Sammy. Check it out here.
Luke Hopewell
Luke Hopewell is the editor and co-founder of Redaktör. He's previously been the Editor of Gizmodo, Founding Editor of Business Insider Australia, Editorial Lead for Twitter Australia and more.