Apple M2 vs M1 processor: what's the difference?

Apple's processors have blown us away in recent years. And now there's a new one: the M2 chip. But what's different between the M1 we know and love and the shiny new kit? Here's the difference between Apple M2 vs M1.
What is the Apple M2 chip?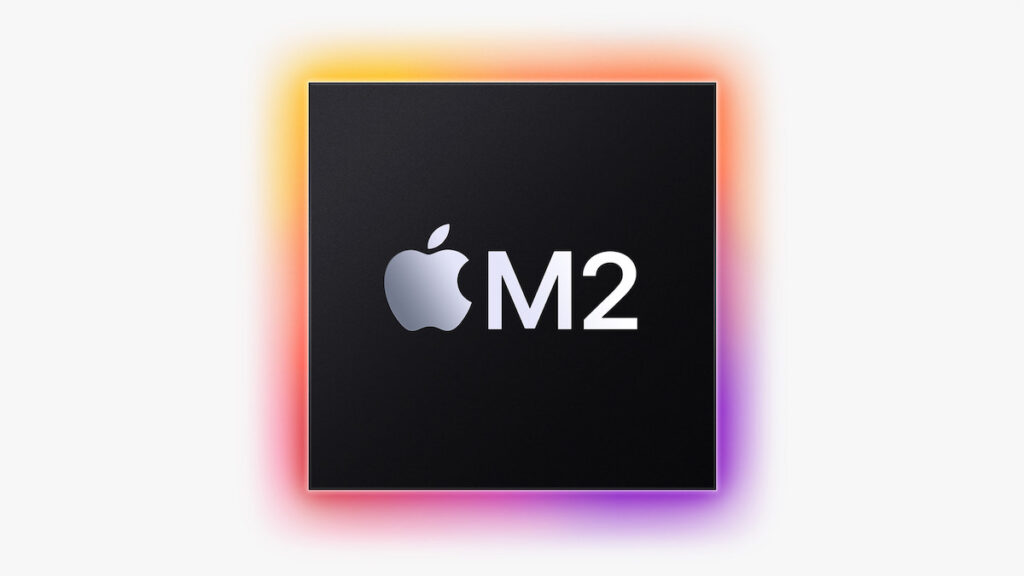 The M2 processor is Apple's latest home-made chip. Previously it had sourced CPU chips from Intel.
The Apple M2 chip was debuted at 2022's World Wide Developer Conference (WWDC). "DubDub" as it's affectionately known, is the company's annual conference where we hear all about new software with a little new hardware to boot.
This year saw the announcement of both the new, more colourful MacBook Air, complete with the brand new M2 processor.
The M2 system-on-a-chip (SoC) is a 5nm process that Apple says packs 18% more processing power than the previous M1 chip.
What does that all mean? Well, 5nm measures the size of the transistors on the chip. The smaller the number, the more power efficient the processor. As
And because it's a SoC, you also get a built-in GPU and Apple's "Neural Engine". Apple says these are 35 per cent and 40 per cent more powerful respectively compared to M1.
How is M2 different from M1?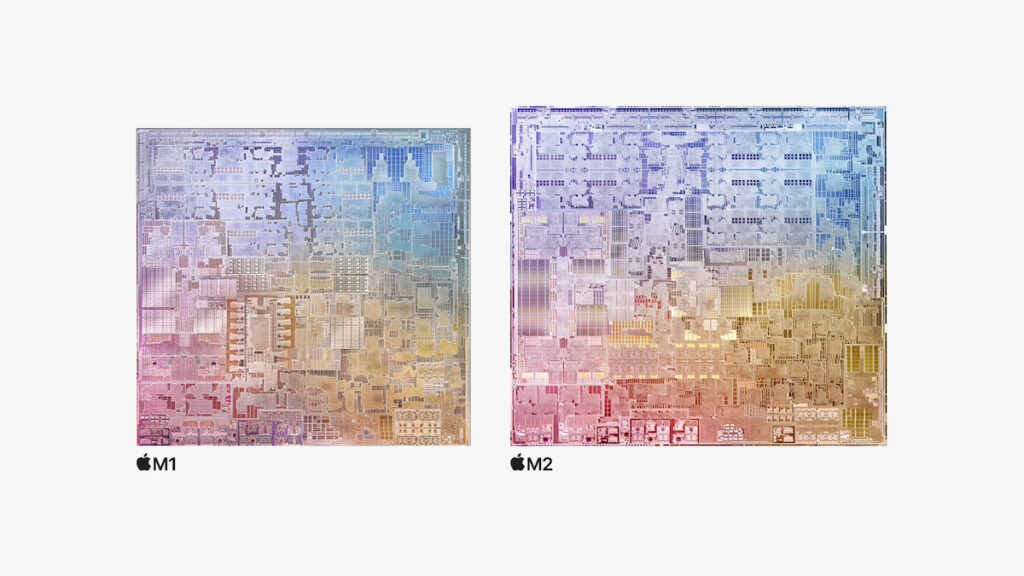 Both chips feature a 5nm process, so how is the M2 different from the M1?
Apple says it all comes down to how much power per watt it can drive out of the chip.
You see, when building a processor, you basically want as much processing power as you can possibly muster, without drawing too much actual power. 
That is to say, you want to balance performance with battery life.
The Apple M2 processor actually packs in 25 per cent more transistors than the M1 chip, for a total of 20 billion transistors in total. More transistors gives you more processing power, and more efficient processors balance the load. 
Think of it like having more brain to use and you're there.
Apple has thrown more of just about everything at the M2 processor, including more unified memory (50 per cent more in fact) for what it says are "even larger and more complex workloads".
How does M2 compare to Intel?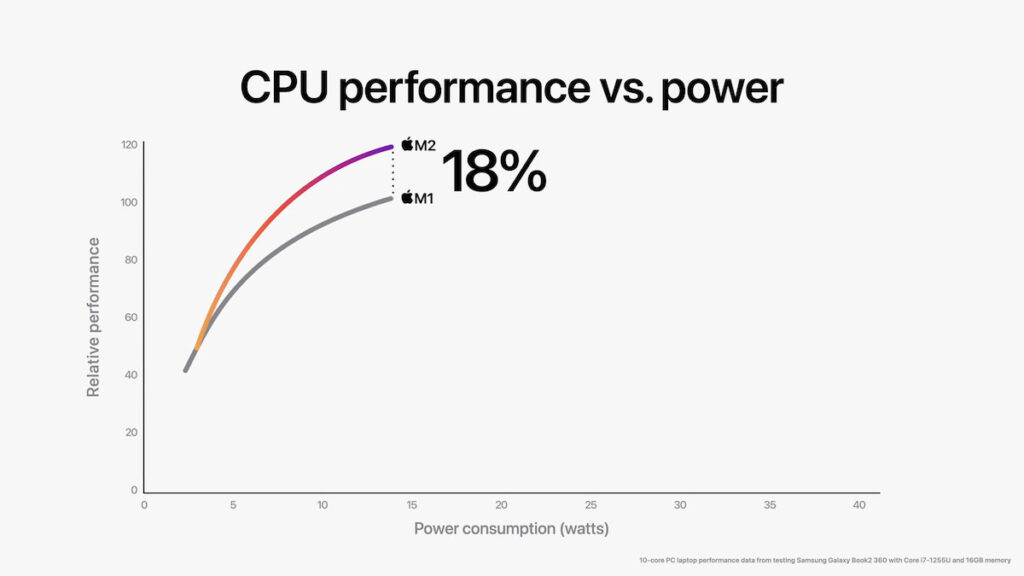 According to Apple, the M2 "provides nearly twice the same performance" as "the latest 10-core PC laptop chip". 
You'd think this is creative accounting, but you'd be wrong. Apple reckons it significantly laps the latest generation Intel Core i7-1255U (found in the latest Samsung Galaxy Book laptops), with twice the peak performance at a quarter of the power. 
The Intel 12th-Generation Core processors Apple measures itself up against were released earlier in 2022, and run on a 10nm process.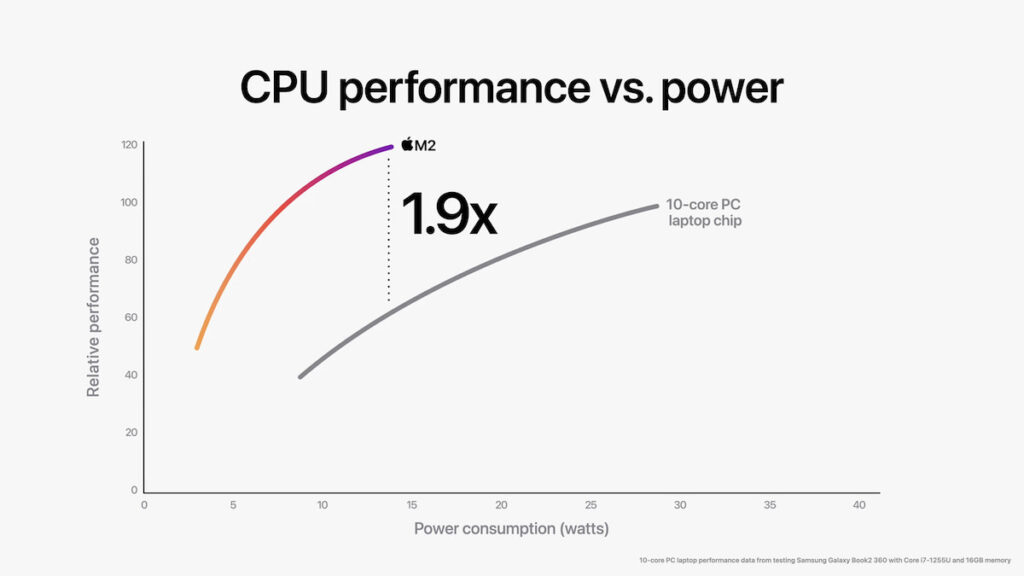 Intel is reportedly still mulling its plans for building 5nm processors. 
At the time of publication, Intel still doesn't have a 5nm processor. Its smallest process is 7nm, with plans to build 4nm in the back-half of 2022.
Intel's processor roadmap has it looking beyond 5nm to a 4nm and even 1nm process between 2022 and 2024. Should be pretty efficient if it can pull it off.
Which MacBooks will get the M2 processor?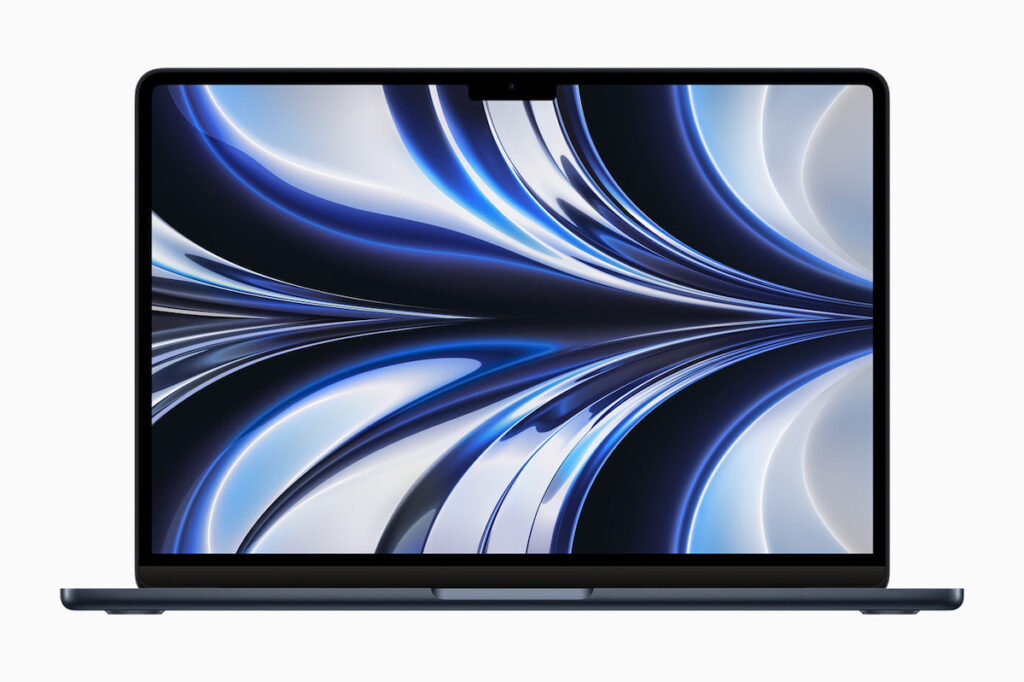 Apple made a big song and dance about the new M2 MacBook Air at WWDC this week. But it won't be the only MacBook to feature the new processor.
Apple quietly updated its website overnight to also debut the new 13-inch MacBook Pro for 2022. This new MacBook Pro will also feature the M2 processor.
The larger 14-inch MacBook Pro will still be powered by the M1 Pro processor, while the 16-inch MacBook Pro will feature both M1 Pro and the incredible M1 Max variant.
Interestingly, we noticed the M2 MacBook Pro brings back a MacBook feature we long thought to be dead. M2 MacBook Pro users will get to enjoy the Touch Bar back on their devices after it was omitted from the M1 Pro and M1 Max MacBook Pros of 2021 and 2022.
The drawbacks
Processors are a complicated game. It's not just about how many transistors you can shove on a chip. Nor is it just about how much power per watt you can squeeze out.
The problem that the M-Series processors from Apple run into is heat.
See Also

You see, the M-Series processors are ARM-based, which means (among other things) that they don't need fans to keep them cool.
That's how Apple, Microsoft and others are able to make insanely thin machines featuring ARM-based chips. No fan means you get to make a much thinner machine.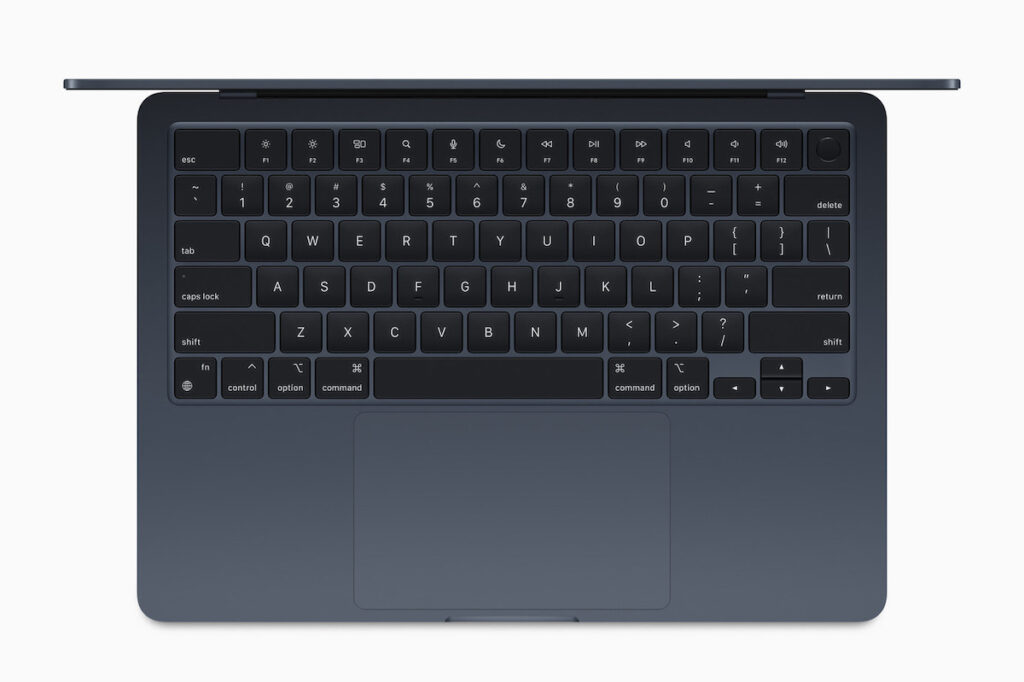 The problem, however, is heat. 
A processor is going to get hot, and as it heats up, its performance reduces according to what's known as its "thermal envelope".
The thinner the laptop, the less space the CPU has to cool itself without a fan, and the thinner its "thermal envelope".
Think of it like fitness: the thicker a fanless machine, the more likely you are to be able to run it at peak performance for longer.
We saw this with the first M1 machines. The M1 MacBook Air and the M1 MacBook Pro both had exactly the same CPU. Apple was able to quote higher performance out of the Pro, however, thanks to the fact that it had a better thermal envelope.
This is going to be the difference between the M2 MacBook Air and the M2 MacBook Pro. If you're looking to use pro apps like Photoshop, Final Cut and beyond, you're going to want better thermals, and therefore a Pro instead of an Air.
We'll test this more when we get our hands on both.
When is Apple M2 coming out?
Apple is taking pre-orders of both the M2 MacBook Air and M2 MacBook Pro right now.
It expects to launch the new models in July 2022.
The 13.6-inch M2 MacBook Air will start at $1899AUD. Meanwhile, the 13-inch M2 MacBook Pro will start from $1999AUD.
Read more
The Apple M1 processor does more than power just laptops. These days, it's powering the latest 2022 iPad Air, which we've also reviewed.
Luke Hopewell
Luke Hopewell is the editor and co-founder of Redaktör. He's previously been the Editor of Gizmodo, Founding Editor of Business Insider Australia, Editorial Lead for Twitter Australia and more.