Best vintage stores in Paris

Paris is the international home of designer fashion. And if you look hard enough, you can discover a designer vintage fashion fave for a steal. These are the best vintage stores in Paris.
Luke Hopewell is a journeyman travel writer. From wine-tasting in France to exploring the Arctic Circle and everywhere in-between, Luke has been there. Got a question for the author? Email me!
Best vintage stores in Paris
Did you know that the French call a vintage clothing store a 'friperie'? Literally, it translates to 'thrift store'. Whatever you call it, you're bound to find some amazing ones in Paris.
There are loads of secondhand stores in Paris. But some deal exclusively in designer, consignment and vintage fashion.
These are the places in Paris your favourite influencers are getting their latest throwback looks from.
Bobby
89 Rue Reaumur, 75002 Paris, France
Bobby is a two-level technicolour dream. 
It specialises in 90's and early-2000's pieces from boutique brands. Experts are on hand with an incredible knowledge of what's in stock and what isn't. The Bobby experts also keep a disserning eye. The store won't accept fast fashion from the likes of H&M, Zara et al.
It also carries a great range of accessories. From my experience last time I visited, this is a rarity for a proper vintage shop in Paris.
Be mindful: it's closed on Sunday.
After you're done, I have a job for you. Exit Bobby, turn right and then take your next right. If you see a beautiful archway, you're in the right place.
Head a few blocks down to Stohrer. It's the oldest patissierie in Paris and well worth the detour. You're welcome.
Opulence Luxury & Vintage
107 Rue Réaumur, 75002 Paris, France & 3 Rue Jean du Bellay, 75004 Paris, France
If you head to Bobby, you'd be mad not to include a visit to Opulence. The store just a few doors down on Rue Réaumur packs the best accessories I've seen stocked in any luxury vintage boutique.
Every piece is beautifully appraised and well-priced. You'd be hard-pressed not to fall in love with something when you walk in the door. And don't let the doorbell fool you: this place loves to welcome people. We spent half an hour chatting with our new friends at Opulence about vintage Chanel shoes and where to find them.
It has another store located closer to the Seine, right behind Notre Dame Cathedral. This is better for vintage designer clothes. If you visit this one, cross the bridge to the west and head to Au Vieux Paris d'Arcole for a coffee. It's covered in gorgeous green and purple vines. You won't be sorry.
Be mindful: both stores are closed on Sunday and Monday.
Citizen Concept Store
22 Rue de Thorigny, Rue du Roi Doré Entrée par le 8, 75003 Paris, France
This one is tricky to find. Make sure you have your Google Maps open and pay attention if you decide to visit.
When I last visited, we whirled and wormed down gorgeous alleyways and almost missed it on first glance.
It's a smaller store, but good things come in small packages. Whoever is gatekeeping the collection truly knows their stuff.
Citizen Concept is closed on Mondays.
En Voiture SImone
6 Rue du Perche, 75003 Paris, France
This one ranks highly with influencers. If you want to know where your fave content creator got that amazing outfit or gorgeous accessory, they came to En Voiture Simone.
It's small but well-curated, and offers stylish pieces for both adults and kids.
The street around it is great for a quick photoshoot to show off your new find to your followers.
En Voiture Simone is closed on Sundays.
Come On Eileen
40 Rue de Rivoli, 75004 Paris, France
This store is absolute madness. You find an unreal collection of consignment designer on the ground level. But go down the thin and slightly precarious metal stairs, you find the best collection of men's vintage I've ever seen in Paris.
And not only that, the lower level plays host to the best and largest collection of vintage Burberry coats you've ever seen.
The range of shoes here is incredible, by the way. Make sure to look under the racks on the ground floor for a great selection.
Once you're done here, turn left on your exit and enjoy the gorgeous walk from the store to the Jardins de Archives gardens through the incredible neighbourhood of Le Marais in the 3rd Arr. Unforgettable Paris!
Know before you go, Come On Eileen is closed on Saturdays.
Kilo Shop
69-71 Rue de la Verrerie, 75004 Paris, France
If you want vintage 90's fashion and a LOT of it, Kilo Shop is your spot. They charge by weight instead of by item.
That's how to make sure you get ultimate bang for buck in an unbelievably well curated environment.
There are a few of these around. I've listed the address above of the one most convenient to the rest of the stores on this list.
Episode
12-16 Rue Tiquetonne, 75002 Paris, France
This one is a bit of a cheat. You can get yourself an amazing piece at one of the few Episode stores around Paris. But it's not a 'true' vintage store in my opinion. It also sells a lot of its own newer label clothes and accessories.
If you want to get yourself real vintage, make sure to make a beeline to the back.
Episode is closed on Sundays.
Chinemachine
100 R. des Martyrs, 75018 Paris, France
If you're exploring Monmartre, this is the one for you.
Chinemachine is just down the hill from the syrupy touristic version of Monmartre. It's a beautiful, two-level affair that has a truly lovely team working there.
If you're coming here, make sure you travel by Metro and stop at the square to take in the churches and street performers before you start walking uphill to the store.
Chinemachine is open every day. A rarity when it comes to French vintage stores.
Romain Rea
26 Rue du Bac, 75007 Paris, France
Vintage shopping is more than just clothes to me. It's all about watches too. I'm obsessed with watches old and new, and found some great places the last time I was there.
Romain Rea has a gorgeous collection of vintage timepieces that only real ones will love and respect. If you want something modern and flashy, head to Rue Royal instead. This place is for the distinguished collector.
It's a great spot if you want a vintage Rolex. Just make sure to bring your Platinum Card with you.
Romain Rea is closed on Saturdays and Sundays.
Charly Horologer
10 Rue Godot de Mauroy, 75009 Paris, France
This place is cool just for the photo. The awning is peak 1980's Paris. And inside, you'll find more vintage horological perfection.
The team are experts in the horological arts. Here you'll find a gorgeous collection, including Rolex and Jaeger de Coultre.
They also do repairs and restorations for your time-honoured damaged treasures.
Charly is closed on Sundays.
Nice Piece Vintage
15 Rue Commines, 75003 Paris, France
I put this one last on the list because it's special. The last time I was in Paris, I walked miles to find Nice Piece Vintage.
The store itself was gone. But what was there was a store under construction. One that the locals told me had been under construction for some time. All the Google reviews have been wiped. And a single photo of a white lace dress occupies its image results.
Nice Piece Vintage used to be on everyone's to-do list, but I don't know what it's evolving into.
If you fancy a walk, head there after Citizen Concept and see if anything became of the build. And email me if it did!
FAQ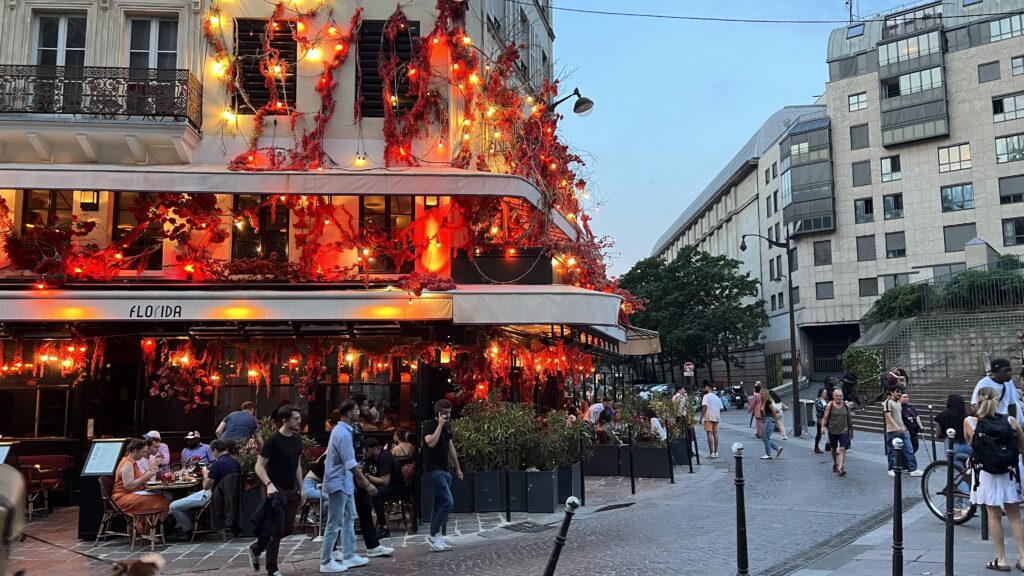 When is the best day to go vintage shopping in Paris?
Many of the best vintage stores in Paris close around the weekend. Visit from Friday to Monday and you'll find more than one store with locked doors.
When we were planning our shopping itinerary, we made sure to do it during the week. If you can visit on Tuesday or Thursday, you'll likely always find your favourite store open.
And because it's Paris, these stores open early and close late. For the most part, you won't be able to start vintage shopping before Midday. You can, however, shop usually until 7pm for most stores.
Where are the best vintage designer stores in Paris?
The best vintage designer shopping in Paris is centred around the 1st Arrondissement and 2nd Arrondissment. The 16th and 11th Arrondissment also have a few places too.
How do I get to the best vintage stores in Paris?
It's actually great to do on foot.
Start your journey from Jardins Des Archives at around midday and take a clockwise tour through the 2nd and 1st Arrondissments for some incredible vintage shopping.
If you take a clockwise route from the Archives, you should be able to fit all 10 stores in within an afternoon. Depending on how fast you shop, of course.
Are there any vintage designer markets?
Vintage stores are great, but the atmosphere of a designer market can't be beat.
Luckily, Paris has one of the best designer market districts in the world. Head to the Paris Flea Market for a connected neighbourhood of 15 markets.
Here you can explore a random assortment of designer pop-up stores every Saturday, Sunday and Monday.
Read more
There are lots of ways to buy a watch. But you can only buy your first watch once. Here's what to look for when you buy your first luxury watch.
Luke Hopewell
Luke Hopewell is the editor and co-founder of Redaktör. He's previously been the Editor of Gizmodo, Founding Editor of Business Insider Australia, Editorial Lead for Twitter Australia and more.