A week at The Sunseeker hotel Byron Bay

The aptly-named Sunseeker Hotel is a retro-haven for visitors to Australia's not-so-kept-secret, Byron Bay. The 12-room-plus-6-studio property is a considered destination for travellers looking for something more than just white walls and Egyptian cotton sheets.
What makes The Sunseeker different from other recent hotel renovations in the area is the way the designers embraced the motel heritage. The careful preservation of select features imbue the hotel with a serene air of nostalgia. A feeling that is so intoxicating and addictive that you'll be planning your next visit even before you've finished your last – I know I did.
The hotel and history
The complex was originally an old motel built in the 1980's. Despite its transformation, the structure and layout of the property has remained largely untouched, allowing the soul and history of the space to endure.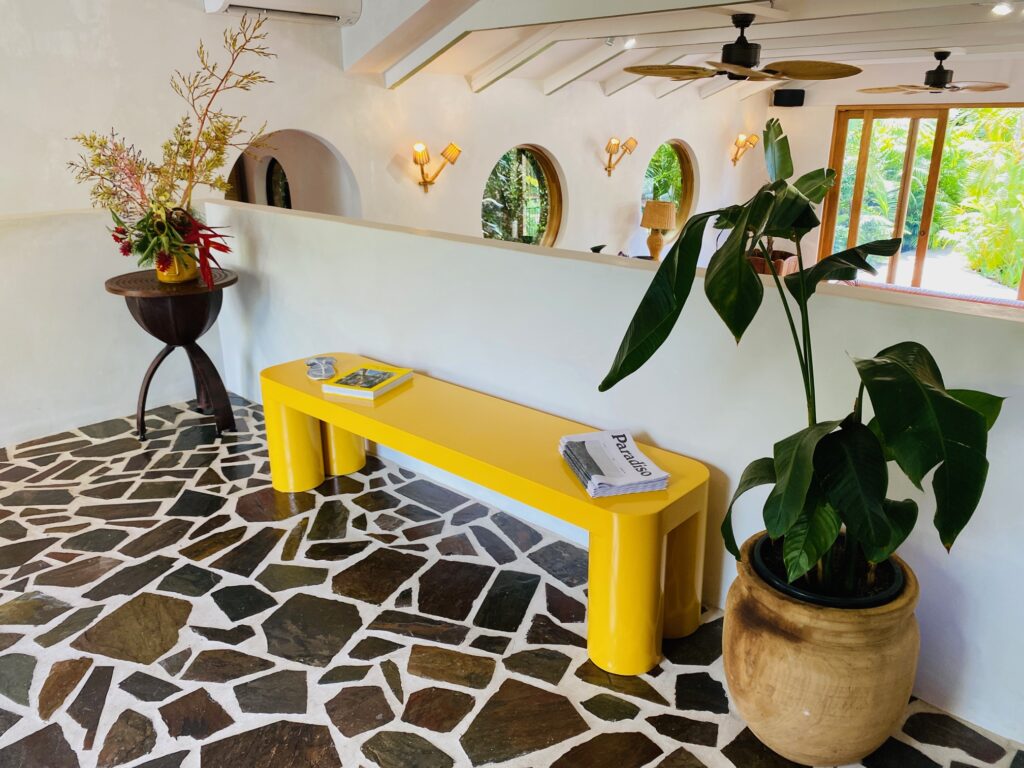 The interior design is an eclectic mix that breaks the mould of what has come to be typical Byron Bay aesthetic – white walls, with woods and black metal accents. And yet, it is still so quintessentially Byron. A bold mix of eras and tones that conceptually tell the story of a bohemian wanderer. Brightly-coloured kitsch furniture pieces mix with wooden classics, sitting against plastered walls and terrazzo accents. Possibly the best explanation of the aesthetic is the one on the hotel website – "well-travelled".
Perhaps the boldest choice was the decision to leave the 80s brick-and-pebblecrete kidney pool unrenovated – save for paving the area with a terracotta concrete. But arguably, this is what makes the property so special. It's these moments in the design that truly conjure those visceral memories of childhood summers.
Location
The Sunseeker is located on Bangalow Road, one of the main roads leading into town. It's perhaps a one- to two-minute trip by car into the centre of the Byron Bay village – five minutes by bike or about 15-20 minutes when walking leisurely.
It can get tedious, heading into town on foot every day, so a car or bike is a nice-to-have. Each room at The Sunseeker does come with its own car space, so parking isn't a problem at the hotel.
Rooms
There are four types of room: the Standard Room, The Sunseeker Room, The Family Room and The Bungalows. The Bungalows are stand-alone rooms with a private garden and BBQ area. They each have a living space, kitchen with fridge, queen room and closeable nook with single bunk beds. 
As for the rooms in the main building, The Family Room comes with a living room and two bedrooms. The Sunseeker Room is similar, with a living room and closed off bedroom.
Finally, The Standard Room is a room with a combined living and bedroom in the one space. Each of the rooms in the main building are oversized compared with a normal hotel room. The all come a kitchenette, bar fridge and either private patio or balcony.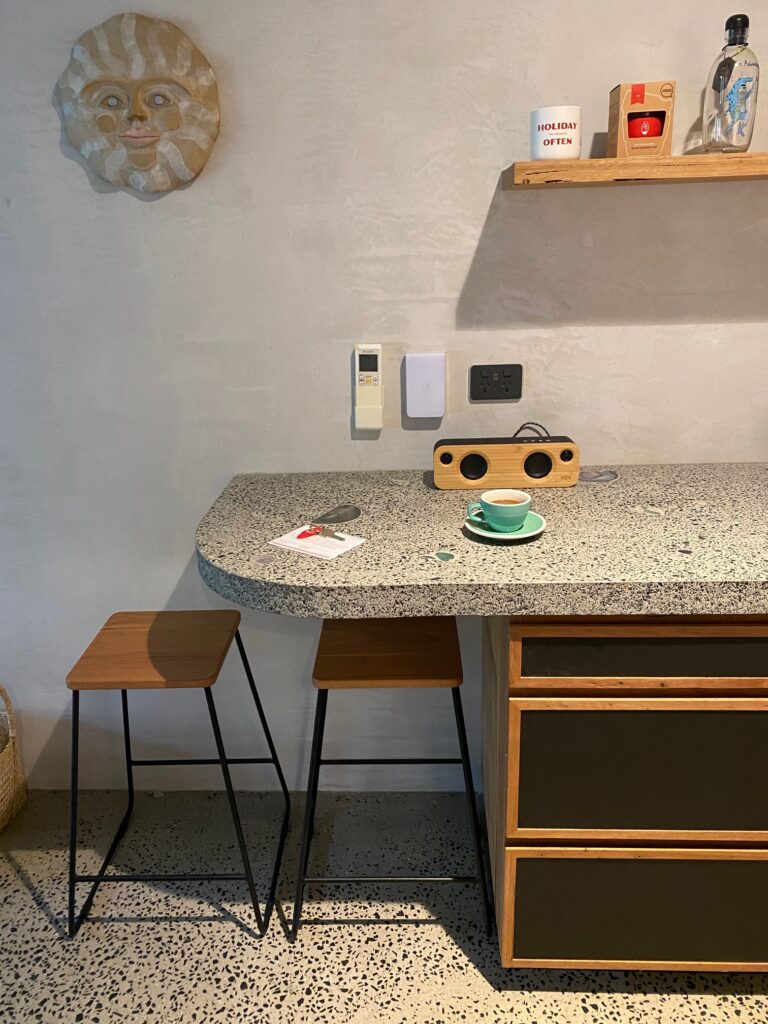 The rooms are spaciously-furnished and curated with all the necessary creature comforts. Custom black and wood cabinetry contrasts against the crystal-adorned terrazzo kitchenette benchtop. Naturally, the kitchenette is filled with local delights, the coffee and tea is complimentary – but the food and drinks are charged for as per the minibar list. The bathrooms are simple, but a bold yellow feature tile and Leif hair and body products stand out. The floors are concrete, ideal for beachside easy cleaning. There is a hanging rail for clothes and plenty of space for suitcases.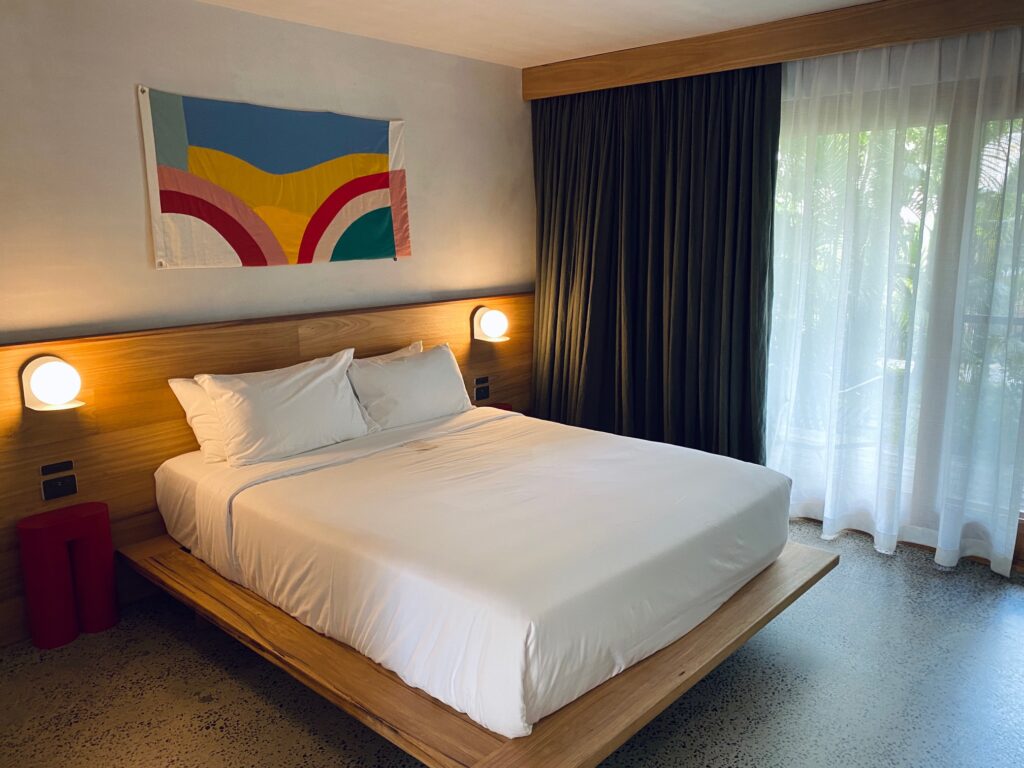 The one thing the rooms are missing are robes and slippers. You can live without the robes, but it is wise to bring your own set of slippers.
Facilities
The Sunseeker is a uniquely well-appointed property. There is a large reception area that leads onto a beautifully-decorated communal lounge area, perfect for reading a book or having a drink when you need a break from the sun.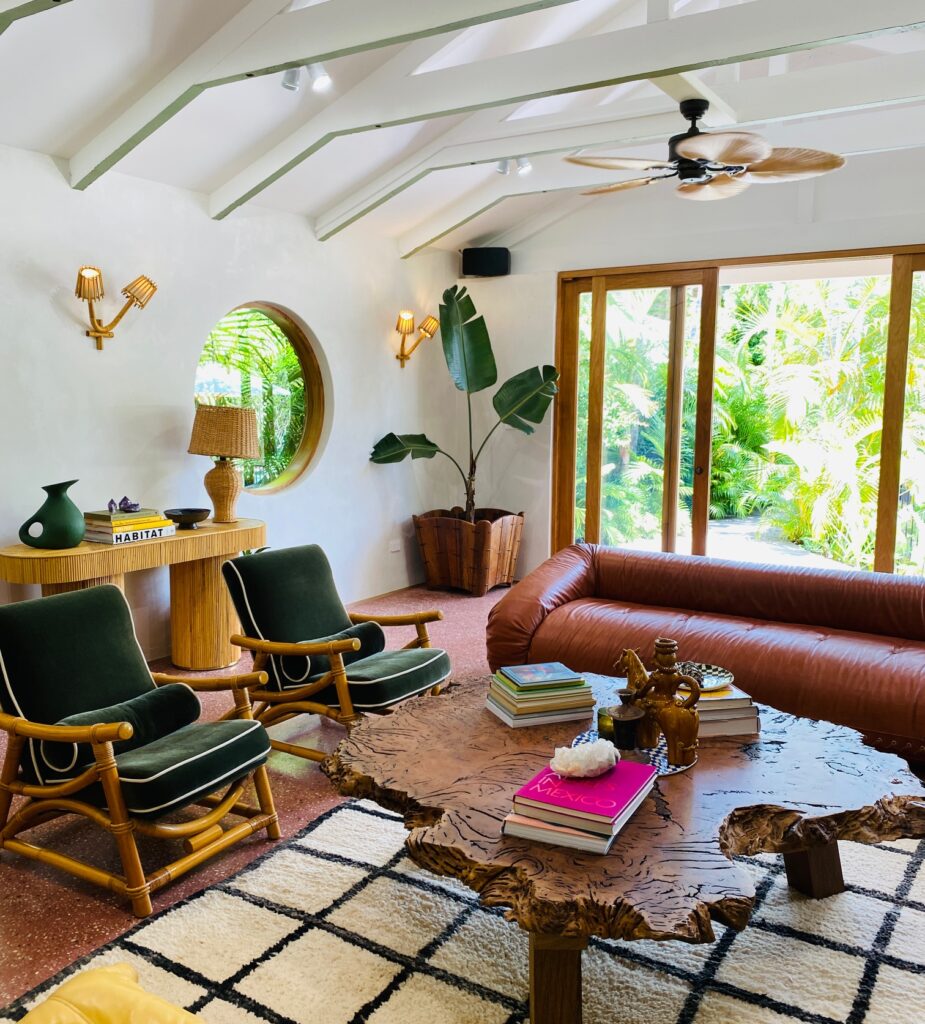 There is an open-air bar area with stools and other seating. While the hotel does not have its own restaurant, this space is designed for you to be able to bring in food so you're not confined to eating in your room. For the kids, there's a small playground around the back of the property. There's also a fire pit that is very pleasant to sit around on cooler evenings.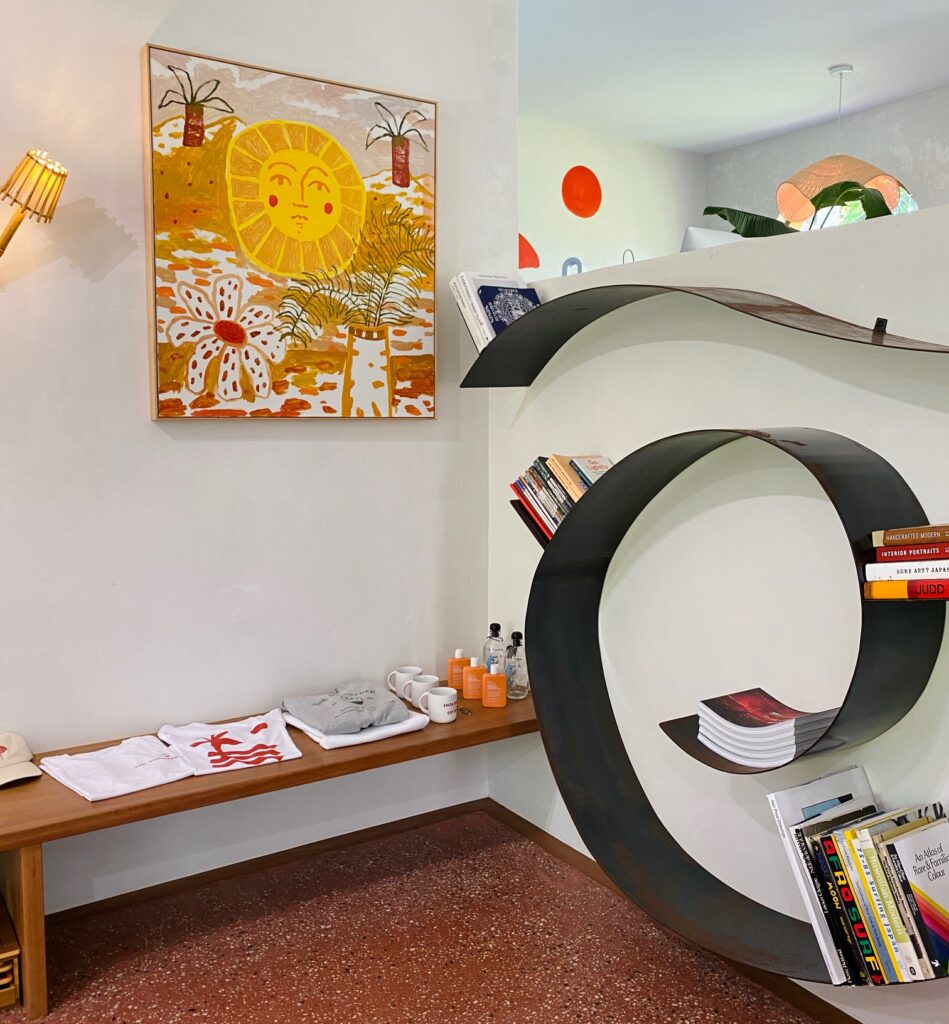 As for conveniences, there is a laundry room, equipped with a dryer for all patrons to use. There is a communal ice machine near the room entries on the first level. There's also a small but well-curated library. And for those who want to get out and about and explore all the things to see and do in Byron Bay, there are surfboards and bikes available to rent. 
If you have a car, you'll be happy to know The Sunseeker has free parking and there is more than enough for all rooms. There is also an EV charger.
Pool 
The jewel of The Sunseeker is undeniably the property's retro mineral pool.
Kidney pools have been an icon of mid-century design since they became popularised in the 1950s. And The Sunseeker's iteration is all things California cool. Surrounded by a riot of towering, leafy palms and flanked by white sun loungers, the pool area at The Sunseeker is a little slice of heaven.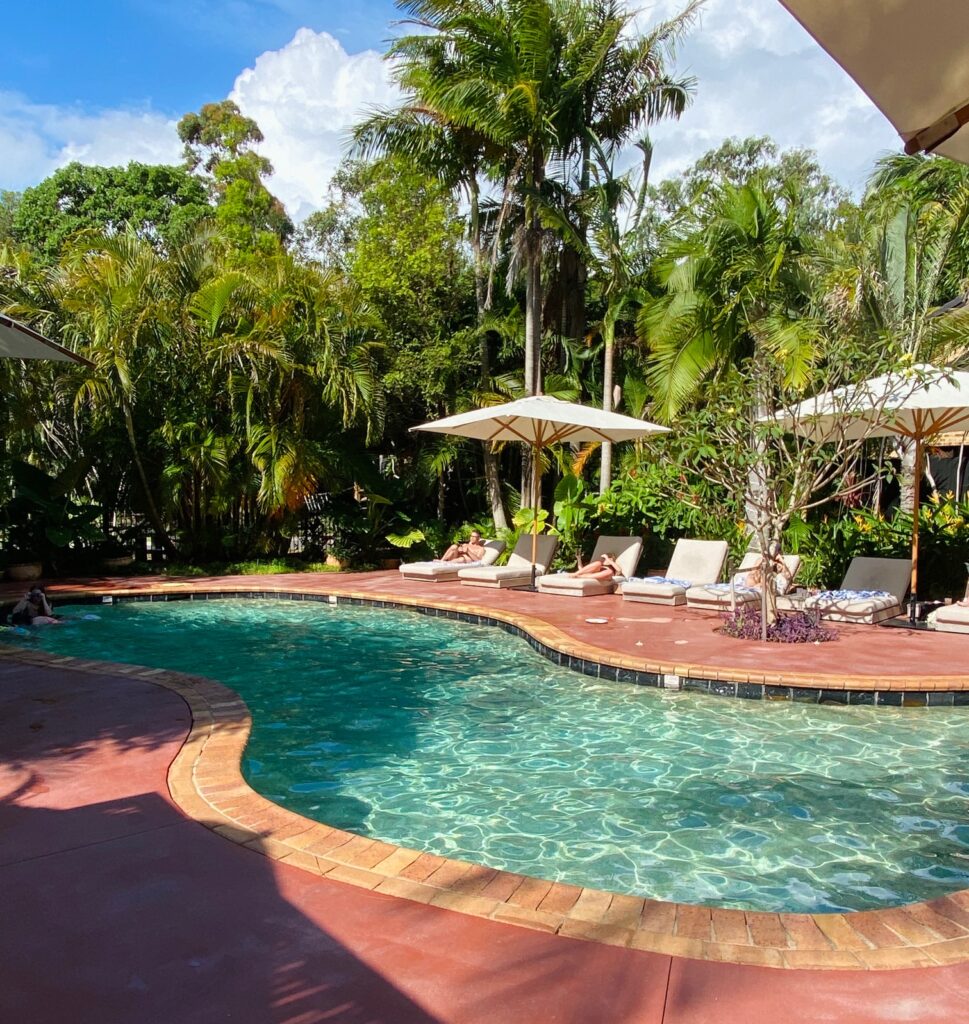 See Also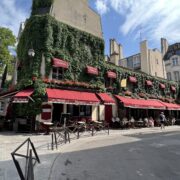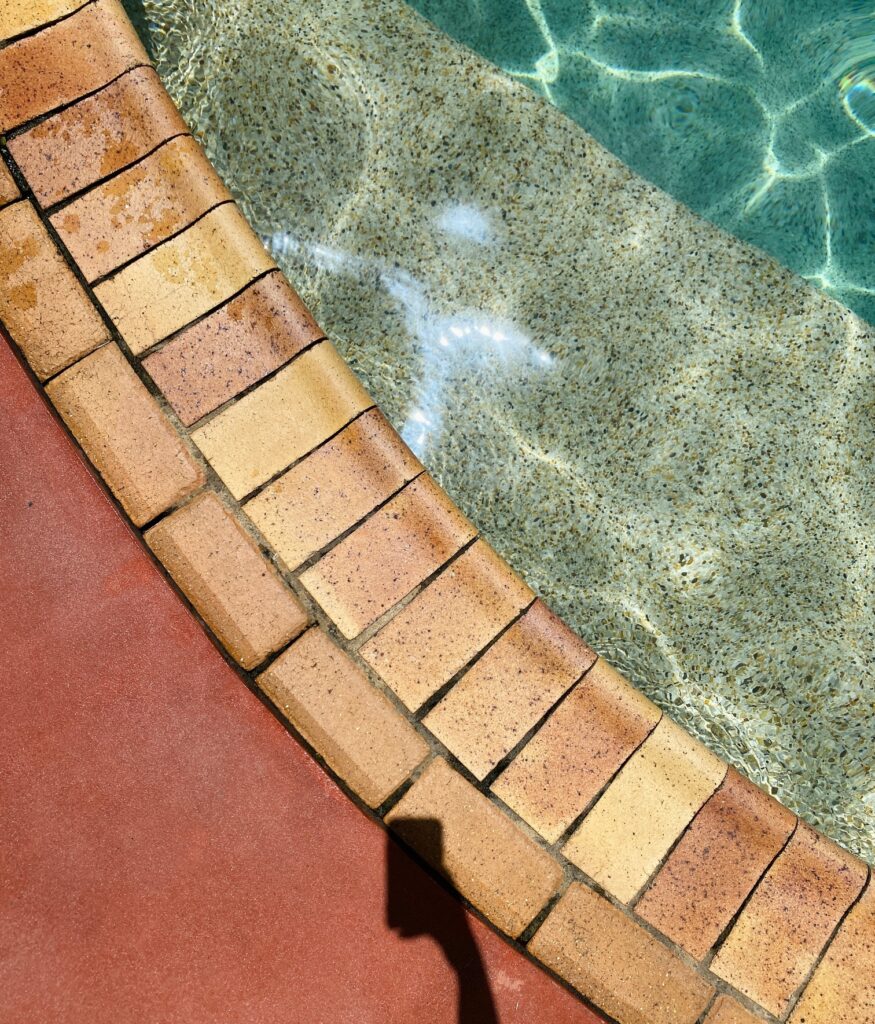 Bear in mind that The Sunseeker is a family-friendly property, so it's not always the quietest place to relax. There can be a lot of children and noise in the space, so if this is not your vibe, bring headphones.
The pool area also comes with an adorable Tiki bar that serves fantastic cocktails, and anything else you'd like to drink. So if you can find a quiet moment, this is the perfect spot to enjoy a fruity beverage in the sun.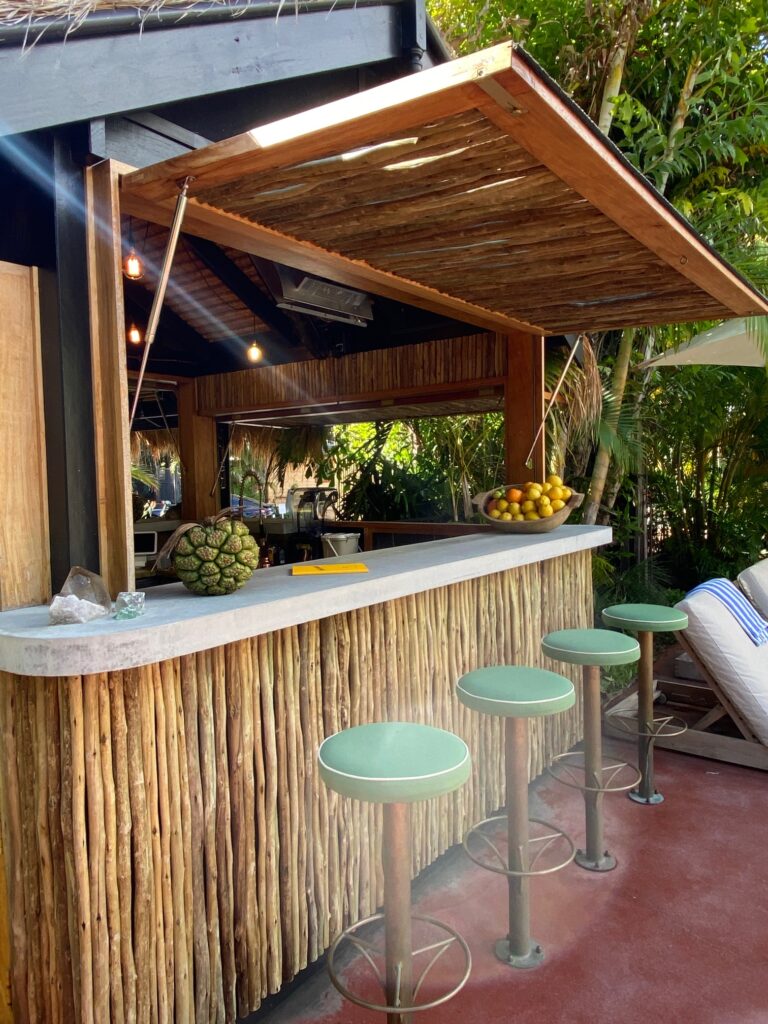 Restaurants and food 
The Sunseeker does not have an onsite restaurant, nor does it have a breakfast offering. You can special-order hampers or meal packages, but this does need to be done 48 hours in advance. And since the rooms don't have microwaves, reheating meals you order is an issue – unless you're staying in one of the Bungalows and have access to the BBQs included with those rooms.
Your best bet will be to eat out, and given that Byron is so well stocked with eateries, cafes and restaurants, you're not short of places to get a bite. The closest cafes are The Byron General Store which is about a five minute stroll down Bangalow Road, or Top Shop which is just up the hill towards Tallow Beach.
But if you don't want to make the trip into town just to get a coffee, there is a coffee cart open every day (yes, even Christmas Day) at the front of the property in the mornings. It also has a selection of pastries for you to take back to the room.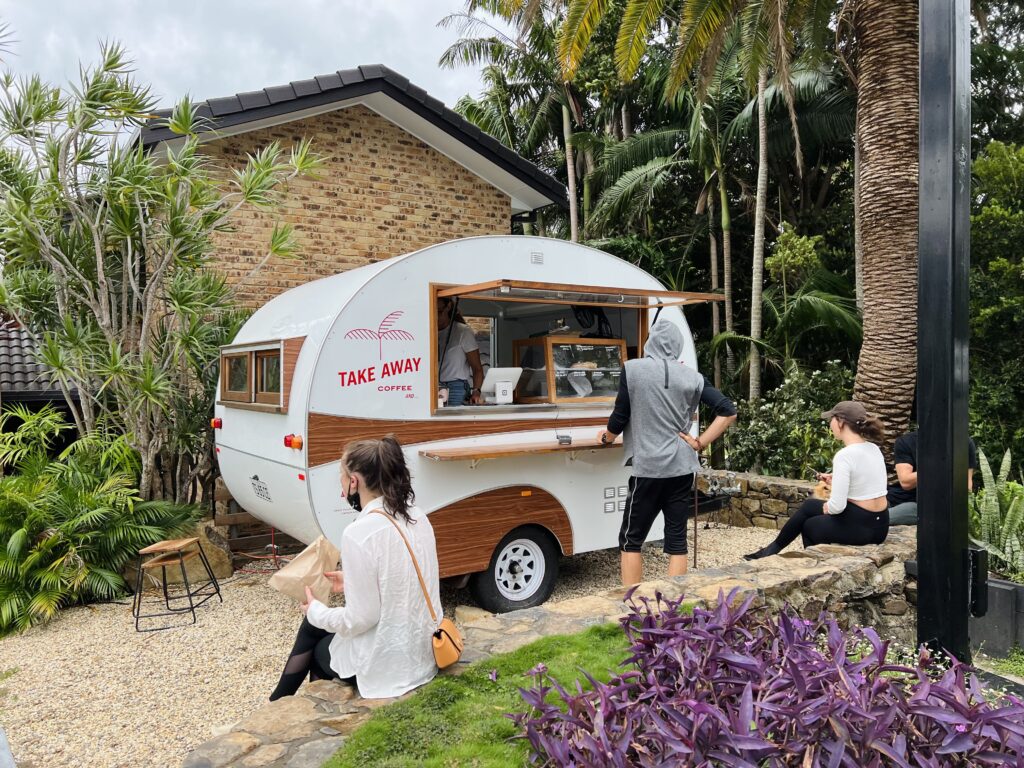 Or you can do what I did: stock your bar fridge with easy treats. It's not a big fridge, but it can absolutely fit a few cold cuts, grapes and some yoghurt.
Price
It's not cheap, but then again, none of the hotels in Byron are. And if you compare it to some of the other hotels in the area, it's more affordable, despite being arguably better-appointed. The prices do change and fluctuate based on demand, but roughly you'll be paying $300-ish a night in low season and $500-ish a night in peak season.
When comparing prices in the area, we found this property to be even cheaper than most of the Airbnb during peak season. You can find more on pricing at the booking link.
Our take
There is something so enchanting about the property that it really does beckon you to "holiday often" – the slogan stamped in choice places around the hotel. The furnishing, design and thought that has gone into every single corner of these accommodations make it easily one of the most unique and special hotels I've ever stayed in.
There are a couple of things you could nit-pick about: no slippers in the room, the bathroom is a little bit more like a wet room if you shower for too long, the pool area can have some noisy kids… But really, this is a magical property.
And I have already booked my next stay.
Mia Steiber
Mia Steiber is an editor, journalist, strategist and SEO whizz. She's been a beauty writer, fashion journalist and finance writer for over a decade. In the past, she has written for brands like POPSUGAR, Cosmopolitan Australia, Gizmodo, Mamamia, The Daily Telegraph and Finder. You may recognise her face from her appearances on Sunrise and Channel 7 News where she's talked about all things fashion and beauty. She has a Bachelor's degree in journalism and certification in travel writing. A slashie through and through, Mia is currently the Digital Strategy Director at RUSSH Magazine and the Editor-in-Chief at finance site RateCity. She started Redaktör with her partner Luke so she could have her own space to share her years of expertise in beauty, fashion, travel and money - reviewing the best in luxury products and experiences. In her spare time, Mia is a collector of cats, a lover of skincare, a world traveller and a passionate gardener.