Revolution Skincare review: Why the brand's Niacinamide Essence Spray is an oily skin saviour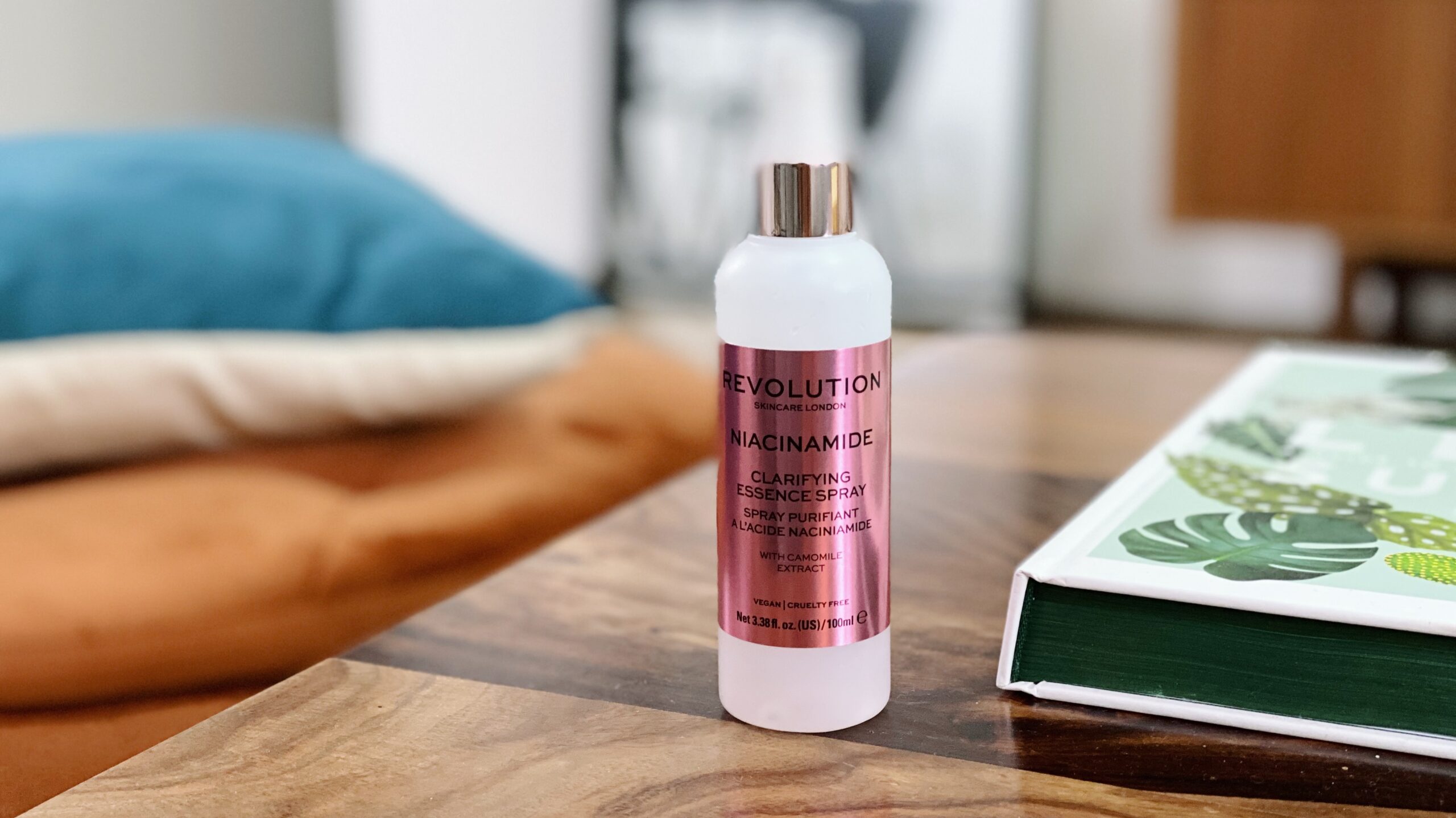 I love a cheap beauty find. And this one is worth raving about. It's the product I always wanted but didn't know existed. Until now.
It's the Niacinamide Essence Spray from Revolution Skincare.
Why is this one such a game changer? Well, I'll tell you. It's the solution to your midday skin woes. If your skin is too shiny or too dry by lunchtime, this is your fix.
I have oily skin. I'm lucky that it generally behaves itself, but I can't manage to escape the shine. Wherever I've worked, I've always had a makeup mirror perched on my desk. My skin tends to look more like polished metal than skin by midday. And I need my mirror to tell when I really need to start pulling out the blotting tissues.
As a result, I stopped wearing foundation to work back in 2014. There's no point, it ends up pooling in the oil slick that is my face after just a few hours. Unless I powder regularly or go to the effort of applying a mattefying base and all that jazz. Far too much effort for me in the morning.
Of course, I've shopped around for products to help. And I've had everything recommended to me. A lighter moisturiser. A drier foundation. But I don't want to compromise on giving my skin the good stuff it needs to stay young. 
I have found that face mists can help. And I am a regular face mist spritzer. I find that if I don't give my face a little something something throughout the day, it gets even oilier to compensate for lack of hydration. I would often catch myself wishing there was a face mist that would stop my skin from getting so damn oily. Finally here it is! The Revolution Niacinamide Essence Spray.
If the brand name sounds familiar, you'd be right. Revolution Skincare is the skincare arm of the Makeup Revolution family. It's also known as Revolution Beauty in some markets. The Revolution brand also has Revolution Pro, which is all about high-impact makeup products for the truly obsessed beauty buffs out there. The brand's skincare products are relatively new and, in my humble opinion, absolutely fabulous.
This particular product, which is part of the brand's Essence Spray range (yes, there are more!). And the ingredient that makes it all happen is niacinamide. Also known as vitamin B3, it's a compound that helps to regulate sebum production. So if your skin is oily, it will calm down the over production. But if it's dry, it might give you a little kick start. For that reason, it works really well on everyone – from acne prone teens – to dry mature skin. The added benefit, niacinamide can help to tighten up your pores, leaving you with smooth, well-balanced skin. Plus, the added camomile aids in calming any inflammation or irritation.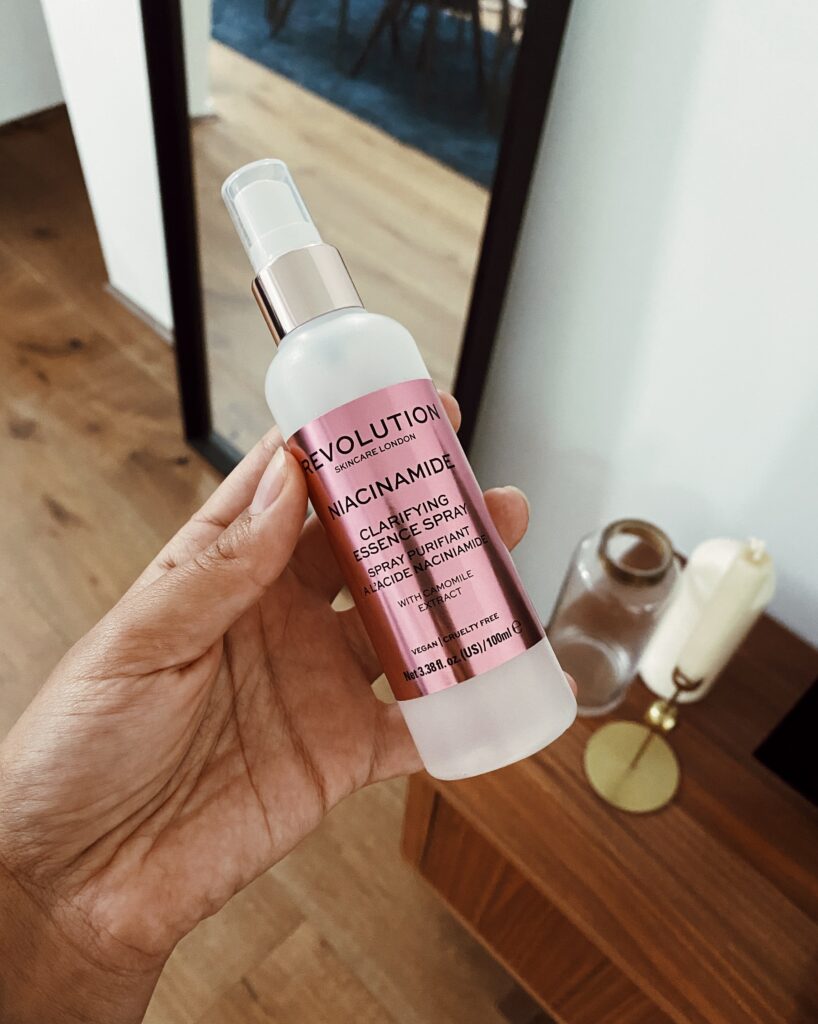 Obviously this is not the first product to utilise niacinamide – there are plenty of toners and moisturisers out there.  But it is the first niacinamide mist I've seen. And more than that, it's affordable. This bottle will only set you back $12.
It's been a great handbag companion. Whenever I feel like my skin is getting a little over excited, I'll give my face a quick spray. And it has done wonders to calm my complexion. It's still oily but it's not aggressively shiny. And if I am wearing makeup, I'll give my face a good spritz before I apply the rest of my products. It's made a big difference to how long I can keep my foundation in place.
I also feel like my other products are being better absorbed. I feel like having less oil is allowing my serums and lotions to get deeper into my skin instead of just sitting on top. But that might just be a placebo effect. Who knows?
This is now a beauty mainstay for me. And since it's only $12 from Priceline, you might want to put one in your bag too.
Revolution Skincare is also available at stores like Ulta and ASOS if you're outside Australia.
---
Mia Steiber
Mia Steiber is an editor, journalist, strategist and SEO whizz. She's been a beauty writer, fashion journalist and finance writer for over a decade. In the past, she has written for brands like POPSUGAR, Cosmopolitan Australia, Gizmodo, Mamamia, The Daily Telegraph and Finder. You may recognise her face from her appearances on Sunrise and Channel 7 News where she's talked about all things fashion and beauty. She has a Bachelor's degree in journalism and certification in travel writing. A slashie through and through, Mia is currently the Digital Strategy Director at RUSSH Magazine and the Editor-in-Chief at finance site RateCity. She started Redaktör with her partner Luke so she could have her own space to share her years of expertise in beauty, fashion, travel and money - reviewing the best in luxury products and experiences. In her spare time, Mia is a collector of cats, a lover of skincare, a world traveller and a passionate gardener.