Freshwater Brewing Company: inside your new local

Sydney's Northern Beaches now plays host to a brand new venue that's set to become a favourite for everyone. It's called Freshwater Brewing Company, and we went inside to sample the beers, menu and chat with the hands-on founding team.
What is it?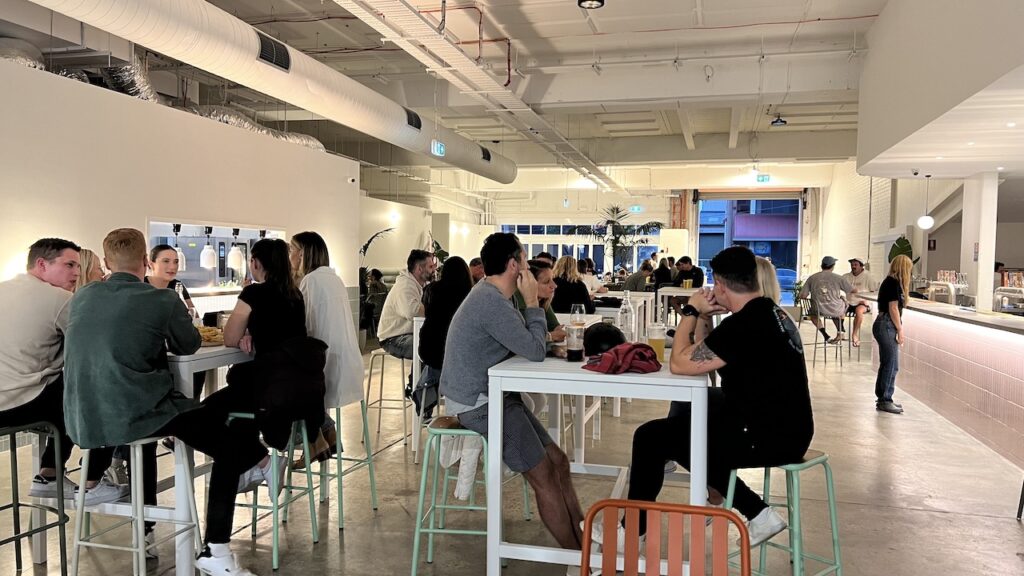 Freshwater Brewing Company is a family-friendly space in Brookvale on Sydney's Northern Beaches that can cater to small and large groups. 
It was built quietly and painstakingly during COVID and Sydney's now notorious floods to be a space where all would be welcome to kick back and catch up with friends.
The founding team are all veterans of the global hospitality scene and have genuine care for their new space, their cuisine and their beer (naturally).
Beer is brewed on-site in a facility you can see from just about anywhere in the venue. 
It's designed to be an inclusive space. The team said they didn't want it to be just another space that serves beer exclusively to ginger-bearded brew-nerds. Sydney has more than enough of those to go around. Instead, it features a beach vibe, authentic to the area it's situated in. Light pours in from the windows and the colour palette is soft and inviting. It's a great space to spend some time.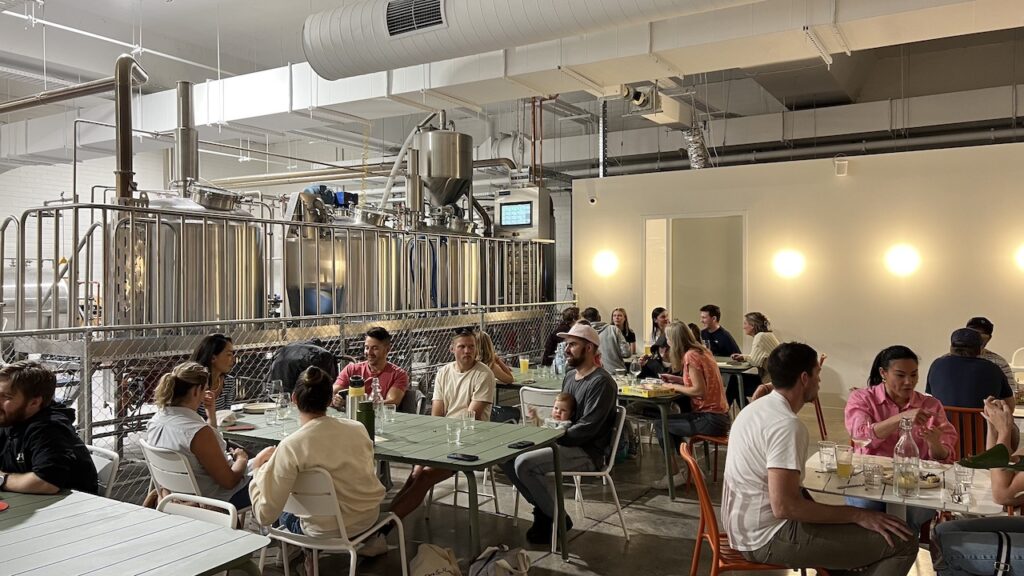 This inclusivity focus also extends to dogs: it's a pooch-friendly venue, as well as kid-friendly. 
Freshwater Brewing Company is like having beers in your best mate's backyard, turned up to 11. At launch, Freshwater Brewing has capacity for 150 patrons at a time, and even on launch weekend, we saw queues forming to check out the new venue. It's a local hit!
We were lucky enough to get inside, meet the team, and sample their wares before doors opened to the masses.
Where is it?
Freshwater Brewing Company is located on Sydney's Northern Beaches. It's about a 35-minute drive from the Sydney CBD, or about as much time on a bus (plus a short walk).
You'll find it at 4 Powells Rd, Brookvale NSW 2100.
Freshwater Brewing Company: the menu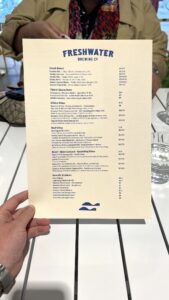 If you're in the neighbourhood and looking for lunch, don't pass Freshwater Brewing Company. I know it's a brewery both in spirit and by name, but the food is truly something to behold at Freshwater Brewing Company.
One look at the menu and you notice that Freshwater Brewing Company isn't your usual warehouse brewery. It's bar snacks, elevated to an artisanal meal with fresh and unique ingredients. 
Daniel Wilson is the madman behind the menu. He's a Michelin-trained executive chef with a true passion for local ingredients. 
Take the Ploughman's Board, for example. It's a board that has been done for decades in pubs all over the world, but Dan does things differently. The platter features unique ingredients that all have a story. Like the honeycomb and honey he scored from his brother's own hives. These hives were specifically situated near unique Australian fauna so that they would produce honey of a specific flavour and texture.
Then there's the enormous pork sausage roll with cumin, harissa and fennel mayo; the epic fish finger sandwich that's big enough for two, and the unbelievable beef skewers, served with salsa verde and wild rice.
Freshwater Brewing could put you over a barrel with offerings like this, but everything is very reasonably priced. The most expensive dish is the prawn po' boy, served with mustard aioli, lime, tomato and rocket for just $22.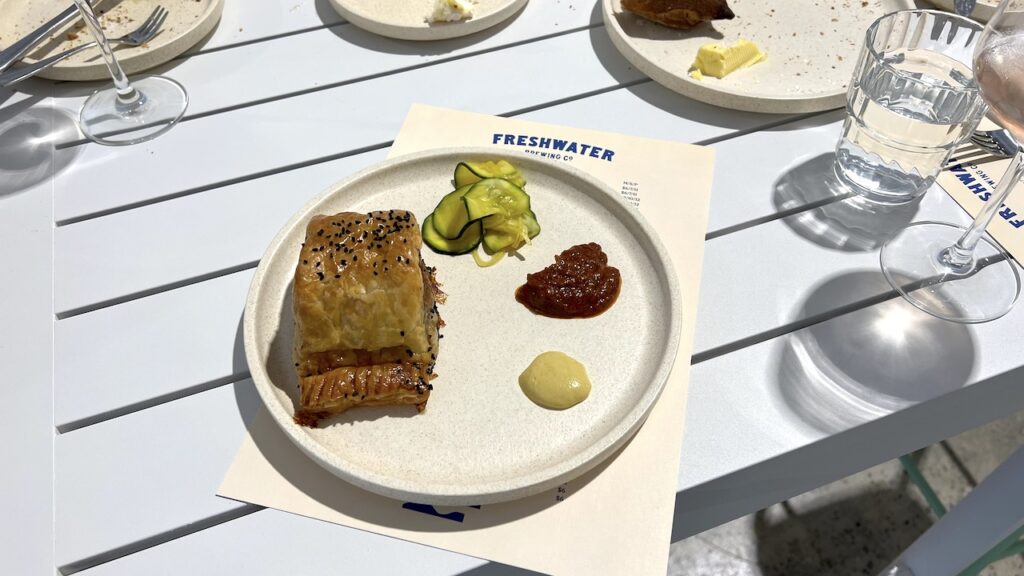 My recommendation is the incredible fish finger sandwich. It's so good you'll want to order two.
Freshwater Brewing Company: the drinks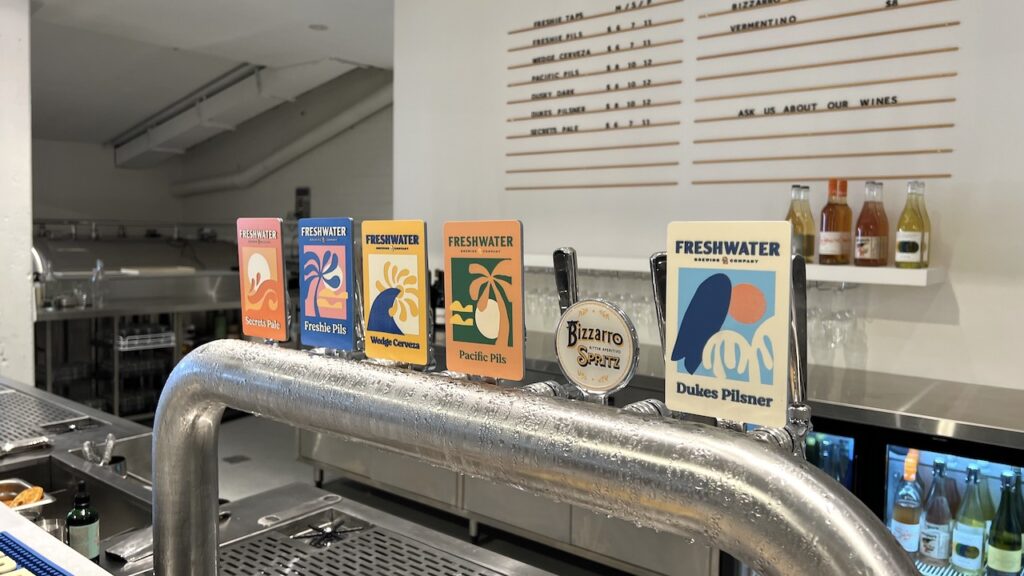 Any beer lover is going to love Freshwater Brewing Company. A squadron of beers await you on tap. Here's what was on offer when we checked it out:
Freshie Pils – Crisp. Classic. German Pils, 4.4%

 

Wedge Cerveza – Sundrenched corn lager. 4.6%
Pacific Pils – Hoppy. Kiwi. Lager. 5.0% Dusky Dark – Biscuit. Roast. Malty. 5.0%
Duke's Czech Pilsner – Traditional. Euro. Banger 5.0%
Secrets Hazy Pale – Citrus. Hazv. Crusher. 4.4%
There's also a wine menu. An actual wine menu. Not a piecemeal afterthought with cheap cleanskins like some breweries offer.
The wine list at Freshwater Brewing Company has been designed by wine drinkers, for wine drinkers. After all, this is a space that is meant to welcome everyone! Even if they don't drink beer.
As a lover of wine myself, I can highly recommend the Pet Nat on offer. It's light, flavoursome and perfectly matches the beachside aesthetic of the Freshwater Brewing Company.
Here were the wines on offer when we attended:
White Wine
Sparrow & Vine Murray Darling Vic (Vermentino)
Konpira Maru Panopticon Vic (80% Riesling 20% Pinot Gris)
Konpira Maru El Pacu Vic (5 white grapes & dash of pinot noir0
Red Wine
Red Sigurd Blend SA
Sunnv Dawn McLaren Vale SA (Shiraz)
Year Wines Wok Blend SA (Grenache & Mataro blend)
Ari's Natural Wine Big Red NSW (Montepulciano / Shiraz)
Rosé/Skin Contact/Sparkling Wine
Sigurd 2021 Barossa SA

 

Lunar Prosecco SA

 

Sunny Pet Nat Barmera SA

 

Vanguardist La Petite Vanguard SA

 
Luke Hopewell
Luke Hopewell is the editor and co-founder of Redaktör. He's previously been the Editor of Gizmodo, Founding Editor of Business Insider Australia, Editorial Lead for Twitter Australia and more.