How to pick a winter wine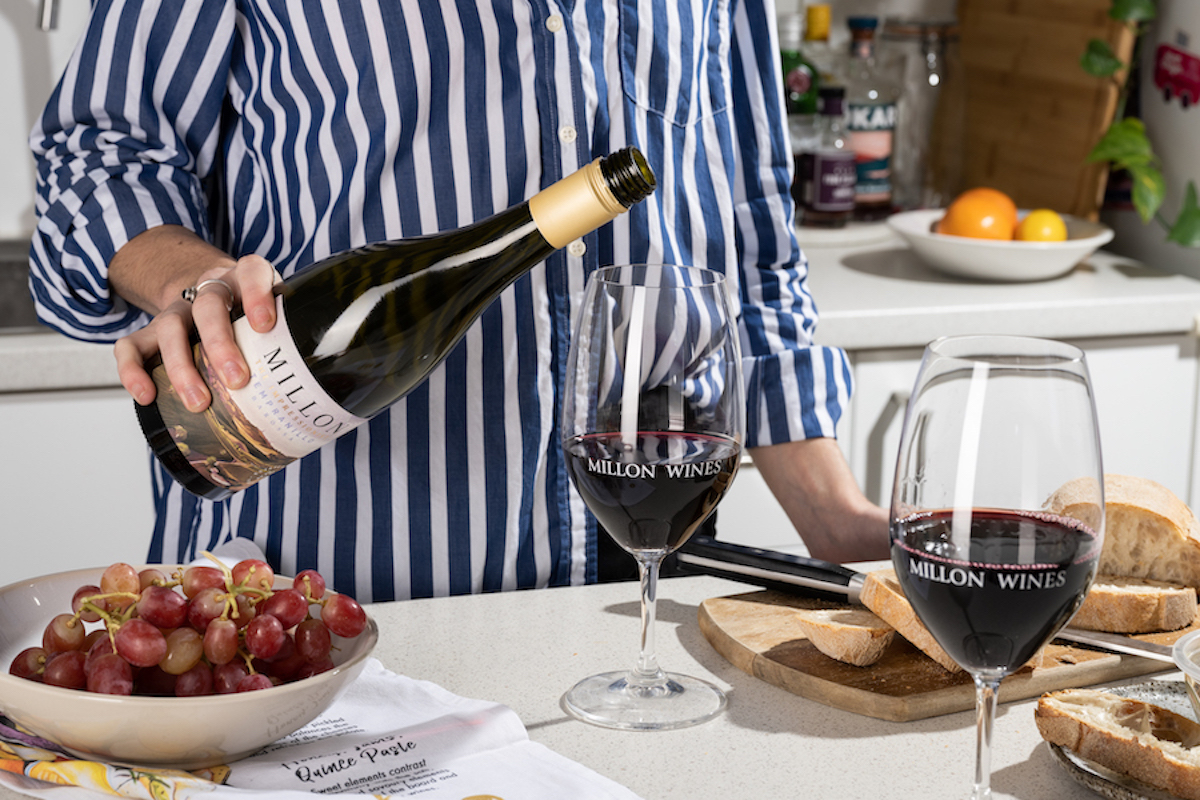 It's getting colder outside. Here's how to pick a winter wine that will warm you for the chilly season.
Luke Hopewell is a renowned drinker. If it mixes, pours or pairs, Luke has tried it and has his thoughts. If you've got a question for Redaktor's mixologist-in-chief, send him an email: [email protected].
We spoke to Angus Wardlaw, the head winemaker at Million Wines in South Australia, about what to look for. Hint: it's more than just what's on the label!
What makes a good winter wine?
Many factors make certain wines better suited for enjoying in certain seasons. The way each wine looks and feels along with the foods with which they pair best are just a few of the things to consider when choosing an appropriate winter wine. The temperature at which the wine is served, along with the surrounding temperatures also helps determine what kinds of wine will go best in certain seasons.
According to Wardlaw, the perfect winter wines are generally:
Heavier and richer
When choosing a winter wine, it's important to consider the types of foods that you'll be pairing with them. Winter foods tend to be heartier and contain more meat and fat so the wine you pair with them needs to be strong enough to stand up to and cut through the bold and savoury flavours. Winter wines are richer, full-bodied and more flavourful, making them the best complement to foods with the same qualities.
Served at warmer temperatures
With the exception of champagne, winter wines are typically served at warmer temperatures than summer wines, which are usually chilled to be more refreshing. The warmer serving temperature helps bring out the wine's aromas and flavours and is more appropriate for drinking when the temperature outside is colder. Certain wines are also delicious when served hot, such as in mulled cocktails, which is perfect for keeping warm during cold winter nights.
Deeper in colour and less fruity
Since winter wines typically contain more tannins – the compounds that are derived from the skin, stems and seeds of grapes – they are usually deeper in colour. The higher concentration of tannins also causes the wine to have a more sharp and dry taste. While both warm weather wines and winter wines possess fruity notes, those found in winter wines tend to be more earthy and less sweet.
When it comes to serving red wine, opt for larger wine glasses, but don't be tempted to fill them to the brim (even if it has been a long old week). A quarter full is ideal, as the space encourages the wine to bloom and release as many of its delicate aromas as possible. As for food pairing, forget saving that special bottle for steak night, red wine is far more versatile in terms of flavour pairing.
What food pairs with winter wine?
Cheese is always a good choice to match with practically any wine, including a variety of reds. While white wines might pair better with a more mild cheese, choose a strong, heavier, bolder cheese to pair with your red wine. For medium to full-bodied red wines, match it with a hearty dish at dinner like roast beef or lamb. For lean meats like pork, duck or chicken, choose a red with a versatile, medium-bodied texture and soft tannins. This makes them pair better with foods with less fat in them.
Angus' picks for perfect winter wine
Meticulously crafted to showcase unique flavors of each varietal and region. Whether it's an intimate dinner, a hard-earned celebration, or a gift to someone dear; Millon Wines have the perfect red for you.
This 2020 Shiraz is deep crimson in colour and is accompanied by aromas of blackberries, raw cocoa and plums. The palate exhibits red fruits, spice and integrated oak. Fine, velvety tannins persist in this balanced wine along with great length on the finish. Carefully nurtured from bud to bottle, these wines are handcrafted with passion and precision, resulting in a true reflection of the Barossa Eden Valley region and variety with sophistication and complexity in flavour, while maintaining balance and elegance throughout.
2021 The Impressionist Tempranillo – $18.00
Bright purple hues with lifted and punchy fruit aromatics of dark plums and mulberries are complemented by underlying notes of dried herbs and spice. The medium-weight palate is layered with red berries and mulberries and finishes with bright fruit acidity and fine silky tannins. The Eden Tempranillo is a lighter style of wine, leaning closer to a Pinot Noir than a Shiraz, with more elegant and delicate flavours. Beautifully lifted, complex and concentrated, yet balanced with stunning savoury flavours and a rich, textural mouthfeel.
2021 Clare's Secret Cabernet Sauvignon – $20.00
This single vineyard Cabernet Sauvignon originates from the Millon Armagh property in the Clare Valley from vines planted in 1998. Small parcels of fruit are hand selected and picked at optimum ripeness. Exhibiting a complex varietal nose of blackberries, plums and a hint of eucalypt. The palate displays pronounced blackberries and star anise which is rounded out with integrated oak and fine tannins.
2020 Estate Cabernet Sauvignon – $27.00
Deep purple in colour, this wine exhibits complex aromas of violets, blackcurrants, and plums. The palate is rewarded with pronounced black cherries, mulberries, and a hint of star anise. A complex wine that is well-rounded and finishes with silky, lingering tannins. This 2020 Estate Cabernet Sauvignon is unique, and differs from traditional Cabernets' greener and dryer styles. This 2020 Cab has beautiful flavours driven by its cool climate fruits, a complex depth of flavours while maintaining beautiful varietal notes.
Luke Hopewell
Luke Hopewell is the editor and co-founder of Redaktör. He's previously been the Editor of Gizmodo, Founding Editor of Business Insider Australia, Editorial Lead for Twitter Australia and more.