Never Never Gin's latest release will spice up your bar cart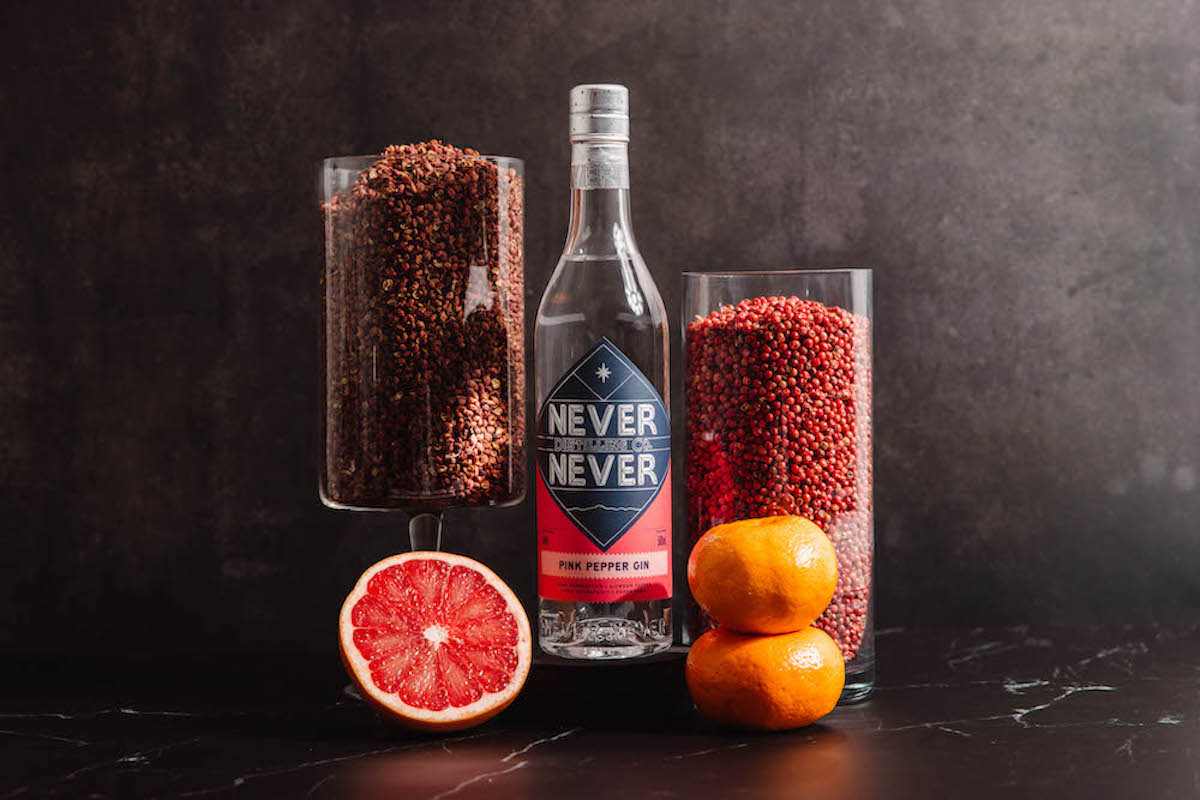 Never Never Gin is no stranger to funky botanicals. Its latest release is set to put a pep in your step.
In collaboration with Hains & Co, one of the country's most beloved gin bars, they have introduced Pink Pepper Gin, a captivating and aromatic creation that boasts an impressive blend of 16 botanicals.
Contrary to its name, Pink Pepper Gin does not possess a rosy hue, but rather, it presents an alluring fusion of flavours that will tantalise the taste buds. 
This gin showcases a combo of pink pepper, pink grapefruit, Sichuan pepper, mandarin, poppy seed, gunpowder tea, and Murray River pink salt.
Drawing inspiration from the exotic spice trade routes of Asia, Pink Pepper Gin pays homage to the rich flavours that have enchanted palates for centuries. 
By incorporating the dynamic duo of Pink Peppercorn and Sichuan pepper, this gin delivers an exciting spice profile that harmonises beautifully with the citrus notes of pink grapefruit and mandarin. To achieve an extended and indulgent mouthfeel, poppy seeds are steeped to extract natural oils and then pot distilled.
A remarkable twist in the recipe comes from the inclusion of Chinese gunpowder tea. It adds an herbaceous complexity that elevates the overall character of the gin. 
The further addition of pink Murray River salt allows the botanical nuances to linger gracefully on the palate.
Never Never Gin cocktail recipes
Here's what you can make with it, according to the expert mixologists at Never Never.
You'll find it works really well in a negroni, according to Never Never's co-founder, Sean Baxter.
Spiced Negroni
– 30ml Pink Pepper Gin
– 30ml Sweet Vermouth
– 30mL Campari
– Garnish with pink grapefruit twist
Add all ingredients to a mixing glass, add ice and stir. Pour into a short glass over block ice and garnish with a twist.
White Chocolate Martinez
– 45ml Pink Pepper Gin
– 25ml Rosso vermouth
– bar spoon of white cacao
– 1 dash of angostura
– Garnish with an orange twist.
Add all ingredients to a mixing glass, add ice and stir. Pour into a coupette and garnish with
a twist.
Pink Pepper Gin & Grapefruit soda
– 30ml Pink Pepper Gin
– 100ml Pink grapefruit soda
– Garnish with a pink grapefruit wedge
Build in a tall glass, top with ice, stir and then add garnish.
Pink Pepper Gin & Tonic
– 30ml Pink Pepper Gin
– 100ml Fever Tree Mediterranean Tonic
– Garnish with a pink grapefruit slice
Build gin and tonic in a highball or wineglass. Add ice and garnish with citrus.
Luke Hopewell
Luke Hopewell is the editor and co-founder of Redaktör. He's previously been the Editor of Gizmodo, Founding Editor of Business Insider Australia, Editorial Lead for Twitter Australia and more.