Is the iPad Magic Keyboard Folio worth it?

Apple has introduced a new kind of keyboard attachment for the iPad. But is the so-called Magic Keyboard Folio worth it? Or should you go for the expensive-but-awesome Magic Keyboard instead?
Luke Hopewell is a gadget veteran of over 10 years. If it goes beep in the night, Luke has tested it. Got a question for the author? Head to the comments, or email the author at luke@

redaktor.co

.
iPad Magic Keyboard Folio review: our take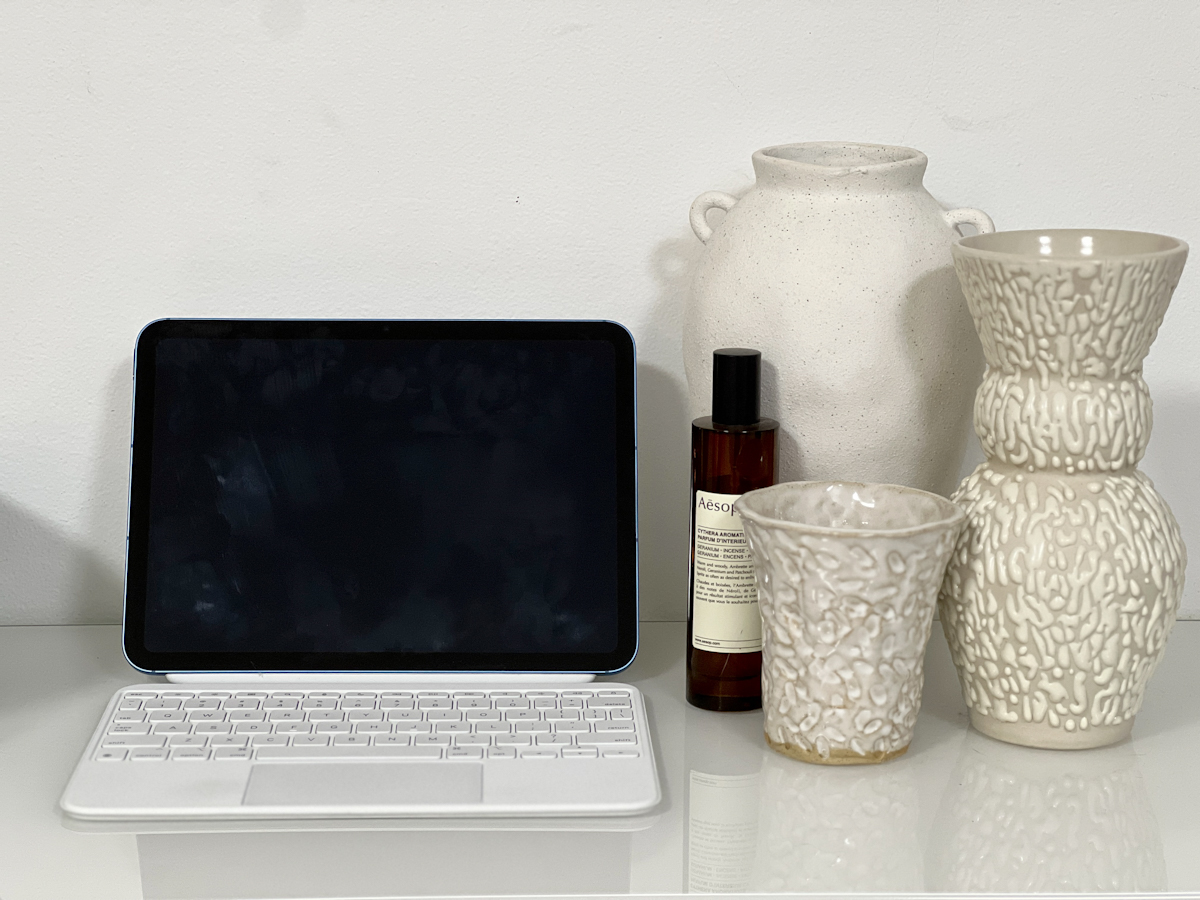 Third-party iPad keyboards have always been OK, but they need to be paired, charged or both. Super annoying. So when Apple introduced one that seamlessly attached to your device via the Magic Connector, it changed the game.
There has never been a cheap revolution, however. The Magic Keyboard costs a pretty penny. But Apple is here with a modular (and slightly cheaper) version called the Magic Keyboard Folio for iPad (10th gen).
What is the Magic Keyboard Folio?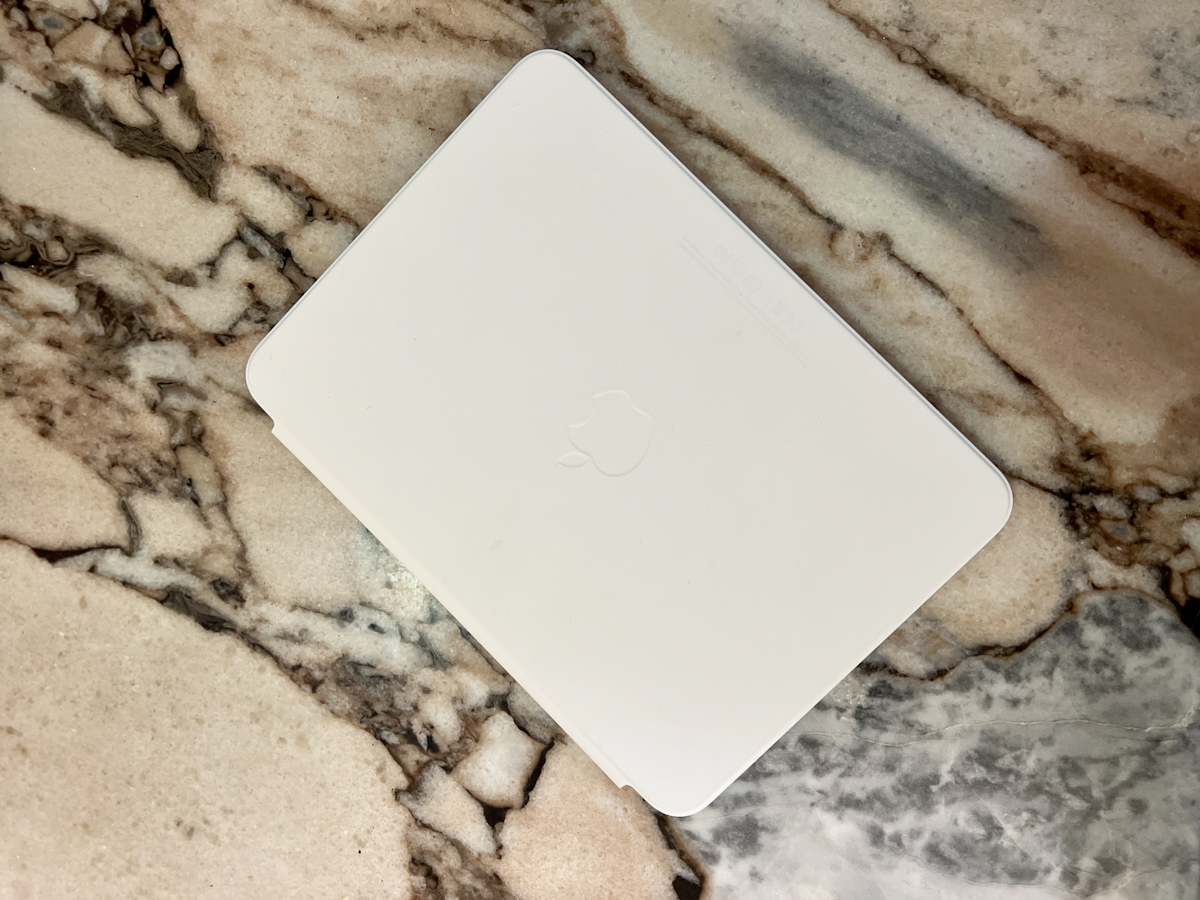 It's a modular keyboard/kickstand case that turns your base iPad into a Microsoft Surface-killer.
There's a full-size trackpad for mousing around your device, and a full-size keyboard deck. It's a scissor-key mechanism much like a MacBook, so typing is familiar and comfortable.
The keys sit flat on the desk when the case is open so it doesn't bounce around, and it all attaches magnetically to the iPad. No pairing, charging or waiting. Just click and go.
Plus, you get a full function key row at the top, which is a game-changer for iPad shortcuts. It's almost exactly the barebones MacBook we've always dreamed of.
There's also a kickstand integrated into the back of the case. Fully-extended, you get a 40-degree angle of articulation. It's the perfect amount of lean-back, but the kickstand won't sit flat on a desk like a newer Surface device will, however.
Right now, the new Magic Keyboard Folio only works with the iPad (10th generation). If you have an iPad Pro or iPad Air, you're looking at either the Magic Keyboard (which I have lived with, loved and reviewed), or the Smart Keyboard Folio.
For the purposes of this review, I'm just reviewing the difference between the iPad Pro's Magic Keyboard and the iPad (10th generation)'s Magic Keyboard Folio. I'm confident we'll see Apple replace the Smart Keyboard Folio for iPad Air and iPad Pro with the same style of Magic Keyboard Folio I'm reviewing here sometime in 2023.
Magic Keyboard Folio vs Magic Keyboard: what is the difference?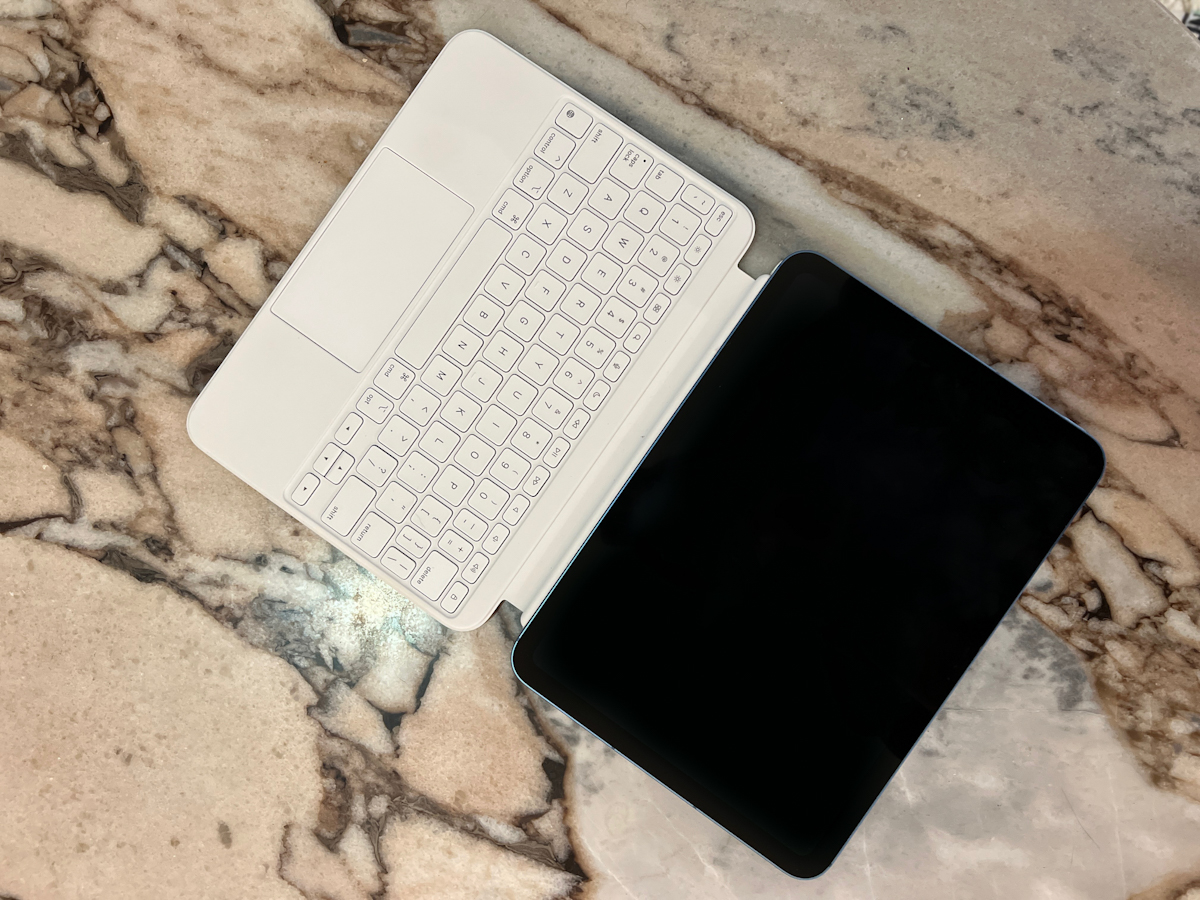 The Magic Keyboard Folio is basically a magnetic iPad case with a built-in kickstand and detachable keyboard. It makes it an incredibly versatile way to add functionality to your iPad.
The Magic Keyboard is a little different to the Magic Keyboard Folio. Specifically, the Magic Keyboard is in one piece. It doesn't detach like the Keyboard Folio.  That means you're locked in landscape format, using the iPad like a laptop.
To use it in portrait mode again, you'd have to take the Magic Keyboard off. Which kind of defeats the purpose of a case in the first place, right?
The Magic Keyboard Folio is modular. That means you can use your iPad in multiple modes with ease.
You can put the whole thing together and use it like a laptop. Or you can disconnect the keyboard and use it just on the kickstand backing plate. Alternatively, you can close the kickstand and just use it like a normal iPad with a thin magnetic case.
The Magic Keyboard Folio is far more versatile than the original Magic Keyboard. And it's lighter than the Magic Keyboard to boot, making it easier to carry around. But it does have one big drawback: how it sits on your lap.
Is the Magic Keyboard Folio any good?
I've found through a few months of using it that it's an incredibly versatile way to add functionality to your iPad Air. The Magic Keyboard gets you exactly that: a keyboard. The Keyboard Folio gets you a kickstand, a protective case and a keyboard.
It's so good that I truly wish Apple would ditch the Smart Keyboard Folio for iPad Pro and replace it with this instead. I really think this thing could replace the original Magic Keyboard as the preferred keyboard case for all iPads.
The only thing it doesn't do well, however, is rest on your lap. If you're someone who is going to use the Magic Keyboard Folio on a bus or train – anywhere without a solid surface, really – you're going to be a little disappointed.
Because the Magic Keyboard is rigid, it's perfect in every situation. Just like a laptop, you can put it on your lap just as easily as you can put it on a desk and it stays put.
The Magic Keyboard Folio just feels far too precarious on your lap.
I always feel like I'm tensing my thighs to make sure this thing doesn't somersault to the floor. If you're going to buy this, just make sure you'll be using it on a solid surface a majority of the time. It's interesting because it suffers from a similar problem that the Microsoft Surface has always struggled with.
The only other downside – especially compared to the Magic Keyboard – is that the Magic Keyboard Folio has no backlight for the keys. The iPad screen ought to be enough to illuminate your keyboard deck at night, but it's a big omission for such a big price tag.
Is the Magic Keyboard Folio worth the money?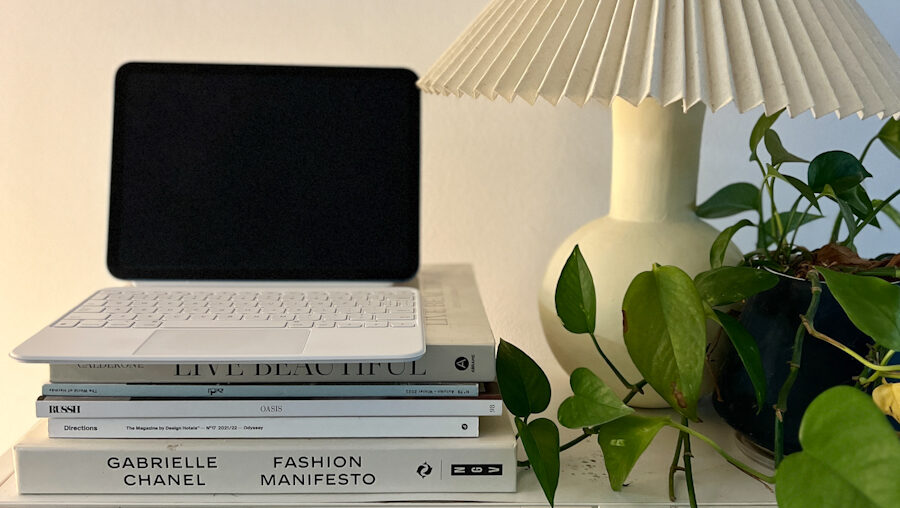 Honestly, I really think it is. $399 is a lot of coin but it turns your iPad (10th generation) into a completely different device. It makes it a true laptop replacement.
You can definitely find cheaper keyboard cases for iPad, but you won't find any that work so seamlessly.
As long as you don't plan on using it on your lap too often, you're going to love this one.
Alternatives to the iPad Magic Keyboard Folio
If you're not entirely sold by Apple's vision of what keyboards should be, plenty of other brands make their own gear.
I've tested all of these below and really recommend them as solid alternatives (especially the Logitech one!).
Logitech has been making iPad acessories for as long as there have been iPads. That's how you know it's good at it! The Logitech Combo Touch is the best alternative if you don't want to pay for Apple's Magic Keyboard. The Combo Touch features all the gear you want from a premium iPad keyboard case. It has comfortable, backlit keys that feel great to use. It locks the iPad into more of a protective case for better security. And it has a 
Microsoft Surface
-style kickstand so it doesn't flop about. Most importantly, it also has the trackpad that – to me – makes the Magic Keyboard so magic. It's also around $199 cheaper than Apple's keyboard that does largely the same thing.
If you want your keyboard case to have a bit of style, Typecase is for you. It features colourful backlit keys and comes in a variety of chassis colours. Handily, it also has a pen loop on the left-hand side of the keyboard so you can keep your Apple Pencil safe. Typically, the Apple Pencil would magnetise onto the top of an iPad Air or iPad Pro. But it isn't perfect. The number of Pencils I've lost from this is staggering. Long live a pen loop like on the 
Microsoft Surface Pro
range. It's also 
less than $200 on Amazon
.
Finally, there's the range of iPad keyboard covers from Brydge. Slightly pricier at around $300, the Brydge does a little more than just become a fancy iPad case. It turns your iPad into a MacBook lookalike. It magnetically snaps your iPad into place using the Dock Connector we mentioned earlier, and gives you a beautiful multi-touch trackpad and backlit keyboard to use. The base of the unit is gunmetal silver, with black backlit keys, much like our favourite MacBooks we're trying to replace with tablets.
Luke Hopewell
Luke Hopewell is the editor and co-founder of Redaktör. He's previously been the Editor of Gizmodo, Founding Editor of Business Insider Australia, Editorial Lead for Twitter Australia and more.