Surface Book 3 Review (2020): is it worth the money?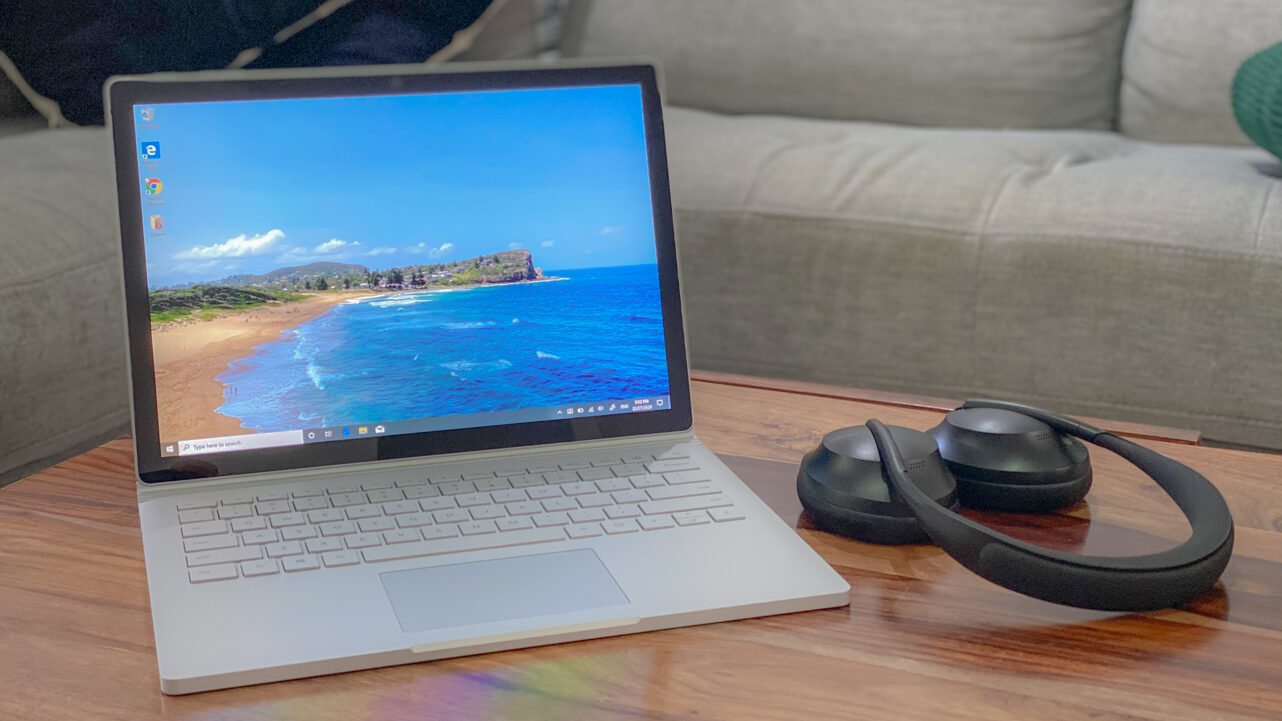 Microsoft is back with a new take on the Surface Book. We took a look to see if it's worth your time. It's kind of a hard question to answer.
Luke Hopewell is a gadget veteran of over 10 years. If it goes beep in the night, Luke has tested it.
Got a question for the author? Head to the comments, or email us at 
[email protected]
.

the good
– Great battery
– Powerful specs
– Beautiful design

the bad
– Pricey
– Design is getting a little long in the tooth after three generations
Surface Book 3 2020 review: Design
First things first: the Surface line of laptops and tablets are the best-looking Windows machines ever made.
It was true when the first Surface models were released, and now that I'm typing this on the Surface Book 3, it's still true.
There are plenty of great-looking Windows 10 models out there – look at the Dell XPS 13 or HP Spectre range – but Microsoft's own Surface range takes the cake. And not only is the new Surface Book 3 easy on the eyes, it's also packing a tonne of neat tricks.
The Surface Book 3 sits at the top of the Surface range. Typically if you wanted to pick a Surface you had to choose between a capable laptop or a capable tablet. With the Surface Book line, you get both. 
The screen disconnects from the keyboard base faster than ever on the Surface Book 3, thanks to some clever engineering.
You can then use it as a standalone tablet for as long as you need until reconnecting it to the base. It's the best kind of 2-in-1 device, as you truly get the best of both worlds. 
And look damn good doing it. 
To make all this multi-purpose stuff possible, the Surface Book 3 packs similar styling to the Surface Book 2. In fact, if you had the two side-by-side you'd struggle to pick which is the new model. That's not entirely a bad thing in the looks department, however. It's a sleek matte silver design with a unique folio hinge that bends rather than folds. 
Once disconnected from its keyboard base, the Surface Book 3 goes from being the most capable Windows laptop out there to being the most capable Windows tablet out there. It's truly a joy to have something that's both simultaneously functional, elegant and fabulous to use.
Surface Book 3 2020 review: Power
When the rubber hits the road, the Surface Book 3 is as close to go-anywhere, do-anything as you can probably get. 
It's packed to the gills with power.
The base model comes complete with more than enough power and storage to be a productivity workhorse for your day-to-day. The 13.5-inch base model probably won't win any awards as far as gaming or video editing performance but it has what you need for everything from schoolwork to work-work and everything in-between. 
We tested the model with a staggering 32GB of RAM; the quad-core 10th-Gen Intel Core i7 processor and a 512GB SSD.
Ours also came with the keyboard base that packs in a discrete graphics card (the NVIDIA GeForce GTX 1650 4GB)  for better gaming, editing and video performance  All that adds up to a price tag of just over $4000.
It's steep for a laptop, to be sure, but it'll play your games (on medium specs) with a decent frame rate and handle elementary video editing tasks on the go.
It's great for anyone who needs power and portability in equal measure. 
Battery life is also truly stunning.
Because of the Surface Book 3's design, Microsoft is able to hold all the device's brains in the screen so it can function as a standalone tablet. As a result, the keyboard stand can also be filled to the gills with batteries. 
Microsoft claims that you'll get a stunning 15 hours of battery life out of the Surface Book 3, and they're not far off.
In reviewing this laptop we easily got over 10 hours before we started to look for the charger. You'll obviously see lower battery life when you do more strenuous tasks like gaming or editing, however.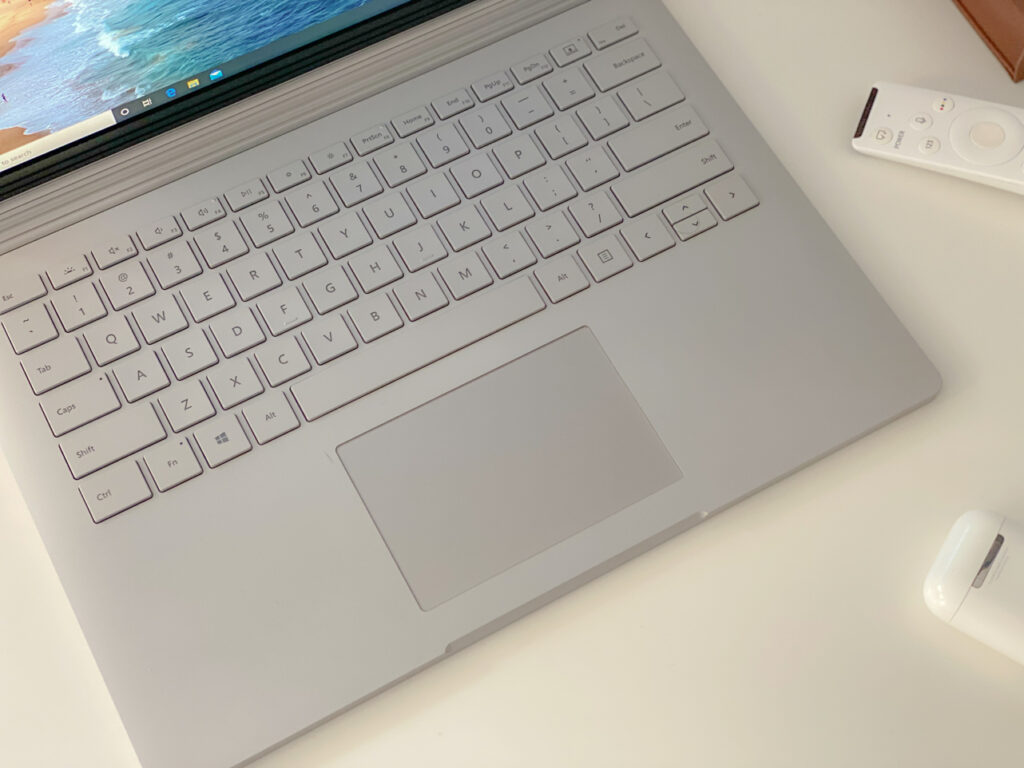 The best thing about the Surface Book 3, however, is that no matter which spec you get, it negates the concern about purchasing either a tablet or a laptop.
You have an incredibly capable version of both with just about any spec of the Surface Book 3.
Surface Book 3 2020 review: is it worth the money?
Here's where it gets a little curly: because the Surface Book 3 looks almost identical to its predecessor, the Surface Book 2, it suffers from a few of the same issues, and most of them are in the design department.
Because it has to function as both a competent tablet and a laptop, it has a 3:2 screen ratio.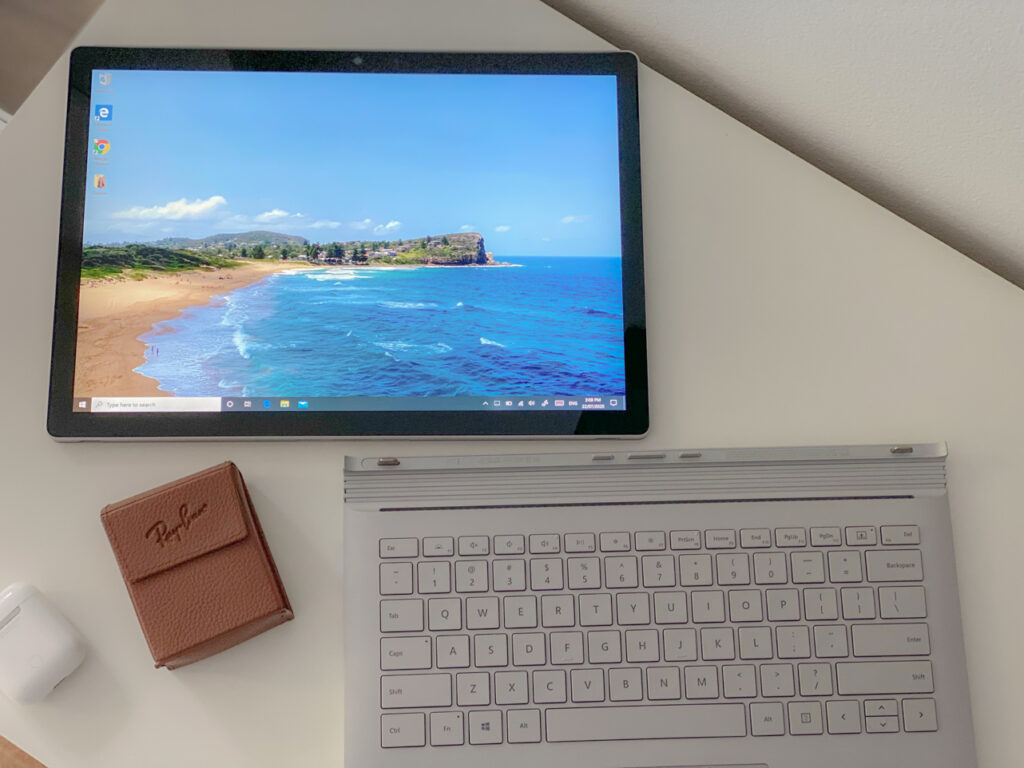 This gives it more vertical space in both modes, but it's a bit…weird. If you've come from a device with a 16:9 or similar aspect then you'll definitely notice the taller display. It takes a bit of getting used to, and it's neither a good or bad thing: it's simply a matter of taste.
What's still kind of annoying also is the fact that the tablet itself doesn't have its own kickstand. It sits up on its keyboard base or it lies flat as a tablet. There's no way to stand it up when it's in tablet mode.
Considering Microsoft makes the best tablet kickstand ever made in the form of the Surface Pro line, it's kind of weird three models later that the Surface Book 3 doesn't have even a piecemeal attempt at a stand for tablet users.
While I'm on the design, the hinge design means the screen can sometimes be weirdly bouncy and not as sturdy as it should be for a $4000 laptop. 
Elsewhere, the Surface Book 3 is missing a few USB-C ports it probably should have to keep up with competition like the latest 13-inch MacBook Pro (which is also staggeringly good).
The MacBook comes with four USB-C ports compared to only one on the Surface Book 3. 
The Surface Book 3 does still feature a full-sized SD Card slot, however, for those editing on the go, and it also has two full-size USB-A ports, which means you won't need quite as many dongles for the Surface Book as you might for the Mac.
As far as power and battery life is concerned, the Surface Book 3 is just about the most competent machine you can select in Microsoft's 2020 line-up.
It's not exactly a workstation-spec, but it's definitely a top-end consumer spec that will impress anyone looking to build stuff, play stuff or get stuff done on the go for as long as they need to.
I think it carries a bit of a premium because of the Surface-pedigree, but if you want a laptop that will take you through the following years confidently, you won't go far wrong with the Surface Book 3.
It's still my pick for top-end Windows laptops!
Read more:
If you're shopping for new gadgets, you should definitely know your rights when it comes to returns and refunds in Australia.
Luke Hopewell
Luke Hopewell is the editor and co-founder of Redaktör. He's previously been the Editor of Gizmodo, Founding Editor of Business Insider Australia, Editorial Lead for Twitter Australia and more.