Timex Q review: cheap and cheerful?

Timex has history on its side, and is using it to re-release some incredible new takes on old models. That includes the new Timex Q. But is it cheap and nasty or cheerful and fun? I bought one to find out.
What is it?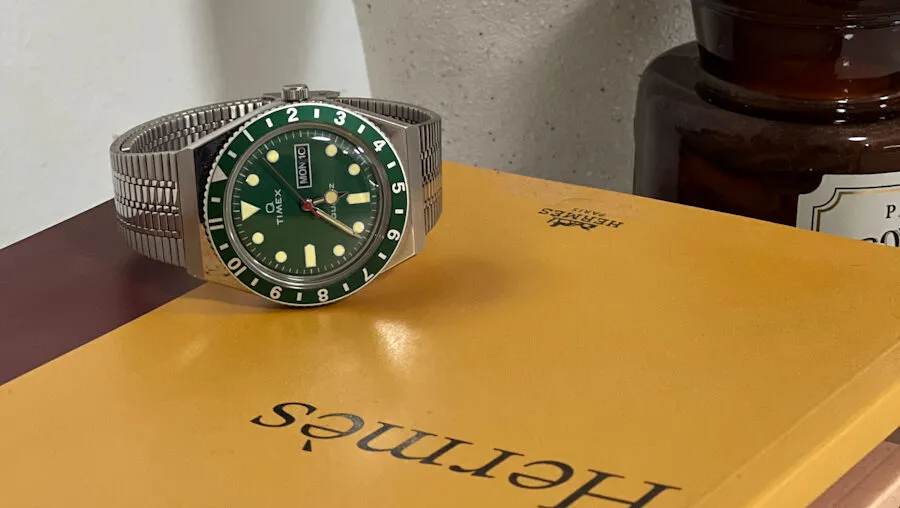 The Timex Q series is a battery-powered quartz range of watches released back in 2021. Since then, Timex has been adding to the family with great new models inspired by its old watches.
It comes in a range of colours. My two favourite are the red/blue combo, reminiscent of the Rolex GMT Master II, and the one I bought. The all-green dial/bezel model reminiscent of an Omega Aqua Terre novelty or even a cheeky take on the most recent Rolex Oyster Perpetual in green. It features both a date and day window at the three o'clock position.
The posts are circular and cream with a faint lume, and It's all set on a steel link bracelet with flip and click clasp.
I bought mine from a watch store in Paris (my home for all things horological) for 179 Euro.
What's good?
I threw the Timex Q on my wrist expecting to have a much cheaper experience. After all, how much can 179 Euro get you when it comes to watches?
What I found was very different. It feels sleek and light, and fits beautifully on on the wrist. The case falls away quickly beyond the lugs so it contours the wrist well with its somewhat-controversial four-link bracelet. I'll get into that in a minute.
Adjusting it to size is simple and can be done just by snapping up the hanger clasp and moving it up or down the band. Then just clip it closed and you're away.
There's a 12-hour omni-directional rotating bezel here too. I still don't really know what it's for given there's no GMT hand (on this model, at least) and no tachymeter or other stopwatch combo. But it's fun for a little fidget every now and then.
It just works, too. Set the time, adjust the strap and you're golden. It's a well-built, well-backed watch that catches people's eye and gives you a day and date window to boot.
It also comes with a global three-year warranty, provided you keep your papers.
What's not so good?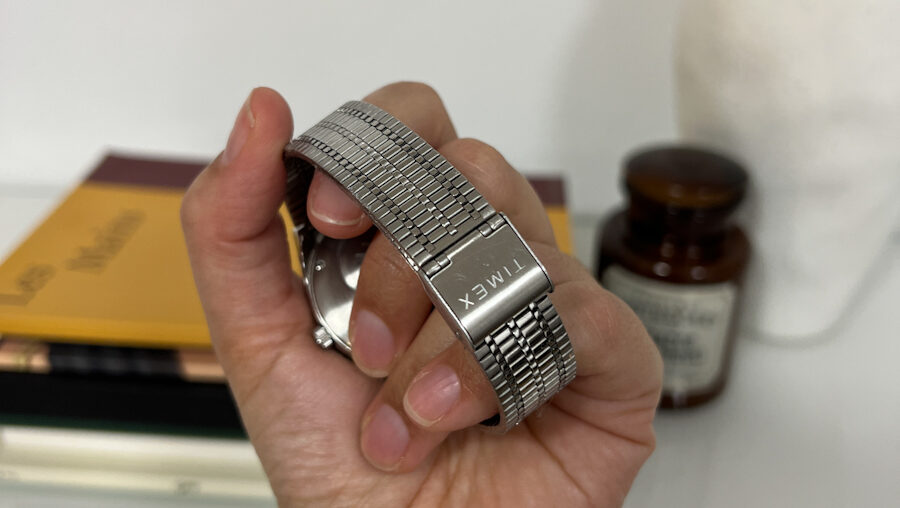 There's a lot of debate online about the bracelet I mentioned above.
The Timex Q bracelet has very few fans in the watch community. So much so that people have bought it and flat out stopped wearing it because of how uncomfortable it is.
The basis of their complaints come from how the bracelet can get 'grabby'. That is to say, it can pull one's arm hairs out, or become caught on loose threads causing pulls in beloved garments. Arm hairs, beard hairs, head hairs, you name it: the Timex Q bracelet can get a grip in a hurry.
I've worn the Timex Q for about a month now, and I genuinely don't see what all the fuss is about.
I may be coming at it from a slightly different position, however. My old Apple Watch Milanese Loop band is far worse at this than just about any watch bracelet I've ever worn. It used to grab arm hair every single time you moved it up and down your wrist. As recently as this week it has put a pull in a beautiful Venroy skirt my partner has been wearing, too.
The Timex Q has only grabbed one hair from my head this point as I ran my left hand through my hair with the watch slightly too far down my wrist.
Don't believe the haters on this one: it's a great bracelet that isn't as grabby as they say. And if it is, just swap it for an aftermarket job with tools you can buy online. The watch itself is still fantastic.
My only other real complaint about this one is that the lume isn't as vibrant as it could be. I understand it's a sub-200 Euro novelty, but being able to read it after the sun has gone down would be handy. C'est la vie.
Should you buy it?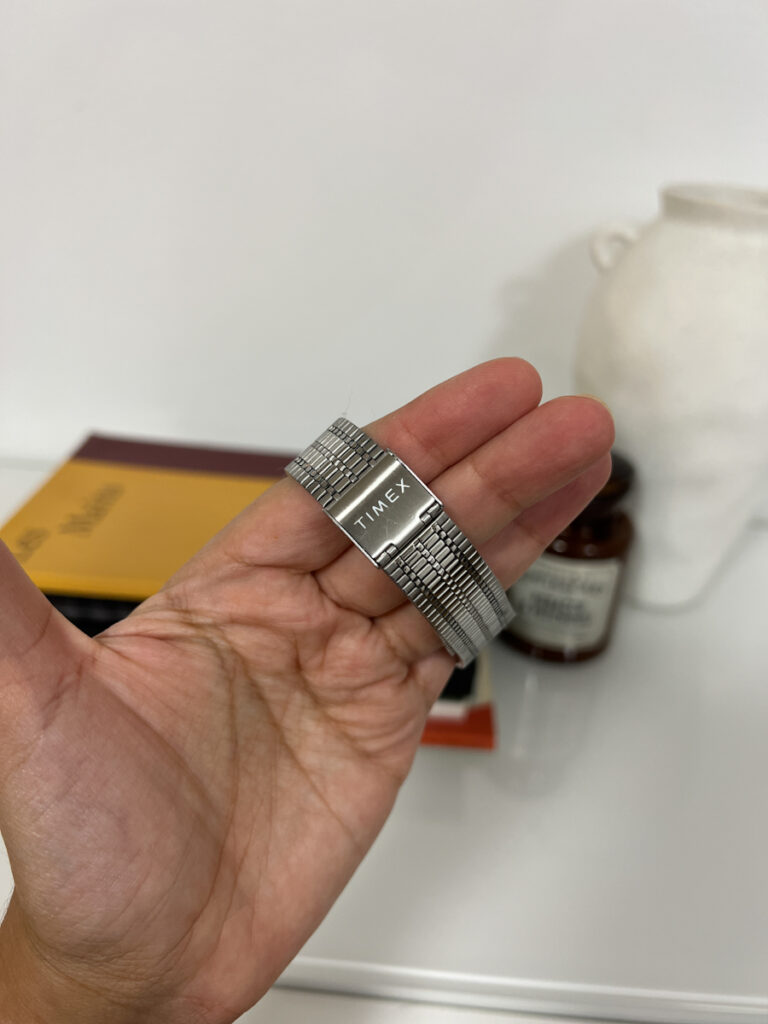 I know a lot of collectors and enthusiasts look down on 'cheap' watches from the likes of Swatch, Seiko and Timex. But I think those people have truly lost what makes watches good. They're meant to be fun.
Sure, there are some watches that have clear history, pedigree and are designed by master craftspeople. But ultimately I think a collection shouldn't take itself so seriously.
Think of it like cars. There are some Aston Martins, Ferraris and Bentleys that get a lot of attention for their pedigree. But there are others who can't get enough of a Fiat 500 Convertible blasting down an Italian B-road on a Summer's day.
That's what the Timex Q is: a good time. The green is just right and the matte finish makes it shine better than any sunburst model could. It's readily available and can be at your door in a matter of weeks (unlike any other watch I've mentioned in this piece).
It's also not meant to be babied. It isn't a dress watch. It's a goodtime-Sally, summertime watch. I've had mine a month and I've already scratched the dial glass. That's to be expected. It's not like I'm dealing with Sapphire Crystal here or anything. It's meant to get some weather over time.
If you have more than one watch in your collection already, just pick your favourite colour and slap a Timex Q on your credit card. You won't regret it, and let's face it, you've impulse-bought stupider things.
Luke Hopewell
Luke Hopewell is the editor and co-founder of Redaktör. He's previously been the Editor of Gizmodo, Founding Editor of Business Insider Australia, Editorial Lead for Twitter Australia and more.