Is the iPad Magic Keyboard worth it?

After we shared our latest iPad review, I kept on using the super-expensive Apple Magic Keyboard attachment for a while. It's incredible, but is the iPad Magic Keyboard worth the money?
Luke Hopewell is a gadget veteran of over 10 years. If it goes beep in the night, Luke has tested it.

Got a question for the author? Head to the comments, or email the author at [email protected].
iPad Magic Keyboard review: our take

good
– Beautiful design
– Trackpad transforms the iPad
– Works like a dream

bad
– Expensive
– Scissor keyboard mechanism
– Kinda heavy
The Magic Keyboard for iPad Air and iPad Pro is super expensive, there's no getting around it.
However, it does provide an elegant, first-party, all-in-one solution for your keyboard, port and case needs on your Apple iPad which we love.
If you really don't want to shell out the extra coin, however, a third-party option or even a stand and external keyboard may be worth your time. If you can be bothered to carry it all.
What is so special about the Magic Keyboard?
Since time immemorial, there have been keyboard cases for the iPad. I remember being at the annual Consumer Electronics Show Las Vegas in 2011 and seeing them.
Smart little folios complete with Bluetooth keyboards designed to turn an obstinate little tablet into a compliant laptop replacement.
The concept evolved, and eventually Apple got into the game for itself. Now, almost a decade later, we have the best iPad keyboard there is: the Magic Keyboard.
It's a near-perfect clone of the MacBook Pro's scissor keyboard from 2019, and a great typing experience on the go. Especially if you want your iPad to feel more like the laptop you opted not to buy.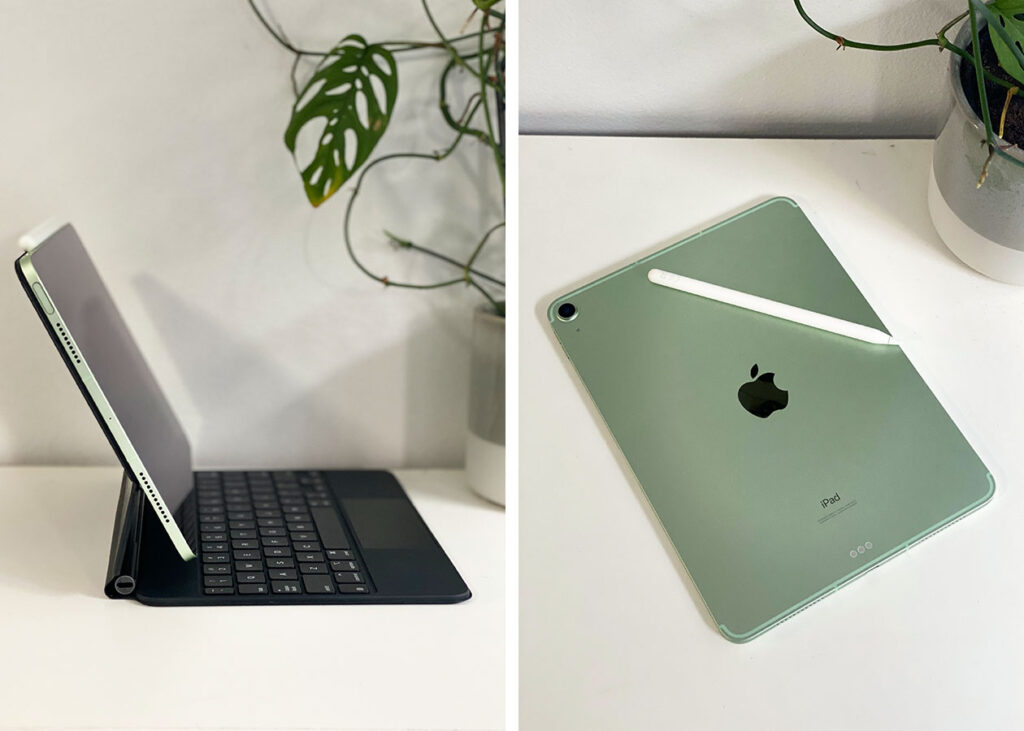 Why is it "magic", you ask? Because the case gives your iPad a "floating" appearance. With the help of strong magnets, the iPad hovers about an inch off the keyboard deck. This hovering design also allows you to tilt the iPad for a better viewing angle.
The ability to tilt also means the iPad is finally more useful both on a desk and on your lap. Whereas previous iPad keyboards would flap to pieces if it went over a certain angle, the Magic Keyboard is rigid and well-designed for excellent on-the-go usability. 
But it's more than just a keyboard for your iPad. Those are easy. The coolest addition is that of a trackpad. It turns your iPad into a MacBook, only running iOS instead of MacOS. Trackpad support in iOS 14 arrived just in time for this gadget, and it gives you a circular pointer with multi-touch support you can move anywhere around your workspace.
The trackpad works beautifully, with a smooth glass finish reminiscent of MacBook trackpads. It enables a tonne of functionality that was previously unheard of on the iPad.
The Magic Keyboard also adds a USB-C port on the hinge for additional connectivity. This means you can use a charger and a USB-C device at the same time, without the purchase of an additional dongle from Apple.
And being able to put the charger flat on your desk or table via the Magic Keyboard's USB-C connector makes the whole experience feel more like a laptop.
The Magic Keyboard is also special in its ability to remove a large swathe of cash from your wallet in one smooth motion. At USD $299 / AUD $499, it's almost as expensive as getting an entirely new iPad on top of your iPad.
Does the Magic Keyboard protect the iPad?
It's a tougher rubber that folds flat onto the iPad to protect it during travel. It doesn't add any bumper protection like some cases, however. This one's purely designed to protect the front and back from scratches, rather than from an impact.
The keyboard deck sits pretty flush so the screen doesn't take the impressions of the keys onto it also. 
It's pretty heavy, so I wouldn't want to drop the Magic Keyboard and the iPad together. Like ever.
Is the Magic Keyboard durable?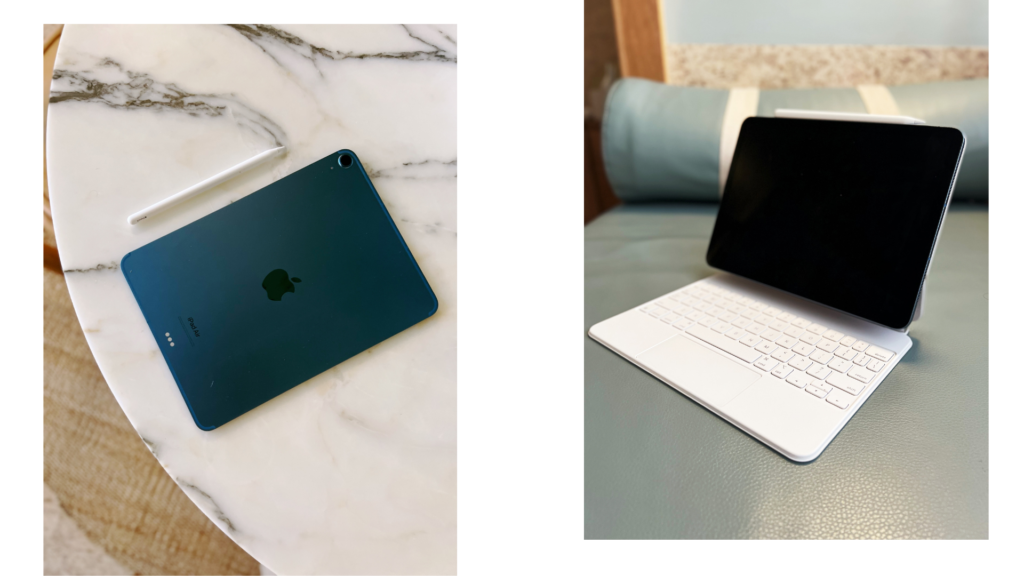 The Magic Keyboard is made from tougher stuff than the other Apple iPad Keyboards. But it's what's on the inside that counts.
Apple's scissor keyboards are notorious for freezing up when even the smallest bits of detritus fall between the cracks. But despite taking it to the beach and a stiff breeze filling it with sand, my iPad Magic Keyboard is still going strong.
It's worth noting, however, that a small hinge gap opens naturally and by design between the hinge and the case material. I need you to know that no matter how hard you try, you will never get the sand out of that space.
How to connect the Magic Keyboard to your iPad
The worst thing about old iPad keyboards is the need to connect them either via a Lightning cable or via Bluetooth. You won't run into this particular annoyance with the Magic Keyboard.
Part of its Magic is compatibility with the iPad Air and iPad Pro Smart Connector.
The Smart Connector is an ultra-low profile port, almost wireless port built into the back of the iPad Air Gen 4 and iPad Pro 11 that connects the Magic Keyboard to the device.
Simply snap the iPad onto the Magic Keyboard, and the Smart Connector lines up and provides it with power. No Bluetooth required.
If you're having trouble connecting your Magic Keyboard, check that the Smart Connector is clear and doesn't have anything between it and the case.
Magic Keyboard battery life?
The Magic Keyboard draws its power from the iPad. It doesn't have its own battery power. That's both a good and a bad thing.
It's a good thing because you don't need to worry about charging it separately. However, it's a bad thing because it doesn't have any external batteries to help give a little extra juice to your iPad like the Microsoft Surface Book does.
But I'll happily take a lighter keyboard for my iPad any day than one filled with batteries.
Keyboard stand or Magic Keyboard: which is worth it?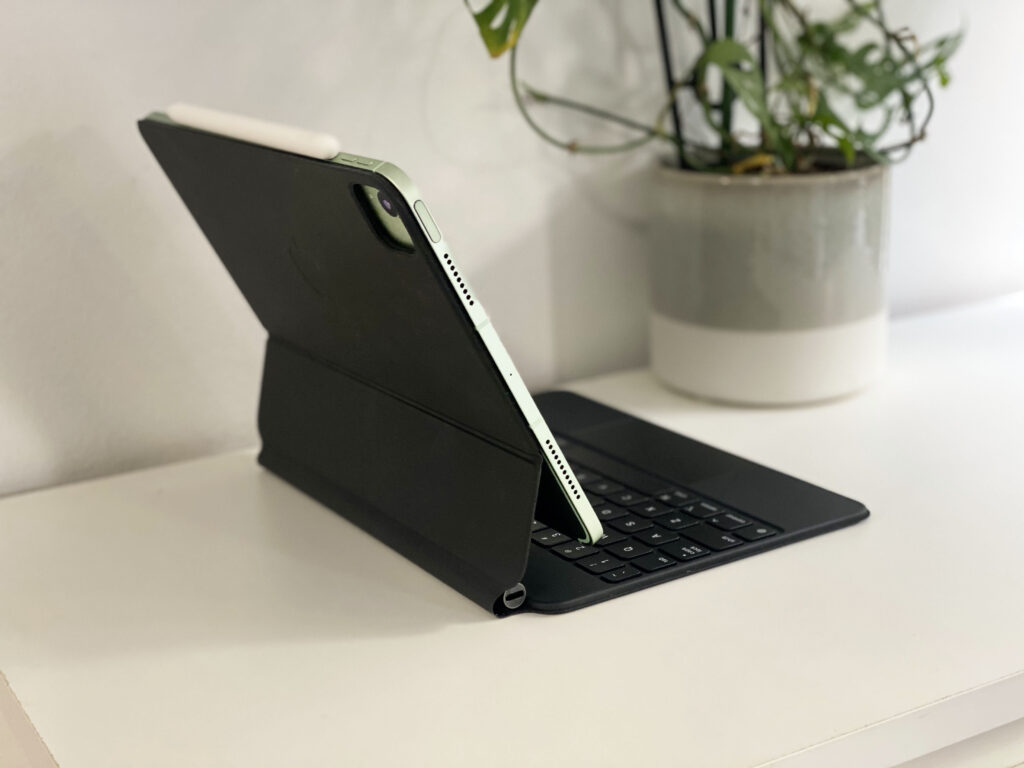 The Magic Keyboard is designed to work with either the 2020 iPad Pro 4th-gen or the 11-inch iPad Pro (2018-onwards). If you've already got one of these, you've dropped at least $899 AUD / $599 USD for the tablet.
As mentioned, the Magic Keyboard is a pricey accessory. At USD $299 / AUD $499, you've got to really want it. 
Buying both the iPad Air and the Magic Keyboard take you into laptop-territory in terms of what you've paid. And let's face it, you can definitely do more with a laptop. 
The iPad will always be better for drawing, reading and other creative pursuits, but the laptop is more powerful and in my opinion has greater longevity than a tablet. That's the tea if you're a new buyer.
But if you've already made your iPad Air or iPad Pro purchase, you're in luck. The Magic Keyboard – while expensive – is the best addition you can possibly bless your tablet with. 
The trackpad is a game-changer; the keyboard works great; the additional port is a godsend, and it makes the whole thing feel like a more premium experience.
iPad Magic Keyboard: is it worth it?
You can definitely purchase keyboards and mice for your iPad that are cheaper than the Magic Keyboard.
The reason you buy the Magic Keyboard is for first-party convenience. You'll never find something as sleek and well-integrated for your keyboard and trackpad than this.
If you want to go with a bunch of third-party accessories, check out something like a stand or riser for your iPad, followed by a built-in Bluetooth keyboard/trackpad combo. 
iPad Magic Keyboard alternatives
If you don't want to give Apple even more of your money when you purchase the iPad, there are alternatives.
I've taken a look at three other iPad Magic Keyboard alternatives to try and save you some money. These are my favourites.
Logitech has been making iPad acessories for as long as there have been iPads. That's how you know it's good at it!
The Logitech Combo Touch is the best alternative if you don't want to pay for Apple's Magic Keyboard.
The Combo Touch features all the gear you want from a premium iPad keyboard case. 
It has comfortable, backlit keys that feel great to use. It locks the iPad into more of a protective case for better security. And it has a Microsoft Surface-style kickstand so it doesn't flop about.
Most importantly, it also has the trackpad that – to me – makes the Magic Keyboard so magic.
It's also around $199 cheaper than Apple's keyboard that does largely the same thing.
If you want your keyboard case to have a bit of style, Typecase is for you.
It features colourful backlit keys and comes in a variety of chassis colours. 
Handily, it also has a pen loop on the left-hand side of the keyboard so you can keep your Apple Pencil safe. Typically, the Apple Pencil would magnetise onto the top of an iPad Air or iPad Pro. But it isn't perfect. The number of Pencils I've lost from this is staggering. Long live a pen loop like on the Microsoft Surface Pro range.
It's also less than $200 on Amazon.
Finally, there's the range of iPad keyboard covers from Brydge.
Slightly pricier at around $300, the Brydge does a little more than just become a fancy iPad case. It turns your iPad into a MacBook lookalike. 
It magnetically snaps your iPad into place using the Dock Connector we mentioned earlier, and gives you a beautiful multi-touch trackpad and backlit keyboard to use.
The base of the unit is gunmetal silver, with black backlit keys, much like our favourite MacBooks we're trying to replace with tablets.
Read more
The new iPad Air is unlike anything you've used before. Find out more in our iPad Air 2022review.
Luke Hopewell
Luke Hopewell is the editor and co-founder of Redaktör. He's previously been the Editor of Gizmodo, Founding Editor of Business Insider Australia, Editorial Lead for Twitter Australia and more.