2021 LG OLED Evo Gallery TV review: is it worth the money?

OLED used to be the best panel money can buy. But now there's OLED Evo, which claims to be better. Is the OLED Evo panel from LG worth the money? Here's our LG OLED Evo Gallery TV review.
Luke Hopewell is a gadget veteran of over 10 years. He's reviewed over 100 TVs in his time, and been to the magic factory where they're all made. He's lost more remotes than he's found, and if you ask him nicely, he'll tell you how tech companies get tech writers to review TVs…
What is it?
First things first: we reviewed the LG OLED65G1 OLED Evo TV. 
It's a 65-inch TV made by LG, featuring a new OLED Evo panel.
It can be mounted in one of two ways. LG sells it with a bundled wall mount in the box. However, if you don't want to wall mount, you have to buy a Gallery Stand separately.
It has a brighter panel, as well as a new processor to keep everything fast and smooth. You also get an abundance of features to make the most out of your gaming and viewing experiences.
HDMI 2.1 ports aplenty with support for VRR and 120Hz; as well as support for native Dolby Vision and Dolby Atmos.
There's also support for just about every app under the Sun, including Apple AirPlay 2, and Disney+.
All that, and a shiny new panel known as OLED Evo.
Design
The 2021 LG G1 OLED Evo looks almost the same as last year's Gallery OLED that we reviewed.  It's sleek, minimal and smart.
The only real differences come at the back of the unit.
Last year's models had channels cut into the design for your cables to hide in. This year, those channels hide in either a nifty wall mount, or a slightly cumbersome upright stand that we'll get into.
There's no small stand here. That means no resting it on your entertainment unit or desk.
The only other difference is that it's slightly curved at the bottom of the unit, rather than the flat rectangle of last year.
New LG Magic Remote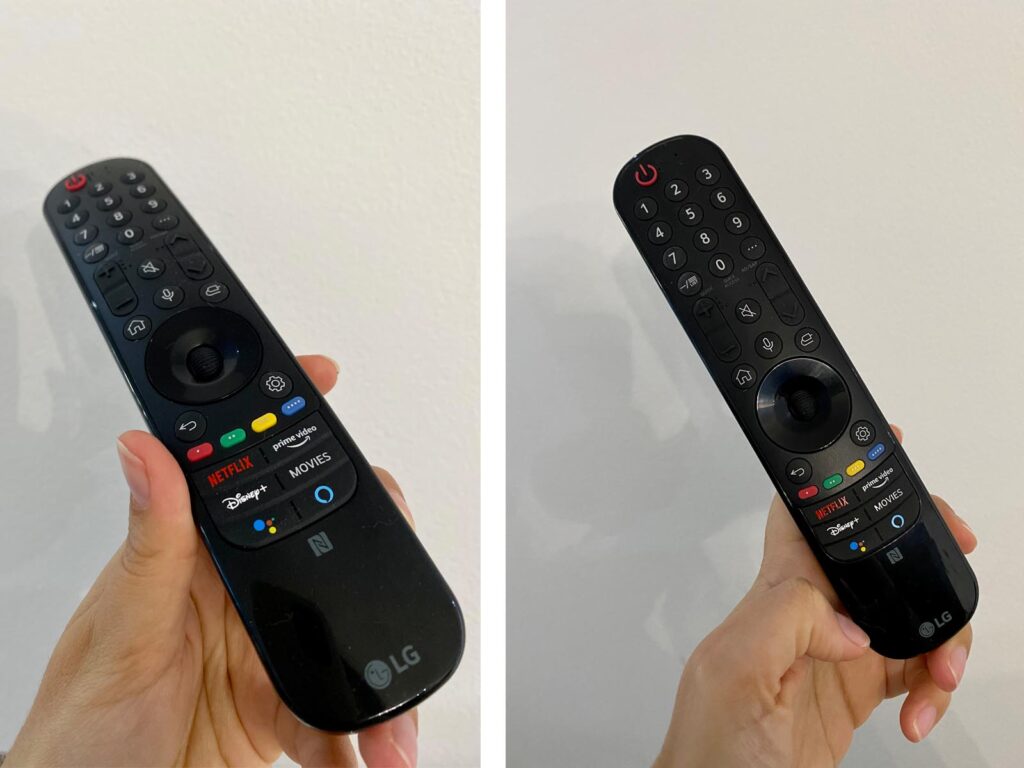 You get a refreshed Magic Remote with this year's G1 OLED Evo, too. It's the same model as the remote you get with the C1 OLED for 2021.
Along with a few new dedicated buttons and a sleek design, the new Magic Remote has an NFC tag built-in. How useful it is depends on which phone you have. Android users get the most benefit.
With your Android phone, you can simply tap the remote and automatically start sharing content from the device onto the TV.
Both iOS and Android users meanwhile can use the LG ThinQ app to share the TVs audio to your smartphone.
From there, you can use the existing headphones, AirPods or plug-ins you already have paired to listen to the sound.
How bright is OLED Evo?
OLED produces some of the brightest colours and most vibrant blacks on the market.
Its Achilles' Heel, however, is making it look great in a brightly-lit room.
OLED flounders slightly in bright environments. That's why LG cooked up OLED Evo.
OLED Evo is the same OLED panel we know and love, but turned up to 11. As a result, LG says it can produce images 20 per cent brighter than its typical OLED panel. 
OLED evo inserts a new red and green colour layer into the TV for more vibrant colour.  It's similar technology that boosts the colour performance on LG's LED Nanocell and QNED TVs.
LG says that green in particular is the one the human eye can see the easiest. By producing better colours on both the green and red wavelengths, LG can create a "better" image experience overall.
Does OLED Evo have burn in?
Burn in refers to an image that is "burned into" a screen when it has displayed the same content for a long time.
It happens when you hold the same image on your screen for too long like a video game or a TV graphic. You'll see a little shadow of where the static graphics are on the screen. That's burn in.
It's different to image retention, which is the spectre of an image hanging around until you turn off your TV.
If you shut it down and power back up and the image is still there, it's burnt in. Burn in is almost exclusive to OLED TVs these days. Because the panel is "organic", OLED are far more susceptible to burn in than just about any other TV.
There's no way to fix burn in once it happens. But newer OLED TVs are better at mitigating the cause of burn in before it happens to you.
We asked LG how many TVs it repairs due to burn in. It said that less than 1% of all repairs coming back to the factory have to be treated for burn in. LG added that its even seen some display model TVs that have over 3000 hours of "lamp life" (use time) that don't have any issues with burn in.
LG says it's able to keep burn in to a minimum on new TVs like the G1 OLED with built-in anti-burn in tech.  The panel shifts its pixels every now and then to prevent them becoming fixed. And it regularly schedules a pixel "wash" to keep the panel looking fresh and new.
Does the LG Gallery TV have art mode?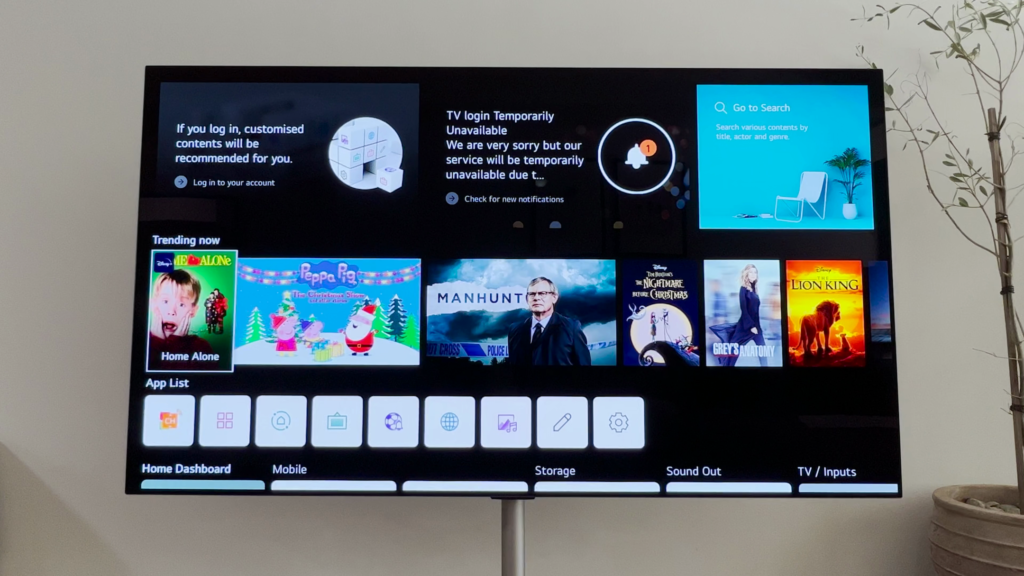 This TV's direct competitor is the Samsung Frame.  This year's Frame is much thinner and smarter in its design. Sadly, it's still a three-year old QLED panel on the inside.
The new 2021 Gallery OLED Evo TV is much different.
It pushes OLED tech further than ever before. It's brighter, smarter, and better to look at overall. Sadly, while it's meant as a "gallery" TV, the art mode leaves a lot to be desired.
Samsung has a full art store that you can subscribe to each month. It brings Louvre-quality pictures into your home.  The Frame gives you a TV when it's on, and art when it's off. That's because QLED can stay on for longer without "burning in" an image (as described above). 
OLED panels can't leave an image on the screen for the same amount of time an LED panel can.  I suspect it's for this reason that LG's art mode still isn't up to par with Samsung's.
LG offers you just a few artworks to choose from, and plays them like a slideshow. Complete with phoney stock music and all. The company has gone for a premium gallery experience, but created more of a student art show.
It can't hold a candle to Samsung's art experience, that's for sure.  But at the end of the day: you're buying a TV for the picture quality, right?
Thanks to LG's inclusion of all the goodies – like Dolby Vision/Atmos and HDMI 2.1 support – it's better as a straight TV than The Frame could ever be.
What is the LG Gallery Stand?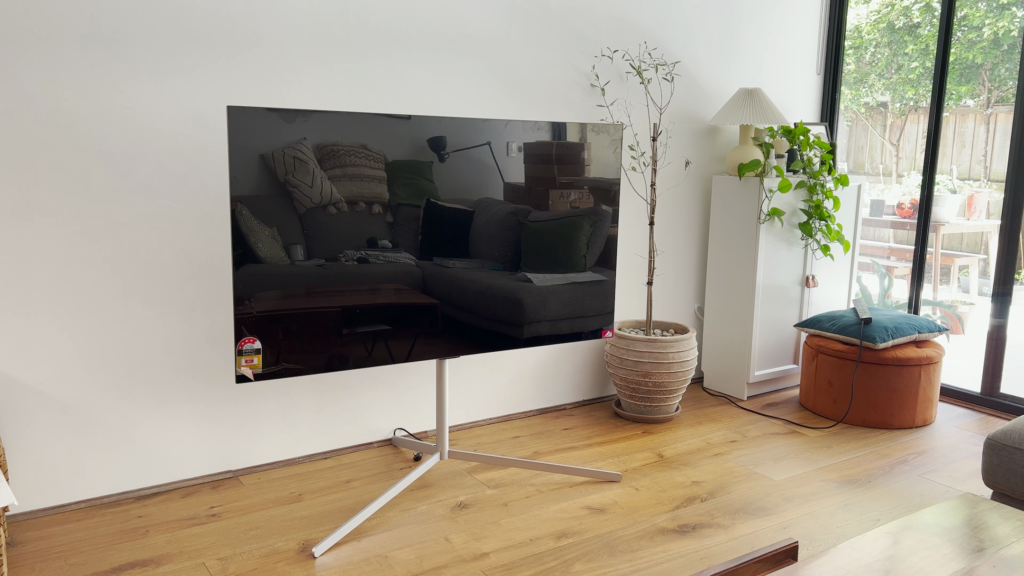 In a few words? Kind of annoying.
LG only sells the new G1 OLED Evo with a bundled wall mount. It insists on you wall mounting the panel.
Typically, if you don't want to wall mount your TV, there's no stress. A manufacturer will bundle a small stand or little legs for the TV to sit on.
On a normal TV, the legs or stand are designed to rest on your entertainment unit or desk of some description. This is the case with the new Samsung Frame TV for example.  The new Frame comes with little plastic clip-in legs.
Despite their construction, the legs look far fancier than they actually are. And they take a few seconds to set up.
But the Gallery isn't a normal TV: if you don't want to wall mount your LG Gallery TV in 2021, you have to buy the Gallery Stand. It's a $500 stand that makes your TV look like it's sitting atop a tripod.
And as you can see from our unboxing, it takes ages to put together.
I'm not a fan of the Gallery Stand. It sits too far out from your wall, for starters. And it's entirely too complicated to put together.
Plus, it does a fair to middling job of hiding all your cables. The cables tuck away into the Gallery Stand thanks to an inbuilt channel. Problem with that is you only get room for one or two cables before you run out of space.
And once your cables exit the stand, they still have to connect to your various consoles and set top boxes. Hope you enjoy having your Xbox Series X on the floor next to your minimalist art TV.
If you're buying the 2021 LG Gallery OLED Evo TV, make sure to wall mount it. You'll be happier (and richer).
How much with the LG OLED Evo cost?
Here's what you can expect to pay. LG OLED G1 (4K) price list (2022):
| | |
| --- | --- |
| 55-inch: | $AUD4319 |
| 65-inch: | $AUD5999 |
| 77-inch: | $AUD11,399 |
Should you buy it?
If you're looking for the best wall-mounted TV money can buy, you've found it. The LG G1 Gallery OLED TV has it where it counts.
You're buying this TV if you want this year's best-spec OLED panel, complete with all the bells and whistles.
You're not buying this TV if you want it to blend seamlessly into your space like the Samsung Frame will, for example.
We absolutely love it, so long as you're not using it on the slightly annoying Gallery Stand.
Read more
What makes The Frame's Art Mode so good? Find out in our full review of The Frame 2021.
Luke Hopewell
Luke Hopewell is the editor and co-founder of Redaktör. He's previously been the Editor of Gizmodo, Founding Editor of Business Insider Australia, Editorial Lead for Twitter Australia and more.