Samsung Freestyle Projector review: is it worth it?

What if your next TV wasn't a TV at all? What if it was a portable projector that put out 100-inches of screen in a snap? That's how Samsung has changed the game with The Freestyle. But is it worth it?
What is it?
When I first saw the Freestyle announced at the latest Consumer Electronics Show in Las Vegas, I was hyped. It promised a new revolution in TVs.
Projectors had long been for either the boardroom or for expensive, high-end so-called 'short-throw' systems. Both costed a fortune, and left a bit to be desired.
Samsung came along and flipped the script. The Freestyle is a small desktop projector that throws 100-inches of screen at just about any surface you can point it at. It features a built-in Samsung Smart TV interface, takes an HDMI input and has both an audio out and its own speakers.
And it's legitimately portable. As long as you have a battery pack that delivers USB-C PD power, you can run it just about anywhere. And I mean anywhere.
It's your living room screen. Then it's your backyard movie night screen. It's your camping TV. Then it's your school disco light show. It's everything, everywhere, all at once when it comes to screens.
Plus, it's comparatively cheap. It's less than $800 for a 100″ projector. It's fantastic value.
My take
The Freestyle is a great device for those who want a projector that won't break the bank.
It has a few issues when it comes to brightly-lit environments, but if you want a TV without the hassle, it's a fantastic alternative.
It's especially great for anoyone who needs a TV they can move around. With the ability to be powered by an external battery and project onto just about any surface, it's a real winner for those who love to get outdoors.
And it won't cost you the earth, either. At $xxx, it's a little expensive for a novelty, but if you're someone like me who hates looking at a TV in your house when you aren't using it, the Freestyle is perfect.
What's good?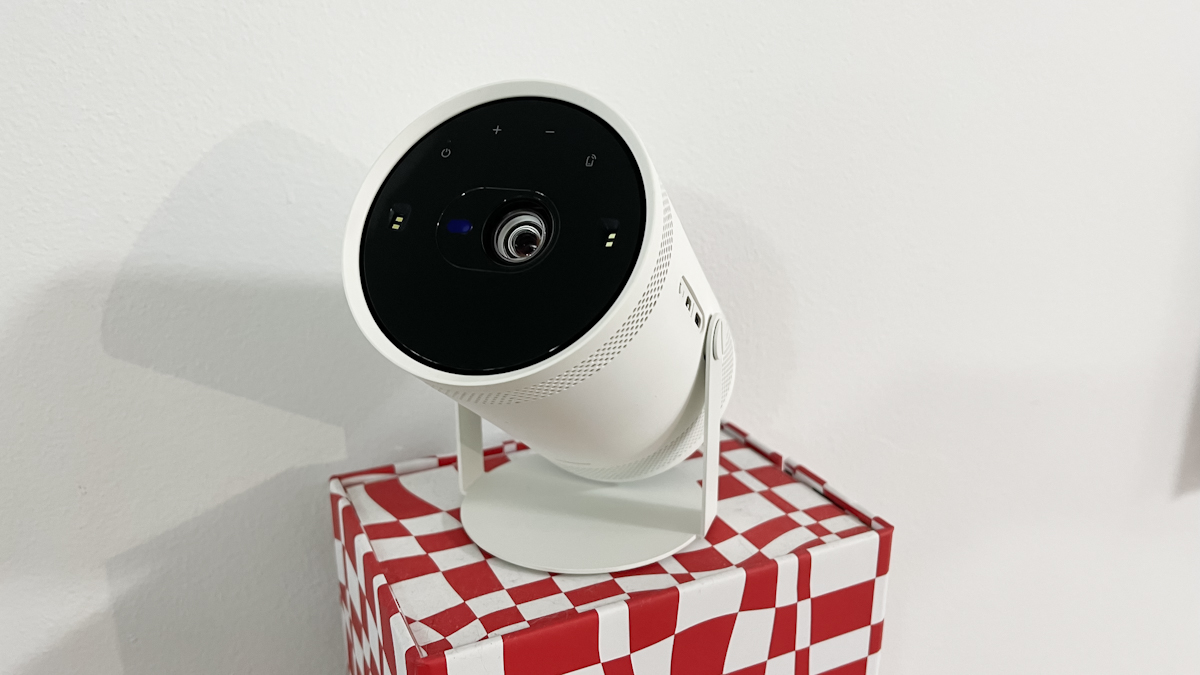 First things first, Samsung knows how to make something look great in your home. The problem with most consumer electronics – especially TVs – is how they look. TVs in particular are big black rectangles that rarely integrate into your space elegantly.
Samsung's solution for this was The Frame. I've got one, and I love how it disappears into an art appliance when I'm not using it. This year's model does it better than ever, for example. Now there's another option.
The Freestyle isn't just a TV that blends in. It's a TV you can just put away when you're done. Slip the cap on the lens with a click, pull out the USB-C cable and stow it in a cupboard or drawer. Voila.
Even if you do want to leave it out on your coffee table, it won't stick out like a sore thumb. It's a gorgeous and sleek device the size of a large tin of tomatoes, resting on a smart little base.
It only comes in white right now, but I'm certain a black one will follow soon-enough.
The Freestyle features an impressive level of polish both inside and out. So many of these portable so-called 'pico projectors' run a fairly rudimentary operating system. Either it's the manufacturer's own software, or a basic version of Android.
The Freestyle has all the bells and whistles because it behaves like just another Samsung TV. It runs Tizen, so you can navigate it like one of the new Samsung Smart Monitors.
It also puts out an impressively-sized image for its size. The Freestyle will give you up to 100-inches of screen. That's dependent on where you put in the room, however. Put it too far forward and you'll have a tiny screen. Too far back and it'll be blurry or too dim. You need about 1.5m to 2m of length for the perfect result.
It's also impressively portable. As long as you have a high-performing battery pack with USB-C PD for fast power delivery, you can run it anywhere you want. You can take it camping, outside for the footy or just move it around your home. I even tried projecting from my kitchen island onto the wall the recipe I was cooking at the time. It's so versatile.
It's even cool as an ambient lighting tool, too. Pop the cap on and fire up the ambient light mode and it becomes a mood light that puts on a show. It's great for setting the mood when you've got a few mates over.
What's not so good?
The first Freestyle projector is a real winner and there's a lot to love. But like any first-gen device, it has a few teething problems.
The biggest problem is not so much with the Freestyle, but with projectors in general. It's all about light. Samsung QLED TVs look so good because the light for the image is directly connected with the panel. That means you get really bright and vivid imagery you can see from across a room.
The Freestyle throws its projections across a room, and the light is often 1.5m away from the image. That means if you have any source of ambient light shining onto the wall or screen you're projecting onto, the image will be kind of dim.
It's great in a little movie room or sitting room, and it's brilliant at night, but if you've got a brightly lit space during the day, you might not love the Freestyle's performance.
The next thing is the sound. The speakers in the base are impressive for their size, but again, nothing like what you expect from a movie-style sound system.
I'd recommend connecting it to some external speakers either via Bluetooth, or if it's just you, using your favourite pair of Bluetooth headphones for a really cool experience. This really felt like the future when I did it on the couch!
Should you buy it?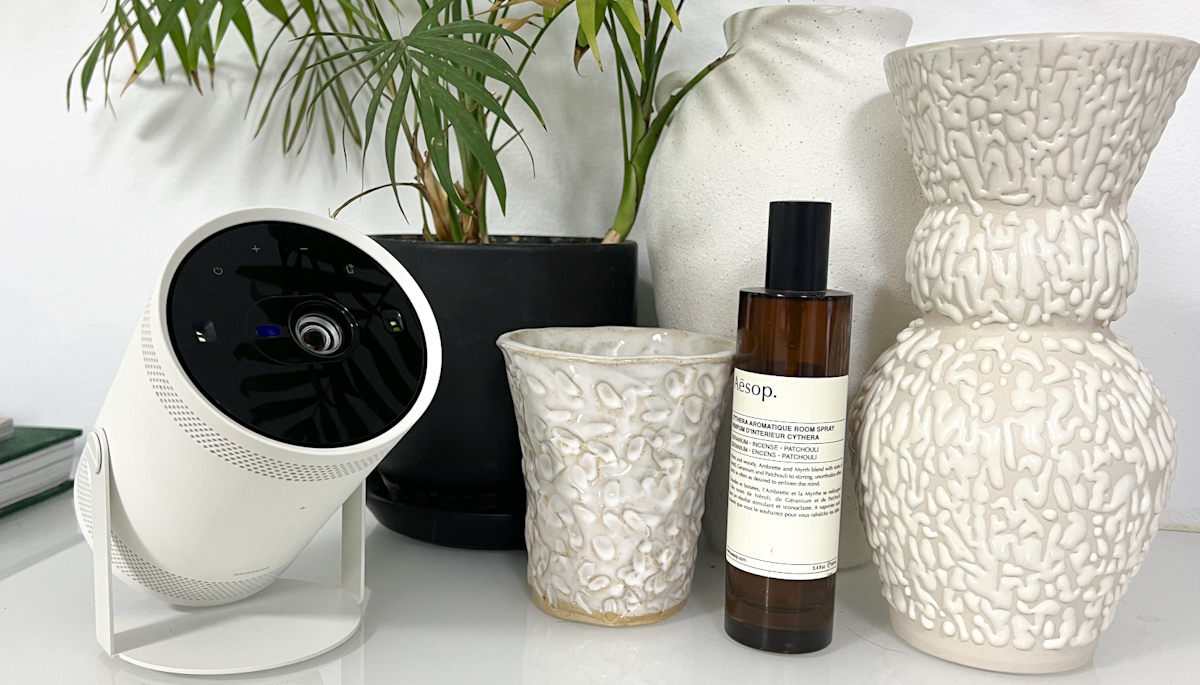 After testing it for a month as my only TV at home, I can really recommend The Freestyle. It has it's drawbacks but I really thing Samsung are onto something here. If they're able to make the lamp a little brighter, my next TV might not be a TV at all.
Before you buy, have a think about where and how you're going to use it. If you're only ever going to use a screen during the day, it might not be for you. But if you're like me and use it mostly at night or in the dark, you're onto a winner with this one.
I also benefited from having a big white masonry wall to project The Freestyle onto in my living room. If you're going to have to buy a separate screen for this thing, it might just be worth looking into something like a Frame TV instead.
If you're deadset on a screen, Samsung has told me they're bringing one out very soon.
Read more
Samsung keeps improving its so-called 'lifestyle TVs'. The difference between the Frame 2022 and The Frame 2023 is subtle, but well-worth a look. Check out my in-depth look from CES.
Luke Hopewell
Luke Hopewell is the editor and co-founder of Redaktör. He's previously been the Editor of Gizmodo, Founding Editor of Business Insider Australia, Editorial Lead for Twitter Australia and more.