Swatch x Blancpain Fifty Fathoms: release date, where to buy and more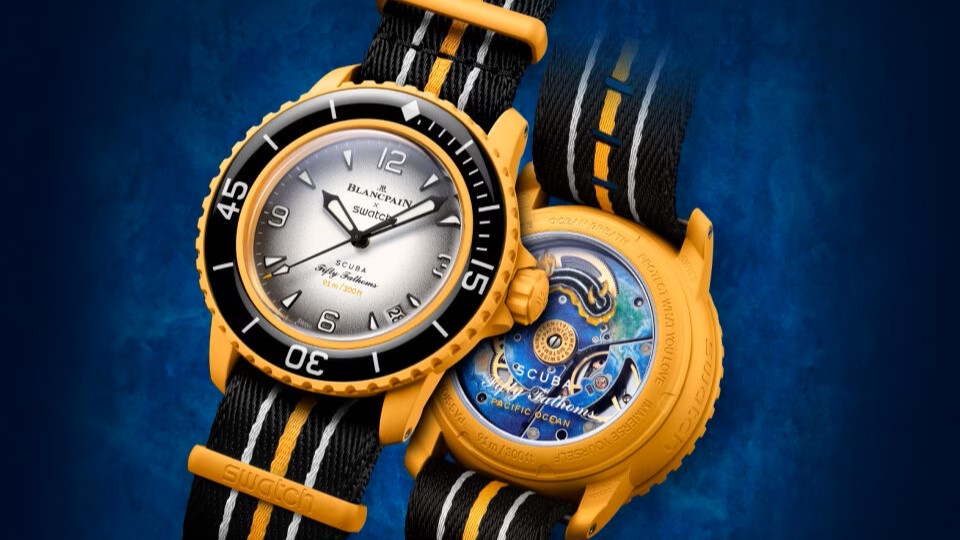 First there was the Moonswatch. Now Swatch is recreating another iconic timepiece: the Blancpain Fifty Fathoms. This is the Swatch Bioceramic Scuba Fifty Fathoms, and how to get your hands on one.
It's watches that make Luke Hopewell tick. He's been a watch writer for five years and a tech writer for 10 before that.

Got a question for the author? Email me.
What is it?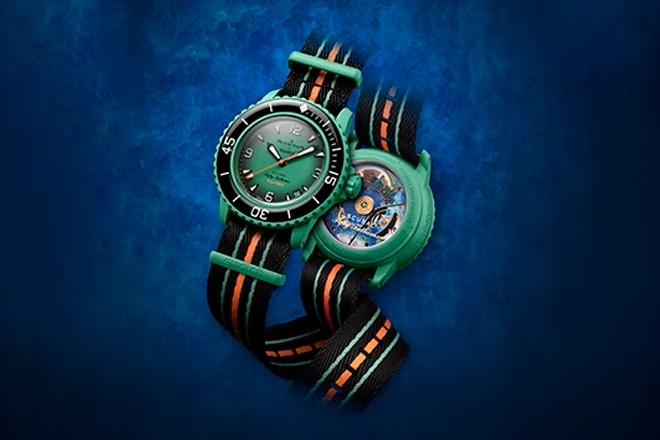 Swatch Group owns a tonne of watch brands, including both Omega and Blancpain. Back in 2022, Swatch created an homage to the iconic Speedmaster Professional, dubbed the Moonswatch. The watch world quickly became obsessed, so now Swatch is back with a Blancpain homage.
Blancpain's Fifty Fathoms is a true diver's dive watch. First released in the 1950's, it's a dive watch trusted by the French navy and worn by some of the toughest ocean explorers in history.
The Swatch Bioceramic Scuba Fifty Fathoms is an homage to that legacy.
It's a non-limited collection featuring five models, each named after one of the five oceans. There's the Arctic, Pacific, Atlantic, Indian and Antarctic Ocean models.
The Swatch x Blancpain team up is made from the same plastic/ceramic mixture as the Moonswatch, which it calls "Bioceramic". Swatch says it's two-thirds ceramic and one-third "biosourced material derived from castor oil".
It's born to take a bit of punishment, too. It features a sapphire glass front and back for added protection, and the Bioceramic is also scratch resistant.
In keeping with its bigger Blancpain siblings, the Bioceramic Scuba Fifty Fathoms is water-resistant to 91 metres / 300 feet so you can take it diving with you. For those playing at home, 300 feet is the equivalent of fifty fathoms.
You'll actually be able to see it underwater, too, thanks to the Super-LumiNova on the hour indexes, hour and minute hands.
And in keeping with the diving theme, the case bezel rotates so you can keep track of your time under the sea.
Each watch is a different colour, and features a NATO strap made of recycled fishing nets they fished out of the ocean. Sustainable!
Each model also has an illustration of an animal found in all five of the oceans on the caseback: the comically-named nudibranchs. That illustration is printed on the movement's rotor which you can see through the transparent sapphire glass caseback.
Swatch Bioceramic Scuba Fifty Fathoms: pricing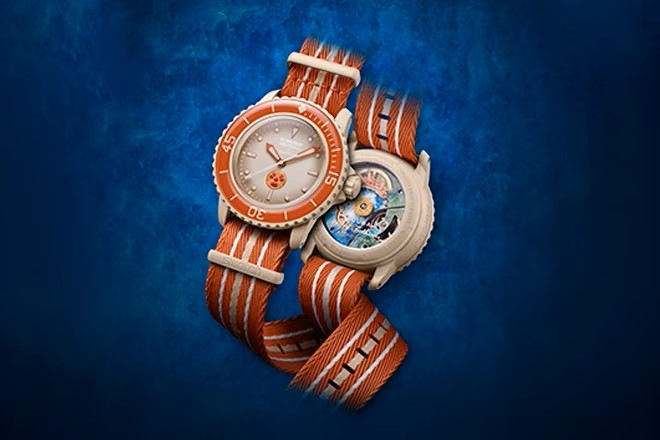 Each model of the new Swatch x Fifty Fathoms collection is priced similarly. To pick one up for yourself, you'll have to part with $400USD / $630AUD.
That means the whole collection will set you back $2000USD / $3150 AUD.
Compared to the price of a Blancpain Fifty Fathoms, however, you're getting it for a steal. A steel Fifty Fathoms could set you back tens of thousands.
When does the Swatch Fifty Fathoms go on sale?
Start queueing now: the Swatch Bioceramic Scuba Fifty Fathoms will go on sale from September 9 around the world.
Remember: one per customer per day!
Will the Swatch Fifty Fathoms be sold online?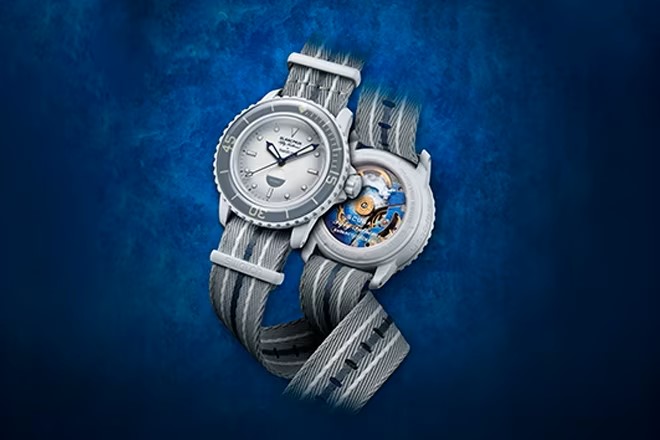 Unfortunately, the Swatch Bioceramic Scuba Fifty Fathoms won't be sold online.
Much like the Omega x Swatch Moonswatch, the new Fifty Fathoms homage will only be available in selected Swatch boutiques.
Swatch is prepared for the hype, so you'll only be allowed to purchase one per customer per day.
If you want to get a look at the goods, you'll also be able to view the Swatch x Fifty Fathoms collab in selected Blancpain boutiques around the world.
Luke Hopewell
Luke Hopewell is the editor and co-founder of Redaktör. He's previously been the Editor of Gizmodo, Founding Editor of Business Insider Australia, Editorial Lead for Twitter Australia and more.