Samsung The Frame 2021 review: is it worth the money?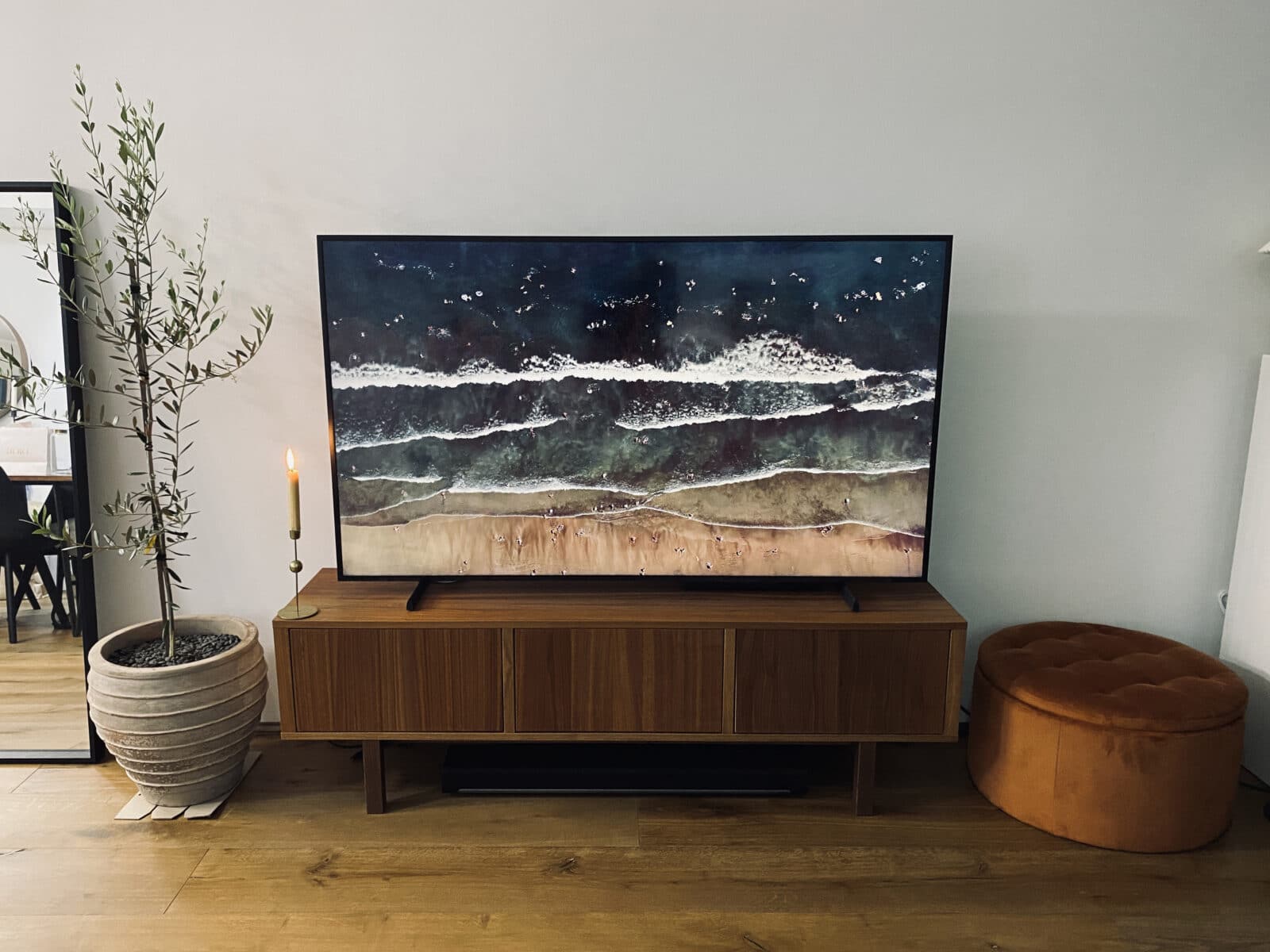 It's the best-looking TV ever made, but is The Frame 2021 worth the money when you turn it on? We went hands on with The Frame 2021 for a long-term review and found a lot to like. Now we have an answer.
Luke Hopewell is a gadget veteran of over 10 years. He's reviewed over 100 TVs in his time, and been to the magic factory where they're all made. He's lost more remotes than he's found, and if you ask him nicely, he'll tell you how tech companies get tech writers to review TVs…

Got a question for the author? Send me an email!

the good
– More sizes this year, with the inclusion of 32- and 50-inch models. 
– New solar-powered remote is great
– Picture quality is nice, blacks are honestly surprisingly good from a QLED TV so thin.
– Cheaper overall than last year's models

the bad
– Software still a pain
– Older panel is missing a few key features like Dolby Vision/Atmos
– Smaller sizes don't support VRR
– Bluetooth performance is a little ropey here and there.
Samsung The Frame 2021 review: design
If you liked the look of Samsung's previous Frame TV models, you're going to love this one.
The new model keeps with the design language set by its predecessors, but makes everything a lot thinner overall.
The new Frame TV for 2021 is a little under an inch thick (or 24.9mm). Compare that to the thickness of the Frame from 2020 at 1.8 inches (or 45.8mm), and you realise how different it looks.
The radical thinning of The Frame in 2021 means it's able to sit alongside regular picture frames and blend in almost completely. It's pretty astonishing, and delivers on the promise of an art TV better than ever.
You also get more choice of panel size in this year's line-up. Depending on where you shop, Samsung is offering a 32-inch; 50-inch, and 75-inch model on top of the typical line-up from last year (42-; 55-, and 65-inch). That's great, because there's a size for everyone.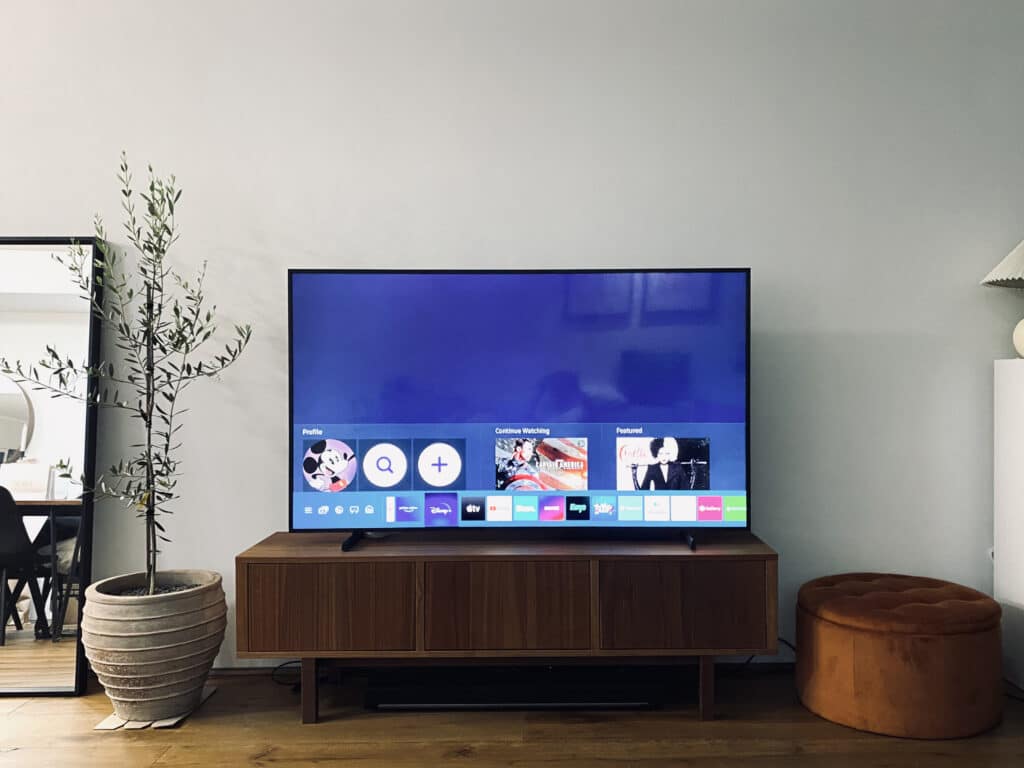 Personally, I have my eye on a 32-inch 2021 Frame TV to use as a wall-mounted computer monitor. Whee! And if Samsung ever updates the panel, maybe a replacement for my living room OLED too.
Out of the box, The Frame 2021 features the brushed black aluminium border we've come to know and love. But what's different this year is the addition of a few new Frame accessories from Samsung.
We were sent the White Customisable Frame accessory to try, and it's really fetching. It simply snaps onto the standard charcoal metal frame, allowing it to blend into your space better. There are a bunch of colour and style options available, from reds to deeper browns through to lighter tones, and even bevelled edges vs squared-off. They cost about $100 to $150 each.
Samsung also does a lot of work to make The Frame blend into your environment in what it calls Ambient Mode. When turned on, Ambient Mode can simulate a variety of scenes, or even make the TV disappear into your background. 
Speaking of disappearing into the background, the cable management on The Frame is still the best on the market thanks to the One Connect box. 
The One Connect Box is what makes The Frame magical.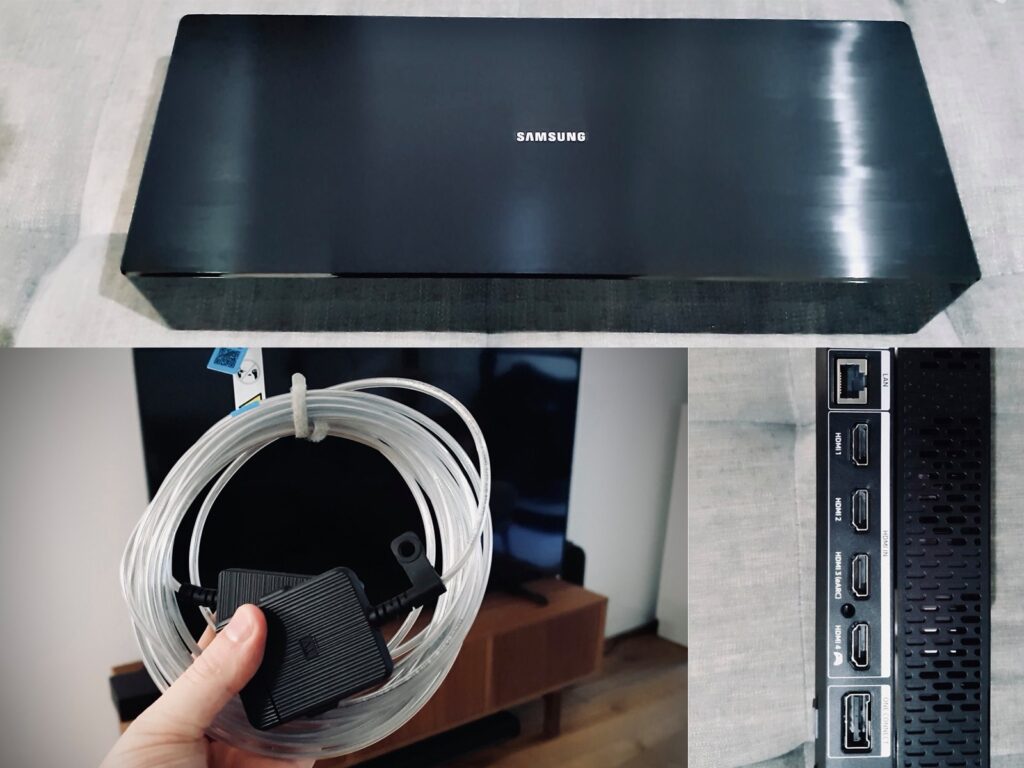 Instead of having a bunch of cables coming out of your beautiful wall-mounted TV, Samsung has one clear cable for everything. Power, input, sound, everything: one clear cable. It snakes out of the TV beautifully down to the One Connect Box, which is where all the brains of the TV live. It's perfect.
How easy is it to set up?
The Frame 2021 is easier to set up than just about any model in the product line's history. Especially if you don't want to wall mount it.
The Frame is meant to be wall-mounted, and it includes the necessary brackets in the box which is great. But if you're testing it like we were, you can't exactly bolt it to the wall in a hurry.
Luckily, the stand for The Frame 2021 requires no screws at all to install. The legs simply snap into place with a bit of a tap when you're setting up, and lock safely to ensure your priceless TV doesn't topple over.
We set up The Frame 2021 in about 20 minutes. Check out our video for how easy it is. 
Samsung The Frame 2021 review: picture and sound quality
Even though it's a slightly older panel, the picture on The Frame 2021 is still great. 
There's no backlight bleeding around the edges of the bezel; blacks are fairly deep and colours are fairly vibrant. 
Unless you stood it side-by-side with a newer MiniLED QLED, QNED or OLED panel, you wouldn't notice a huge difference in performance to be really honest. 
All-in-all, it does the job of a premium TV well, especially when you consider how good Art Mode looks.
Art Mode can also be highly customised so it looks natural in your space. This is where Samsung really has the edge over models like the LG Gallery TV series. The brightness and colour temperature of the light can be customised to your space, making it look more natural overall. You can also choose for your art to sit on a virtual "mount", or just fill the frame edge-to-edge.
However, I've noticed that the panel inside The Frame is starting to show its age. Especially with the features that are omitted.
For example, the new Frame TV is missing support for Dolby Vision and Dolby Atmos. These are two features that were rare to find on TVs at this price point two or three years ago, but are now quite common, even into cheaper models. 
It's an older panel, but it still looks great. If you're looking to live on the bleeding edge of picture technology, however, you're going to be left wanting a little with The Frame 2021.
The speakers, however, are better than previous models. Despite the thinner form factor, you get 40W 2.2 channel speakers that do the job well. The sound profile favours treble given the smaller size of the panel, and scenes with talking are a little quiet in the centre channel, but overall they're impressive. 
If you're mounting this in a bedroom, don't worry about getting a soundbar. 
How to upload your and pictures to Samsung Frame 2021
If you're a budding photographer or just want The Frame to display a few family memories, you can actually upload your own art.
First, download the Samsung Smart Things app for your smartphone. It works on both iOS and Android.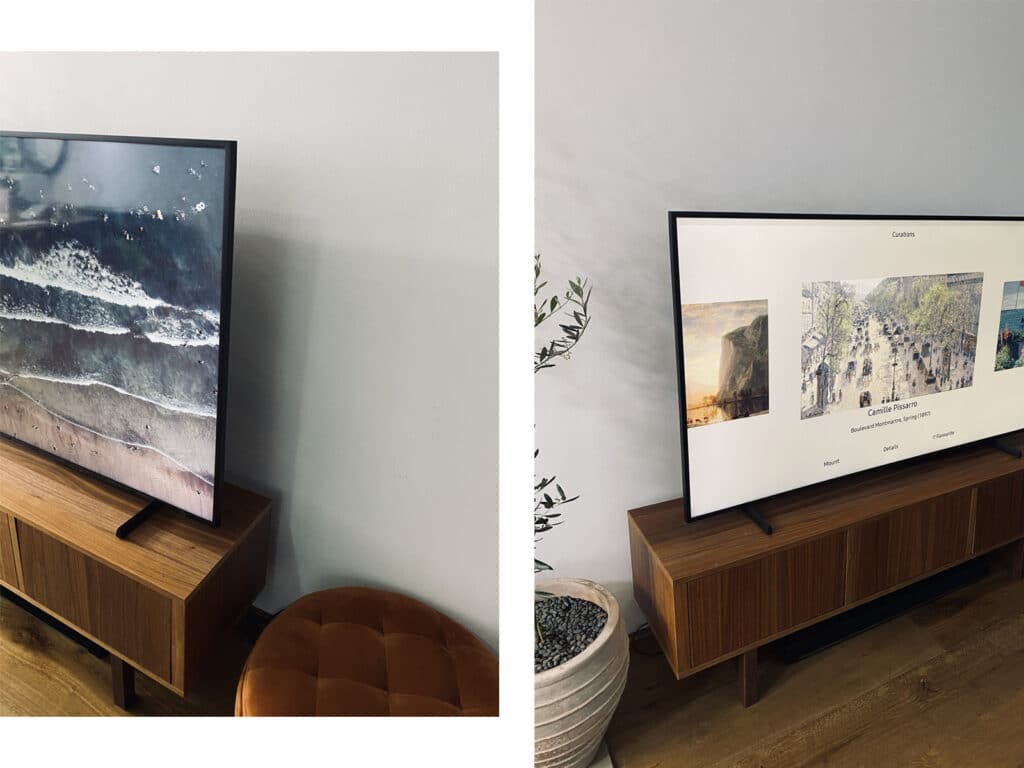 Once you have signed in with your Samsung Account, you can add your Frame by selecting the "+" button at the top right of the screen. Follow the steps to connect your Frame.
Once The Frame is set up in the Smart Things app, you can add images to your Frame for display via the "My Collection" tab.
For the best results, make sure your images are as high resolution as possible. Ideally, your images will be in a 16:9 ratio, or have a resolution of 3840 x 2160.
Is it The Frame 2021 good for gaming?
This is where The Frame is more than a little disappointing compared to other on the market right now.
Games will look great on the QLED screen, but you won't get to use all the fancy next-gen bells and whistles. Especially if you've shelled out for a PS5 or Xbox Series X.
First things first: of the four HDMI inputs on the One Connect box there's only one HDMI 2.1 port. That means if you have two next-gen consoles, you're going to have to either switch the input constantly, or make do with last-gen graphics.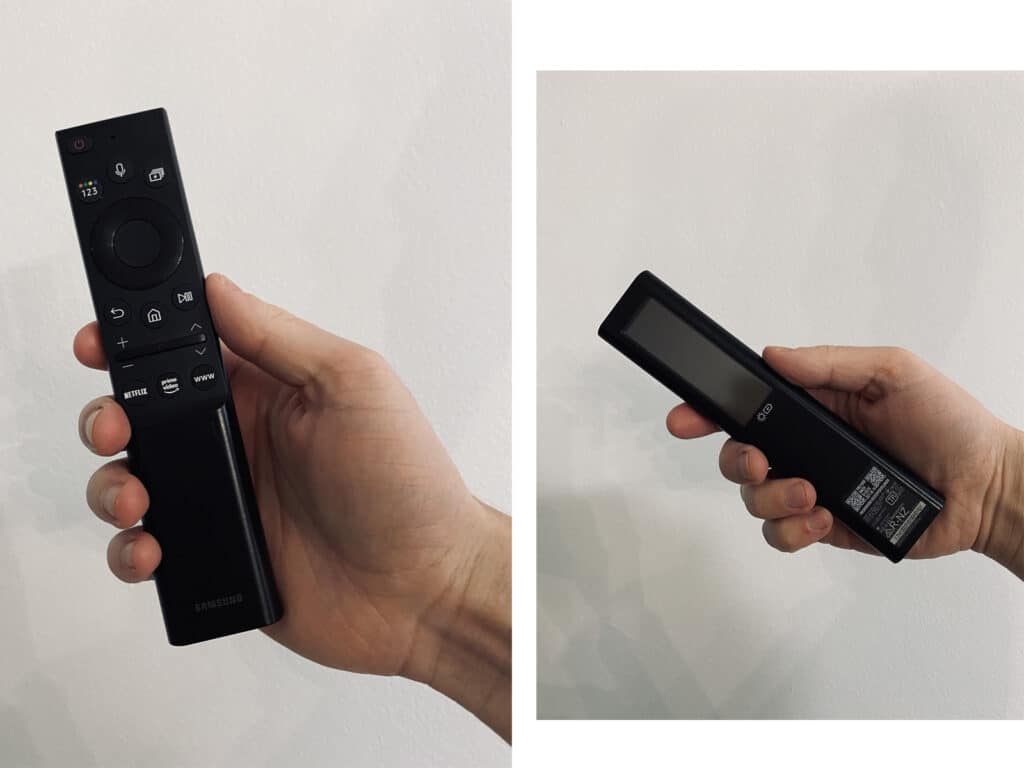 You do get Variable Refresh Rate compatibility up to 120 frames per second (or 120 Hertz), but only on the 55-inch model and up. If you get the 50-, 42- or 32-inch 2021 Frame, you aren't getting support for anything more than 60 frames per second (or 60 Hertz). 
You don't get support for NVIDIA G-Sync, nor is there Dolby Vision support built-in. There is HDR10+ and AMD FreeSync compatibility, but it pales in comparison to other TVs that have everything ready to go right out of the box.
The new Frame models do come with Game Mode that improves the input lag, but surprisingly there's little else you can do with it. It's mostly just a bit of visual jazz to make you feel good while you're gaming.
If you're getting this as a TV you'll be gaming on a lot, maybe think twice? There are other TVs out there that support everything from FreeSync to G-SYNC; VRR to HFR; Dolby Atmos and Vision, and HDMI 2.1 on more than just a single port. None of them look as good as The Frame though. It's a real Catch 22.
Should you buy it?
This was a tough one, to be honest. The Frame is the best looking TV on the market right now. Hands down. No question. Roll credits. Give them the award. 
The reduction in overall width compared to previous models delivers on the promise of The Frame like never before. It's not a TV masquerading as art anymore. It's art in and of itself.
It hangs discreetly and effortlessly among a wall of actual paintings and other art in such a way that you would never know it's a TV unless someone told you.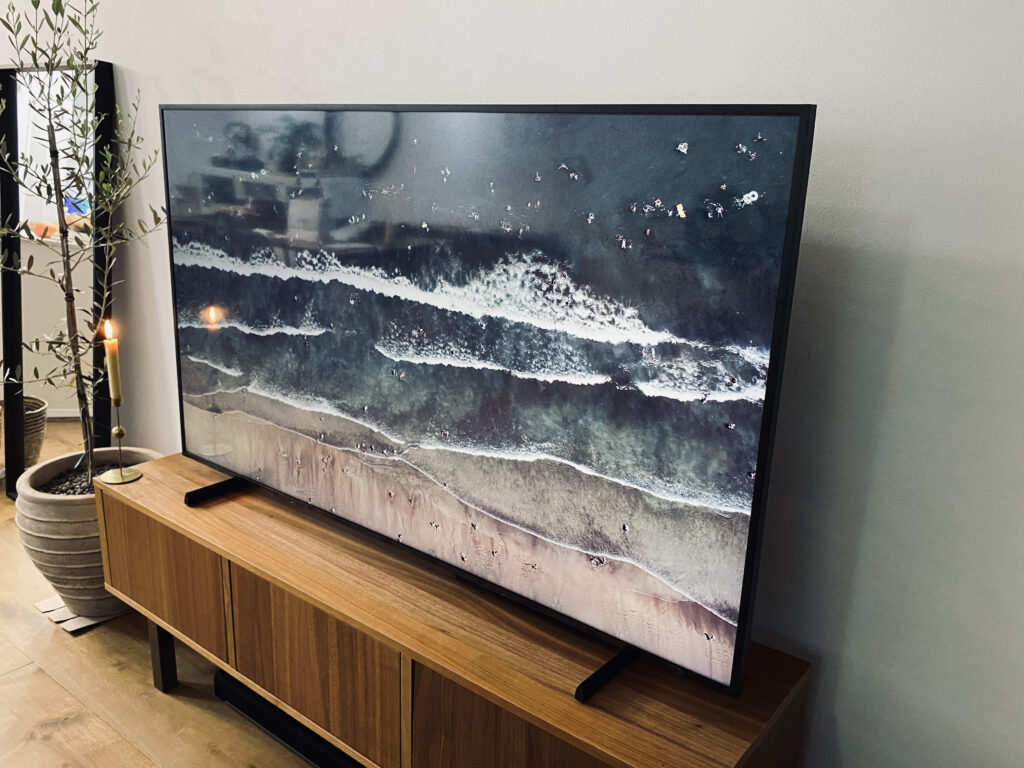 The ongoing curation of the Samsung Art Store remains a massive selling point. And at half the price of a base-level streaming service subscription, it's still a pretty great deal.
When it's off, The Frame is the best TV you can buy from an aesthetic standpoint. When it's on, however, we're faced with different questions.
The panel inside The Frame 2021 is essentially still a few years old. It's a "lifestyle TV", which means Samsung is more concerned with the aesthetics than the technology. And it kind of shows.
It's tough to recommend a years-old TV to anyone who is shopping new, but the QLED panel still holds up in this reviewer's opinion. The blacks are still great; the colours pop (if a little desaturated compared to newer OLEDs), and it has kept up with the times thanks to the addition of HDMI 2.1 and a Game Mode.
From a tech standpoint, it's not the best TV you can buy. But that's the wrong question to be asking. If you're someone who wants a TV that doesn't look like a TV, then you absolutely cannot go past The Frame in 2021.
Read more
What is the difference between OLED and QLED, you ask? We've got the answers. Also, while you're here, check out our review of the newest LG OLED panels from the A1 and C1 ranges.
Luke Hopewell
Luke Hopewell is the editor and co-founder of Redaktör. He's previously been the Editor of Gizmodo, Founding Editor of Business Insider Australia, Editorial Lead for Twitter Australia and more.