Samsung The Frame 2021: Everything you need to know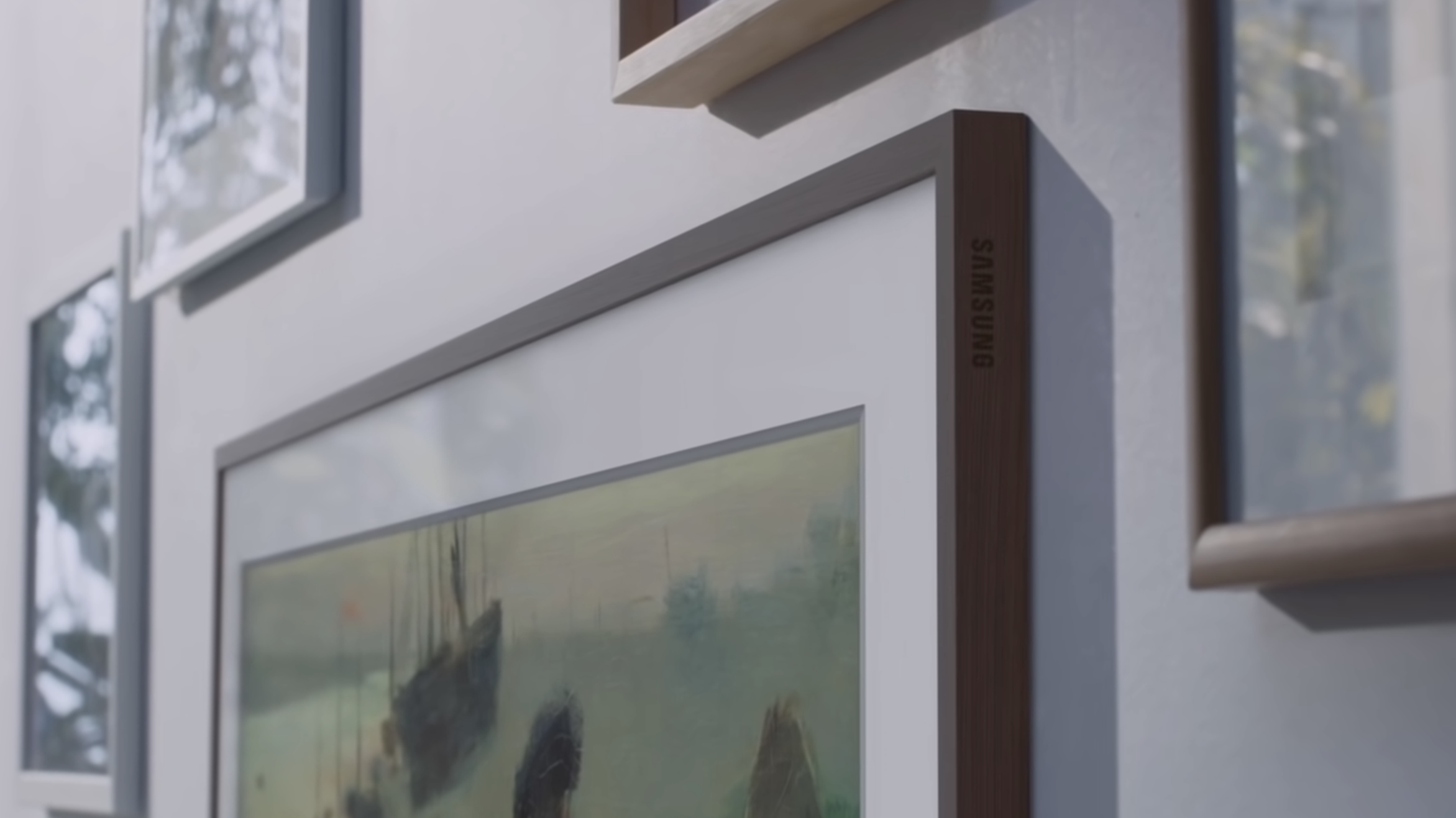 The 2021 version of Samsung's The Frame TV is here. Announced at CES 2021, it's a big improvement on last year's incredible model.
Luke Hopewell is a gadget veteran of over 10 years. He's reviewed over 100 TVs in his time, and been to the magic factory where they're all made.
Got a question for the author? Email me: [email protected].
Samsung The Frame 2021: what you need to know
Samsung has now sold more than a million Frame TVs since its release in 2017.
The 2021 models are a design shake-up, with some familiar panels underneath.
Design
This is where Samsung has done the real work.
The Frame TV 2021 shows that Samsung is working hard to make the TV more like its namesake.
The Frame 2021 is now thinner than ever. Like, really thin. We're talking 46% thinner than previous models. That's about 26mm in thickness compared to the 2020 Frame models.
Samsung says that the new Frame TV in 2021 better mimics the look of a real picture frame in the home. That means it blends in better with your existing art and decor.
New frames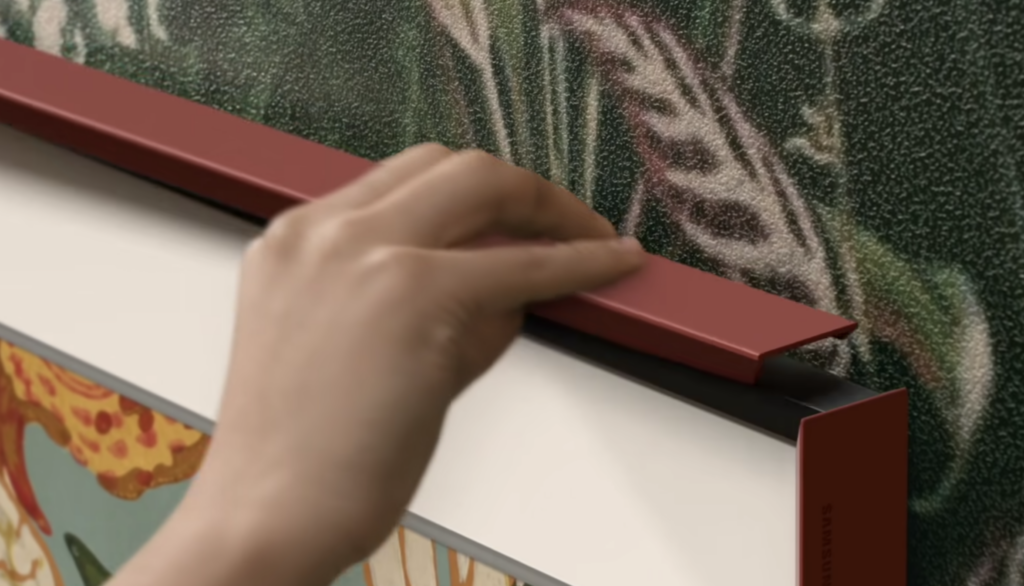 The best thing about The Frame TV is how it looks. Samsung knows as much, and has a bunch of new frames for the TV to blend in with your decor. 
There are now five new colours for add-on frames. Furthermore, there are also two completely different frame styles.
As opposed to just a squared-off design, Samsung has changed its frame attachments to Modern and Beveled for that little extra flourish.
The screen
By all reports, the panel on The Frame 2021 is the exact same 4K QLED HDR panel from the previous model. 
Samsung this year announced support for new MICRO LED and Neo QLED technology, but unfortunately, The 2021 Samsung Frame TV misses out on both.
That's not to say it's a bad panel. The 2020 Frame we reviewed demonstrated a beautiful picture. It's just a shame that the lifestyle TVs miss out on the new gear.
Maybe next year?
One improvement on the previous year: Samsung will sell The Frame in a new 75-inch form factor. That'll be the biggest Frame yet, with previous models only going up to 65-inches.
See Also

Portrait mode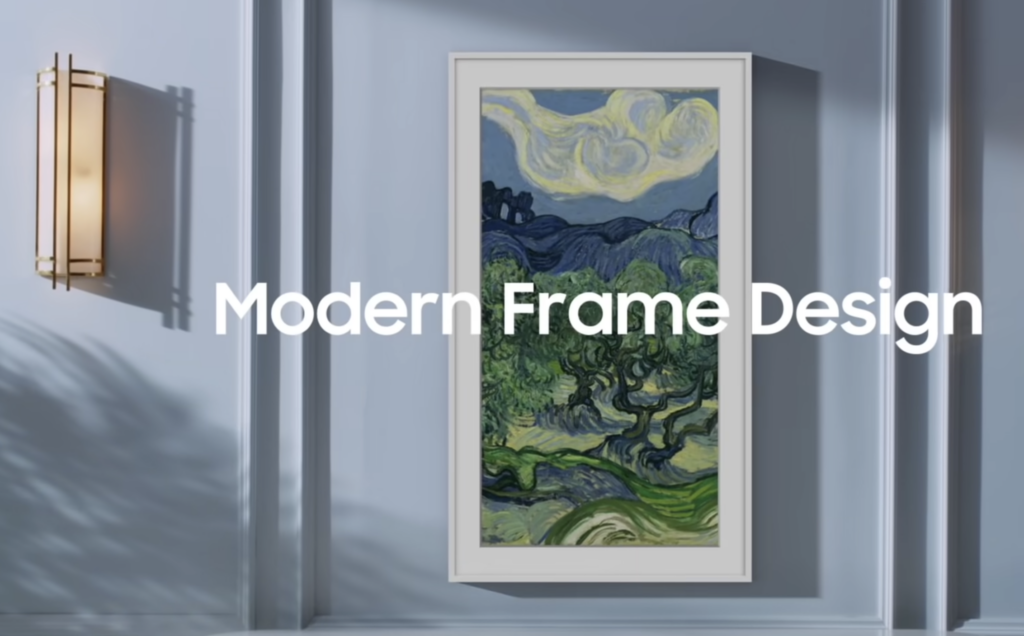 The 2020 Samsung Frame already came compatible with Apple AirPlay 2. As does the 2021 Samsung Frame.
That feature is about to get a lot more useful with the addition of portrait mode.
Portrait mode on The Frame 2021 means the TV can be flipped vertically. This makes viewing content recorded or even screencast from your smartphone even more enjoyable.
It's not every model getting this functionality, however. The 32-inch Frame TV and the 43-inch Frame TV will be the only ones to receive portrait mode support.
Samsung already has a TV capable of automatically switching into portrait mode. It's the $1700 Samsung Sero which spins to display mobile-optimised content in its natural format. Now you've got similar functionality with The Frame 2021!
Unlike The Sero, however, The Frame 2021 models that support portrait mode will have to be turned manually.
Price
Samsung has announced the price of the new Frame models for 2021! Here's the full range.
| | |
| --- | --- |
| 32-inch Samsung Frame TV (2021) | $919 AUD |
| 43-inch Samsung Frame TV (2021) | $1629 AUD / $999 USD |
| 50-inch Samsung Frame TV (2021) | $1978 AUD / $1299 USD |
| 55-inch Samsung Frame TV (2021) | $2329 AUD / $1499 USD |
| 65-inch Samsung Frame TV (2021) | $2899 AUD / $1999 USD |
| 75-inch Samsung Frame TV (2021) | $4079 AUD / $2999 USD |
Read more

We've already reviewed The Frame extensively in 2020. Check out the pricing and our review of what it's like to live with. We'll bring you our review of The Frame 2021 range soon.
Luke Hopewell
Luke Hopewell is the editor and co-founder of Redaktör. He's previously been the Editor of Gizmodo, Founding Editor of Business Insider Australia, Editorial Lead for Twitter Australia and more.