Sony LinkBuds review: do these weird headphones actually work?

Why would you want a pair of headphones with a hole in them? Because that's what makes them great! Here's our Sony LinkBuds review.
Sony's new headphones, known as LinkBuds, are a nifty new take on the old in-ear design.
But are they worth the money?
Design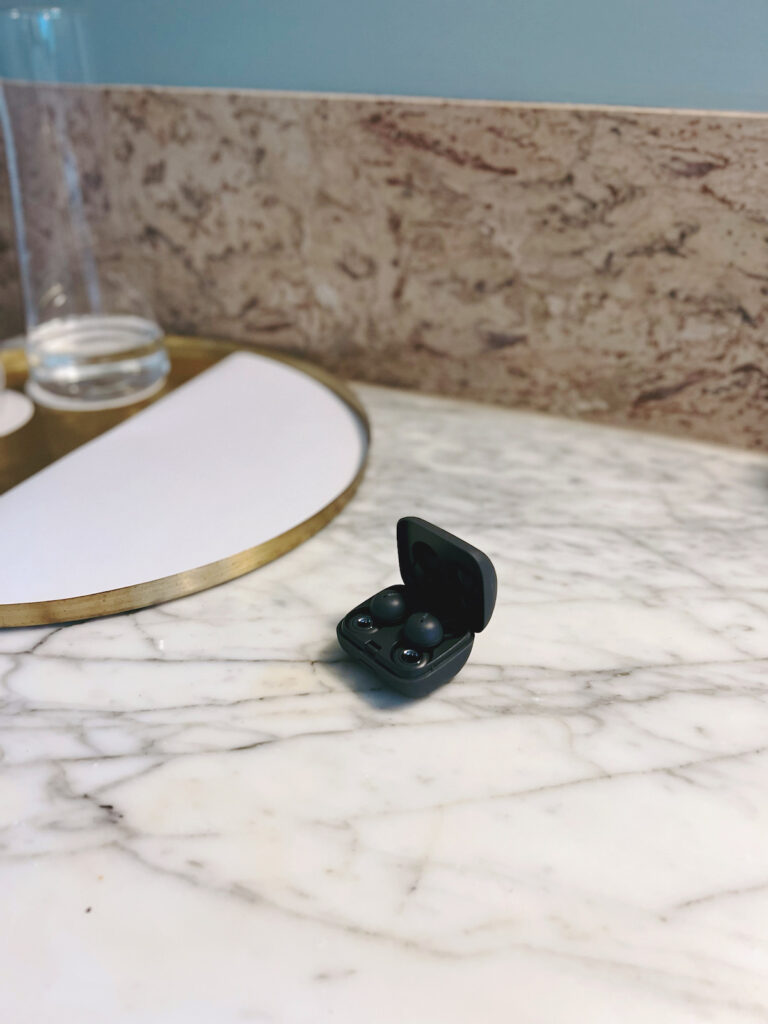 The Sony LinkBuds are a pair of in-ear headphones that feature a unique design. 
Almost a figure-eight, each headphone features a small, button-sized battery, daisy-chained to a circular audio driver that sits in the ear.
Uniquely, that circular driver has a hole right through the centre. Like it's been punched all the way through. Finally, there's a small rubber loupe atop the headphones, to stop everything sliding out of your ear during use.
Sony has designed these headphones for all-day wear. They're designed so you can hear the environment around you while also listening to your tunes. All without having to remove them if you hear something around you, or when you want to talk to someone. 
They're matte black, and smooth to the touch, with small grooves on the inside of the driver itself. 
The LinkBuds sit happily inside a little black charging case that opens like a ring box. Sony says that the headphones will get you 5.5 hours of battery life, and the case gets you an additional 12 hours. That's almost 18 hours quoted by Sony. Almost three days of full time headphone use between charges (allegedly).
Sony Headphones app
Sony offers its Headphones app for iOS and Android designed to enhance your sound experience as you wear the LinkBuds.
It's actually an awesome app, and one of the things that makes owning a pair of headphones like the WH-1000XM3 and XM4 such a delight.
It's back with the LinkBuds, and absolutely packed with features. You can customise so many things about the LinkBuds, which I truly love.
The preset EQ settings are fantastic as always, and as the headphones are tap-sensitive, the app allows you to customise what each ear tap actually does.
Usability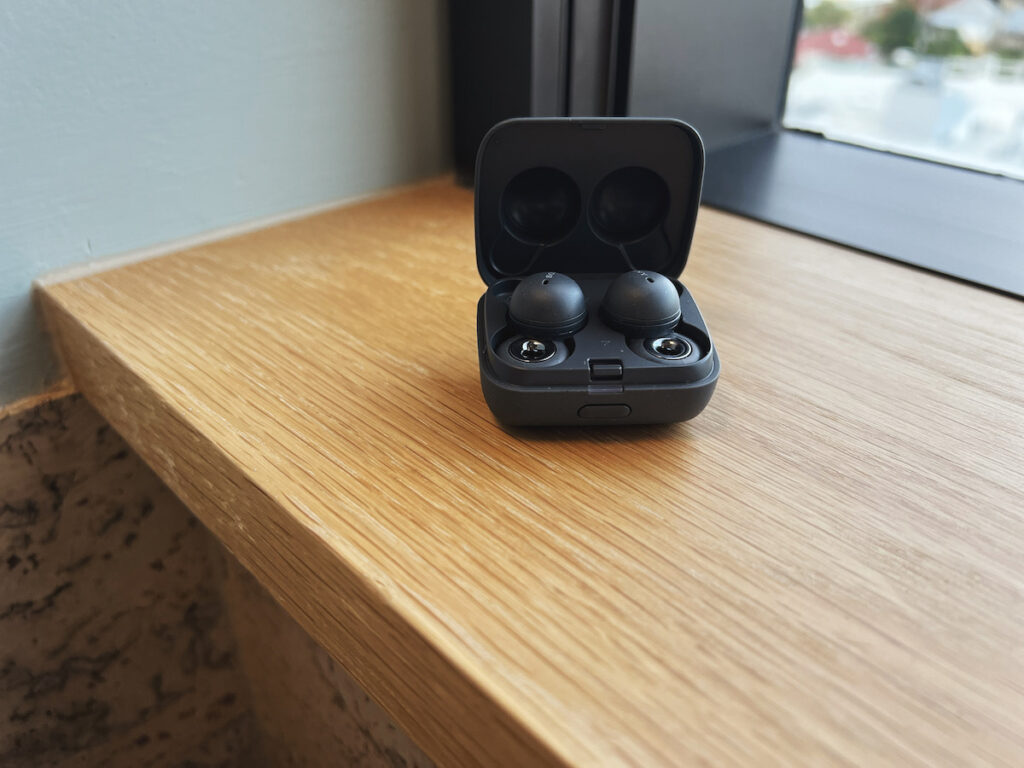 Furthermore, you can turn on something called "Wide Area Tap". This turns up the sensitivity of the tap mechanism to 11 and allows you to gently tap the side of your head even just with a finger to trigger a response.
This does go awry when you're looking to do stuff that vibrates your head during use, however. I found my headphones skipping, pausing and playing at random when I was eating and brushing my teeth, for example. Your mileage may vary here as a result, but I think it's incredibly nifty.
Because these headphones are designed to be lived in, Sony has beefed up its voice detection capabilities. When turned on in the app, the LinkBuds will automatically pause when it hears you start talking. This is great, because it means you don't have to yank your headphones out all the time.
It becomes a bit of an issue when someone starts talking to you, however. You may not pick up every word they said depending on the volume of your headphones, and saying a quick word like "pardon?" or "sorry?" sometimes isn't enough to trigger the voice detection functionality.
Truly the most annoying aspect of the LinkBuds, however, is the fact that the left headphone doesn't work without the right headphone being connected. I typically use one headphone at a time and swap out when the battery depletes. This usually gets me a full day of headphone use on a single charge from the battery case when dealing with something like Apple's AirPods for example.
But with the LinkBuds, the left headphone requires the right headphone to be out of the case for it to work. That means you can't use it standalone, and you're stuck using the right channel if you want a single ear experience.
It also means if you lose the right headphone, your whole operation is cooked. 
Sound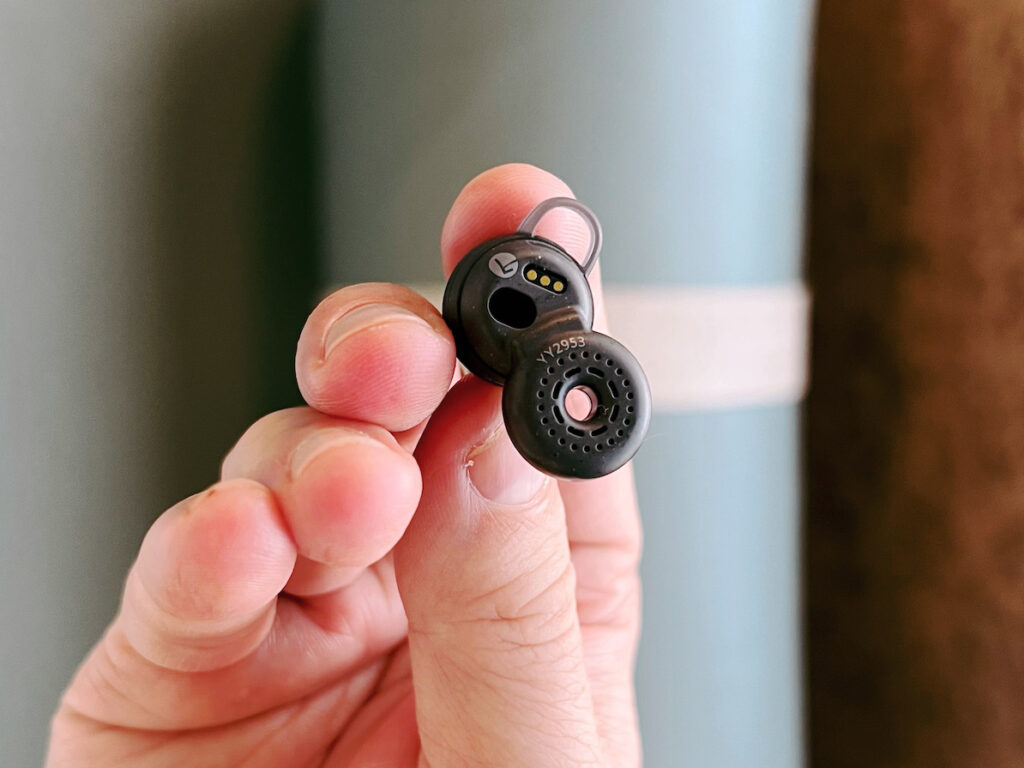 The sound you get out of LinkBuds is really unique. Sometimes for better, sometimes for worse.
The positioning of the sound drivers just outside the ear instead of right inside means you get a really unique sound experience.
It feels like the music is happening next to you, rather than happening inside your head. You feel slightly detached from it, like you're sitting next to a speaker rather than plugged into a pair of headphones.
That said, the sound experience isn't perfect. You don't get the bass you want, nor does it deliver a sound that's particularly loud. I used these on a plane and at my gym during my tests and found I had to turn it up to full volume and still missed a lot of the detail in the track in both cases.
A lot of the drawbacks to the LinkBuds are the fault of the design. If you're expecting crystal sound in a noise-cancelling environment, you're in for a surprise.
This sets them far apart from Sony's other headphones, which offer some of the best noise cancelling in the business. We previously reviewed the Sony WH-1000XM3 and XM4, stacking them both up against competitors from Bose and Apple.
The over-ear noise cancelling experience on previous models is better than Bose, and equals that of Apple's vaunted AirPods Max. Even Sony's WF-1000XM in-ear headphones deliver impressive noise cancelling.
The LinkBuds are kind of the opposite: they invite the external noise in.
Typically, when designing headphones, you want to create an environment where the speaker blasts gorgeous sound into the ear and blocks out as much external noise as possible.
The LinkBuds are literally designed to leak sound in from the external environment, so you're never going to get perfect performance right from the start.
Battery

Here's where we run into another issue.
Sony's battery claims on the LinkBuds just don't stack up. While I have been getting around four to five hours out of the buds themselves, the case needs to be charged constantly.
I'm charging it every 18 hours or so. And the Headphones Connect app always complains about the charge level of the case if it's too low to give the buds themselves a full charge. I find if the case drops below 30%, I'll get a ping to plug it back in again. Sometimes this can mean a daily charge, which isn't as advertised.
Sony even warns you in the app that if you turn all of the features of the LinkBuds on you won't get the full battery performance promised. The warning pops up when you have three or more of the following features on:
Speak-to-chat;
Equaliser;
DSEE;
Adaptive Volume Control, and/or
Activate Voice Assistant with your voice.
I had about four of the above on at once, and I definitely noticed.
Sure, if you turn all the funky features off, you'll probably get closer to the quoted use time. But with even just a few on, you run down your time something fierce. And as with all battery-powered gadgets, that time will likely get worse throughout the years.
Probably the best thing about the battery experience of the LinkBuds, however, is that the case charges with USB-C. I'm all for keeping things standard. Looking at you, Apple.
Sony LinkBuds review: should you buy it?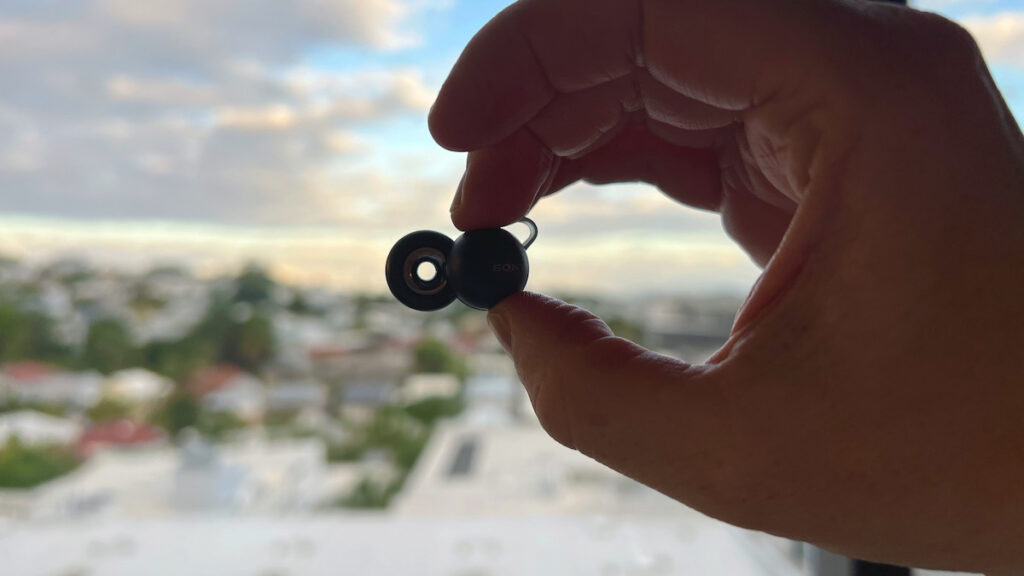 This is a tricky one.
Personally, I love the LinkBuds. I get around most of my day with a pair of headphones in. Usually just the one ear, however, so as not to appear anti-social.
So when Sony announced a pair of headphones you could basically live in, I felt at home. Was thrilled to get my hands on them.
Unfortunately, the sound, battery and usability all have their own individual drawbacks which contribute to an experience that is more difficult than it needs to be.
The design is probably the coolest thing I've seen in years, and I hope Sony keeps at it. Truly, they're the best in-ear headphones for long-term use I've probably ever used. 
I'd really recommend them to anyone looking for people who need to be on their game while wearing headphones. If you wear them at work, or wear them around your kids, these are almost essential. They allow you to stay connected while still listening out for anything you need to be aware of around you.
I'll keep using them, and I'm really hoping we get a Gen 2 version of LinkBuds that irons out these kinks.
Read more
If you want a Sony with noise cancelling capabilities, you might want to check out the new WH-1000XM5 over-ear headphones that were just announced.
Luke Hopewell
Luke Hopewell is the editor and co-founder of Redaktör. He's previously been the Editor of Gizmodo, Founding Editor of Business Insider Australia, Editorial Lead for Twitter Australia and more.