Renovated Club Med Phuket reopens: what you need to know

Club Med resorts have always been great for families, but what about for remote work escapes? That's the one-two punch packed by the newly-renovated Club Med Phuket.
Where is the new Club Med Phuket?
Club Med Phuket, a 16-hectare resort on Kata Beach, southwest of the island approximately 45 minutes from the Phuket International Airport, is now re-open.
The renovated hotel comprises 16 hectares surrounded by 1,200 feet of tropical paradise overlooking the Andaman Sea.
With 320 rooms, two restaurants, two bars, two pools and Wi-Fi everywhere, it's the perfect place to vacation. Or, as you'll find out, the perfect remote work escape.
Design and dining
The all-new concept, Tropical Nomad Lifestyle, launched by Club Med Phuket, combines nature and culture.
Guests can spend the day swimming and learning new skills at the Tropical Pool Party, while eating fruits from a variety of regions that have natural tastes. At nightfall, they may enjoy popular music at a massive jungle blowout with.
During the day, guests can dine in the comfort of larger buffet areas and air-conditioned dining rooms, while at night they can try Club Med's Thai street food truck and recently rejuvenated bars.
Club Med Phuket adds an exotic Thai touch to the resort with a reinvention of Club Med's classic menu, including distinctive specialties for a genuine taste of Thailand, as well as innovative gourmet dishes.
All-inclusive experiences, you say?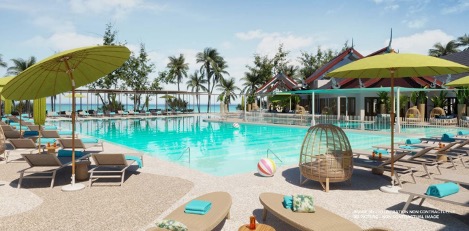 Club Med is famous for its all-inclusive experiences that come with your stay. Club Med Phuket's new renovations look to bring you closer to Thai culture. Both inside and outside the resort.
Weekly Thailand Days will be hosted by Club Med Phuket, dedicated to showcasing Thai culture, with a full day's worth of local performances and activities like Thai markets at the pool, local arts and crafts artists, and unique buffet spreads with local favorites.
Club Med Phuket offers a more sophisticated selection of all-inclusive family-friendly activities that will appeal to both children and adults. Thai boxing lessons, for example, can teach you a new skill while also exposing you to Thailand's rich history. Thai cooking classes may also be used to surprise your loved ones with traditional Thai dishes.
For history enthusiasts and connoisseurs of culture, Club Med Phuket has a variety of excursions to choose from, including exploring the natural beauty of the Andaman or discovering colonial marvels in historic Phuket. Adventurers who want to go further can go on various thrilling trips to the Phi Phi and James Bond Islands.
Remote work from holiday
Club Med Phuket wants to be the leader in "worktainment" for the Aussie crowd.
Imagine being able to wake up before work, enjoy a morning swim, before taking in a buffet breakfast. After a day's work, you can enjoy the rest of the resort's activities. Or just recline in your gorgeous room by the sea.
From August 2022, that dream will be a reality with what Club Med calls the new MICE centre for work and play.
The new facility will include additional accessibility before, during, and between events, as well as meeting rooms and a new conference area on the ground floor.
Luke Hopewell
Luke Hopewell is the editor and co-founder of Redaktör. He's previously been the Editor of Gizmodo, Founding Editor of Business Insider Australia, Editorial Lead for Twitter Australia and more.