Omega x Swatch MoonSwatch Mission to Moonshine: where to buy

The MoonSwatch caused shockwaves in the watch world. I love it, collectors love it, celebs love it. Now there's a new ultra-exclusive edition designed with astronomy front-of-mind.
If it ticks, Luke Hopewell has worn it. A watch expert with years of experience, Luke is the guy in the know when it comes to what to wear when and for whom. His favourite watch is the Omega Speedmaster Professional, but he's also partial to anything with a crown…

Got a question for me? Email me!
Omega MoonSwatch Mission to Moonshine: what is it?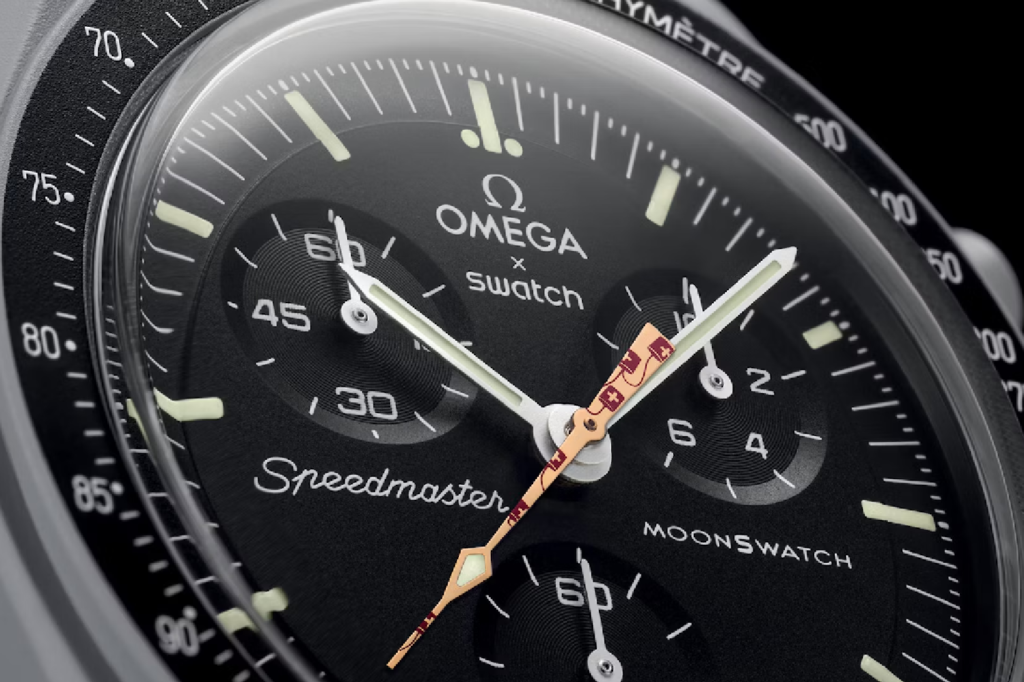 After the runaway success of the MoonSwatch, Omega and Swatch are back. Each month, we're getting a special model manufacturered under the light of that month's full moon.
The Mission to Moonshine special edition series is based on the Mission to the Moon version of the MoonSwatch. The black-and-white model that looks the most like its spiritual big brother, the Speedmaster Professional from Omega.
The first special edition was an ultra-special edition of the original Mission To The Moon. Manufactured under the February full moon, it packed a gold second hand. Not just any gold, however: Sedna Gold from the actual Speedmaster Professional range.
Other noteable Moonshine edition packed in a pink second hand. If only it was Barbie-official.
The Mission to Moonshine special editions still pack a battery-powered quartz movement, still comes with the velcro strap and Swatch's famous Bioceramic case. The only difference comes in the second hand.
This month's Mission to Moonshine features a red and gold second hand. It's covered in tiny Swiss flag icons to celebrate the home of all good watches.
And to make it more astronomically significant, the second hands were still created under the moonlight of the July full moon. Seriously. Swatch will even give you a certificate to attest to it.
Swatch says that the full moon "has a magical influence on many things", including human beings. 
Where can you buy it?
View this post on Instagram
Whereas early Mission to Moonshine watches had been limited to a few stores, this one is going wide. But you'll only have one day to buy it.
After 2 August 2023, you'll have to head to the secondary market to find it. Right now, a few Mission to Moonshine models are popping up on the grey market.
If you're searching, I recommend Chrono24 myself (no sponcon here, I'm genuinely just a fan!).
Will the Mission to Moonshine be available online?
I spoke to Swatch a few months ago about this, and they shared some bad news.
The MoonSwatch is such a special experience that it won't be made available for online purchase. And that isn't likely to change in the near future, either.
Not when stock is so limited and exclusive causing people to line up around the block.
Instead, you will only be able to buy the MoonSwatch direct from Swatch boutiques.
The elite new MoonSwatch special editions, such as the MoonSwatch Gold, will only be available at flagship Swatch boutiques around the world.
Right now, that's only the 14 cities listed above. Sydney, Australia was added to the list at the very last minute, too.
And it's going to be truly limited, too. So you'll need to be in line on day one at one of these boutiques if you want to cop one on your wrist.
Read more
What makes the MoonSwatch so hyped? Check out my analysis of why the MoonSwatch is the coolest collab of 2023.
Luke Hopewell
Luke Hopewell is the editor and co-founder of Redaktör. He's previously been the Editor of Gizmodo, Founding Editor of Business Insider Australia, Editorial Lead for Twitter Australia and more.