Omega x Swatch 'MoonSwatch': what you need to know about 2022's wildest collab

It's being dubbed the most exciting watch of 2022. Here's everything you need to know about the Omega x Swatch MoonSwatch, including how to get one. Without joining a queue.
Omega x Swatch MoonSwatch: what is it?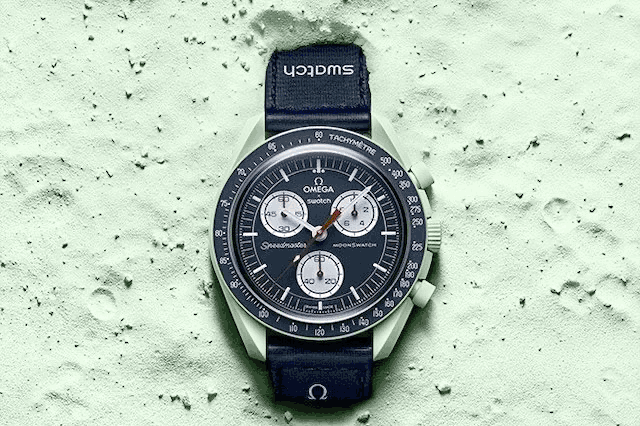 The MoonSwatch is a new collaborative horological affair between luxury brand Omega and consumer brand Swatch.
It's the Speedmaster, remade for a TikTok generation.
It takes the sprit of the Omega Speedmaster Professional, and supersizes it.
What you get is a collection of 11 MoonSwatch variations to choose from: each in the collection is inspired by a planet in the solar system.
Each model is named after the "Mission to" that planet, and colours range from black to green, with the planet or star it's inspired by stamped on the caseback.
The case material is a polymer plastic and ceramic mix called "bioceramic", and it measures 42mm. It's even the same thickness as a Speedmaster Professional, at a hair over 13mm.
As mentioned above, it will run you a little shy of $400 AUD, and it'll be available for everyone
Swatch MoonSwatch vs Omega Moonwatch: what's different?
The MoonSwatch might be based on the Omega Speedmaster Professional "Moonwatch", but the two are still remarkably different. 
First things first, the Omega Speedmaster is powered by a hand-built manual winding movement. Meanwhile, the MoonSwatch is powered by a quartz battery. 
The MoonSwatch will definitely tell you the time, but it isn't the bespoke, handmade timepiece offered by Omega.
Secondly, the Speedmaster is a stainless steel affair, while the MoonSwatch is made from Swatch's "bioceramic".
According to Swatch, bioceramic is a blend of ceramic and "bio sourced" plastic. The blend is one-third plastic to two-thirds ceramic. 
It's softer to the touch than typical plastic, and designed for a better feel on the wrist compared to a typical polymer.
Finally, the strap on the MoonSwatch is a buckle-free, velcro affair. Think Apple Watch rather than fancy steel bracelet. 
Although, the Speedmaster Professional is no stranger to seeing a velcro bracelet. Even on its most recent trip into space with billionaire and professional compensator Jeff Bezos, it featured a NASA-spec velcro
There are far more subtle differences, but those are the big ones.
For the nitpickers, the MoonSwatch is nowhere near METAS certified as a timepiece; the second hand doesn't sweep, and it probably can't go into space.
Can you buy the Omega MoonSwatch online?
Swatch will be selling the MoonSwatch in selected physical stores only from 26 March, 2022. 
In Australia, you're only going to be able to cop one at either the Sydney or Melbourne Swatch stores.
However I have it on good authority from another Luke (thanks, champ!) that the MoonSwatch will soon make it to the Swatch Online Store.
Indeed, all of the MoonSwatch Missions already have product listing pages on the Swatch website. Keep your telescopes pointed there for more information soon.
MoonSwatch: why does it matter?
So many watch releases are procedural.
Yes, they're painted as exciting. A chance to see horological engineering at its finest. And with watch fervour at an all-time high, it's great to see how people react to these releases.
But let's face it: more than some of them are boring. New colour here. New finish there. Different caseback elsewhere.
That's why the MoonSwatch release is so electrifying. Nobody saw something this dramatic coming.
The MoonSwatch collaboration between Omega and Swatch took something that everyone loves – the first watch on the Moon – and super-sized it to the tune of a whole solar system with a 11-watch collection.
And they did it for the many, not the few. The MoonSwatch isn't some limited edition piece that will only go to billionaires and athletes. It's $380 AUD, and it's available for anyone who can get into their nearest Swatch store.
That's why it blew up online. It's a gorgeous watch for everyone, inspired by a legend and reimagined for the masses.
Plus, it takes the wind out of every announcement planned for next week's Watches and Wonders event too.
I'm not a gambling man, but it's a fair bet that there isn't a watch under wraps in Geneva right now that can match the hype of the MoonSwatch.
Luke Hopewell
Luke Hopewell is the editor and co-founder of Redaktör. He's previously been the Editor of Gizmodo, Founding Editor of Business Insider Australia, Editorial Lead for Twitter Australia and more.