Absolute best face sunscreens for all activities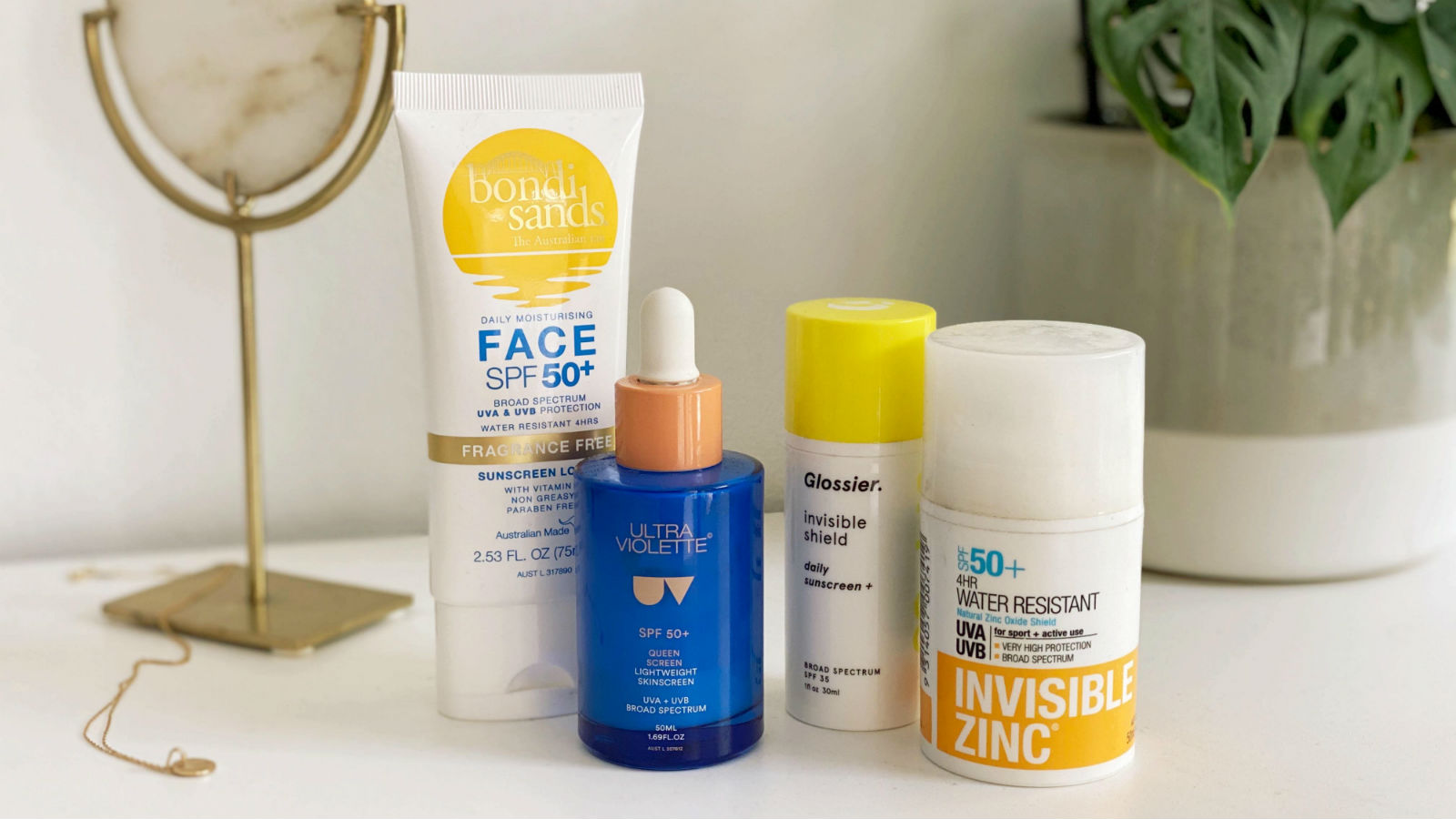 Whatever you're doing, wherever you're going and whatever makeup you're wearing, these at the best face sunscreens you need to know about.
A solid SPF is your best defence against premature ageing, so it's something I'll never leave the house without. But there are so many terrible options on the market. There are plenty of skin-clogging formulas, those that leave a white cast, others that make your makeup patchy and some that don't offer any sun protection at all.
As an ex-editor and beauty junkie, I've tried my fair share of sunscreens – especially face sunscreens. These are my personal favourites and certainly the best ones I've tried.
1. Ulta Violette Queen Screen SPF 50+
You've seen it on Instagram and one or two of your friends probably raves about it. And yes, it's very good. It's lightweight, smooth, broad spectrum and applies evenly. The product feels more like a serum than a sunscreen and acts almost like an illuminating primer under makeup. It's also reef-safe so you can wear it in the water without fear of the sunscreen chemicals harming reef life. Make sure you reapply if you have been swimming.
If you are using a bunch of other heavy skincare products prior to Queen Screen, let them soak in for a few minutes before applying this product. It can occasionally be prone to pilling if you apply it too soon after the rest of you skincare.
If you have oily skin, you can try the Clean Screen 30+ by Ultra Violette. I have both and I use the Clean Screen on very sweaty days because it's mattefying. Queen Screen can get a bit shiny on oily skin in 30 degree plus weather.
Perfect for: a midday stroll or an alfresco lunch – especially if you love glowy skin.
Where to buy: Adore Beauty, or direct through Ultra Violette
Price: $47


2. Glossier Invisible Shield SPF 35+
This formula is gel-like. It's clear and doesn't run, so it's very easy to apply. It has no white cast and sits beautifully under makeup. This the perfect product to add into your skincare routine if you're heading to the office. It's super light and won't disturb any of your other products even slightly.
Since it's only 35+ and isn't water resistant, it's not the product you want for swimming or a long period of sun exposure. But it's the perfect everyday option.
Glossier doesn't have any information as to whether this product is reef-safe so I would avoid wearing it in the ocean.
Perfect for: everyday wear, especially when you want your makeup completely undisturbed.
Where to buy: Glossier – which is unfortunately not available to buy online outside the USA. Next time one of your friend is over in the USA, ask them to stock up for you. Or try this guide to hacking around the shipping restrictions.
Price: $25 US
3. Bondi Sands Face SPF 50+
This product is more of a traditional sunscreen than the other ones on the list. But better of course. This product is light and non-greasy, but it is designed to be moisturising with added vitamin E – so it will add a light luminescent sheen to your skin. It's broad spectrum and water resistant for up to four hours, so it's a great option for swimming or exercising. And luckily, it's reef-safe!
It's probably the only water resistant formula I've tried that doesn't clog up my pores and overtly disturb my makeup. Bondi Sands Face does work under makeup but is definitely better with a matte foundation than a dewy one.
Perfect for: A day in the sun. Great for a long lunch or even at the beach.
Where to buy: Priceline or Bondi Sands direct
Price: $14.95
4. Invisible Zinc SPF 50+
Invisible Zinc is a physical sunscreen rather than a chemical formula – chemical formulas absorb UV rays whereas physical forms literally create a barrier which bounces the rays off your skin. So it can prove more effective and offer better sun protection than chemical sunscreens.
The problem? Most zinc products are thick, almost the consistency of face paint. But Invisible Zinc has done its best to create a smooth, innocuous product that offers the same protection. Look, it's zinc, so it will leave a white cast on your face. But it's not overt or offensive. This particular product also has skin-smoothing properties. I always feel like my skin looks airbrushed after I put it on.
Since it's not a chemical product, it's reef-safe and it doesn't sting your eyes when you swim. I've tried some SPF products that have stung so bad I couldn't open my eyes for five minutes, resulting in me getting pelted in the face by a bunch of breaking waves. This one is much kinder to your eyes than other products.
It is wearable under makeup but better with a full coverage foundation to cover the white cast. But I prefer to use it on days where I go makeup free, like at the beach or on a hike. It's very water resistant!
Perfect for: Long sun exposure like a day at the beach or by the pool. It's great for exercising too.
Where to buy: Priceline and Active Skin
Price: $29.00