2023 Porsche Macan electric: release date and first look

Porsche
It might not look like much right now, but you're looking at the brand new 2023 all-electric Porsche Macan. Here's what we know so far as testing gets underway.
Luke Hopewell is a reviewer with over 10 years of experience. He's everything from Ferraris and Lamborghinis through to Nissans and Smart Cars, and been to the magic factories where they're all made.
2023 Porsche Macan electric: features and design
Porsche announced that the new electric Macan commenced testing in May 2021. 
After a prolonged track-testing process, the next phase of development is taking place both on the road and in Porsche virtual design simulations.
 

 

View this post on Instagram

 
Testing "mules" as they're known, are never the finished product, but the Macan electric prototype gives us a few clues as to what the model may look like once released.
The new Macan electric takes the brilliant-looking design from the current small SUV model and blends it with elements from the all-electric Porsche Taycan.
The Taycan was Porsche's first all-electric vehicle, blending design elements from the 992-generation 911 and the four-door Panamera. 
The design of the new electric Macan borrows the LED matrix headlights from the Taycan as standard, and appears in the test model to have more of a coupé shape than its current petrol-powered design.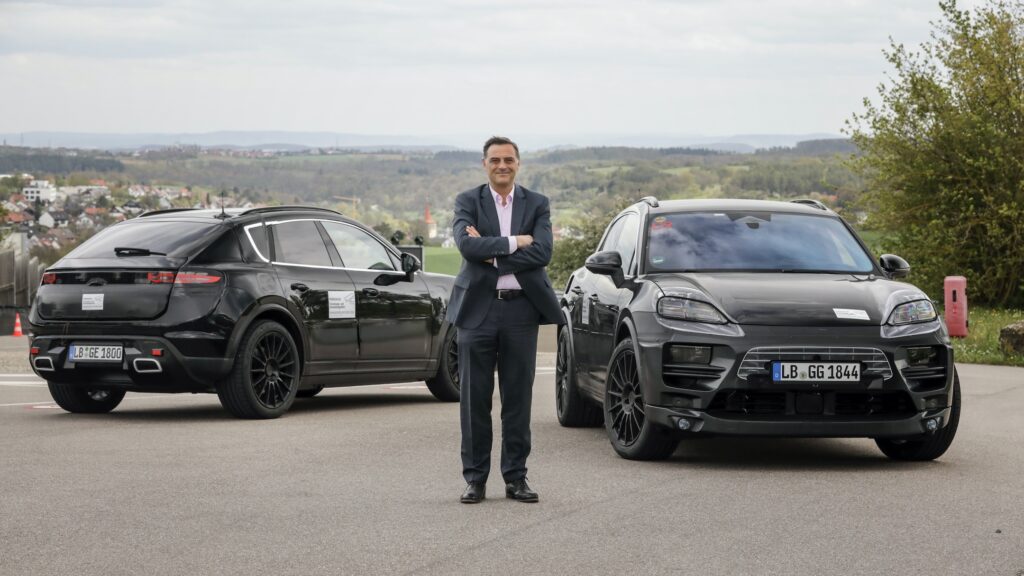 Oddly, the Macan electric looks to also feature presumably fake rear tailpipes. This wouldn't be necessary on an all-electric, zero emissions vehicle, and doesn't appear on Porsche's other electric vehicle. Instead, the Taycan ditches the rear exhausts in favour of vents for better aero. It's unclear at this point if it's something we will see on a production model.
Elsewhere, it looks like a fairly typical Macan, which is great news. The current generation Macan is a masterpiece, and the addition of a sporty, yet subtle all-electric drivetrain would be all Porsche SUV lovers would permit. 
Porsche does call the new prototype models "highly-camouflaged", which means we're likely to see significant changes before it's released.
With that in mind, it's impossible to guess what the interior will look like. Especially given that it's currently packed full of cables and gadgets designed for testing and not comfort.
When will the electric Porsche Macan be released?
Porsche says the new Macan electric will be released in 2023. 
Between now and then, the first prototypes will have covered 1.8 million test miles in varying conditions, according to Porsche. This also includes virtual testing at Porsche HQ.
Porsche is using virtual testing to rapidly prototype aero, power management, sound and thermodynamic performance of the new model. After all, it's an entirely new car for the German automaker.
The company adds that it wants the Macan electric to be the "sportiest model in the segment". A title set to be hotly contested come-2023.
You will have to wait until 2023 to get a good look at the finished electric Macan, but in the meantime, Porsche has promised a new petrol-powered Macan sometime in 2021 to tide you over.
Read more
If you can't wait until 2023 for an all-electric Porsche, the new Taycan might be exactly what you're waiting for.
Luke Hopewell
Luke Hopewell is the editor and co-founder of Redaktör. He's previously been the Editor of Gizmodo, Founding Editor of Business Insider Australia, Editorial Lead for Twitter Australia and more.